Choosing an engagement ring is probably the first thing that happens in the events that lead to your eventual journey down the aisle, and it can be a tricky one. Fun? Sure, but tricky, nonetheless. Not only are you choosing a piece of jewellery that will be worn (hopefully) for the rest of your life, but it's a big investment—you can't just buy diamonds on a whim (seriously, guys, don't).
And then there's the dilemma of what to choose. Which style is best? How big? What shape? And don't even get us started on the nuances of cut, colour, and clarity. Seriously, it's a whole other ball game. Choosing a ring is serious business.
So, in a quest to make prospective grooms' (and brides') lives easier, we have done a bit of research into different types of rings, to give you the lowdown on some different styles, what to look for, and who wants what.
We spent a horrible afternoon with our friends at Hardy Brothers (ie the people with the world's worst jobs) tasked with the tedious, grueling responsibility of looking at all of their engagement rings and choosing our favourites. Yep, it was hell.*
We've picked six different styles (an almost impossible task) from the exquisite Hardy Brothers collection, and provided a bit of a breakdown to help take some of the guesswork out of the ring dilemma.
Here are our picks: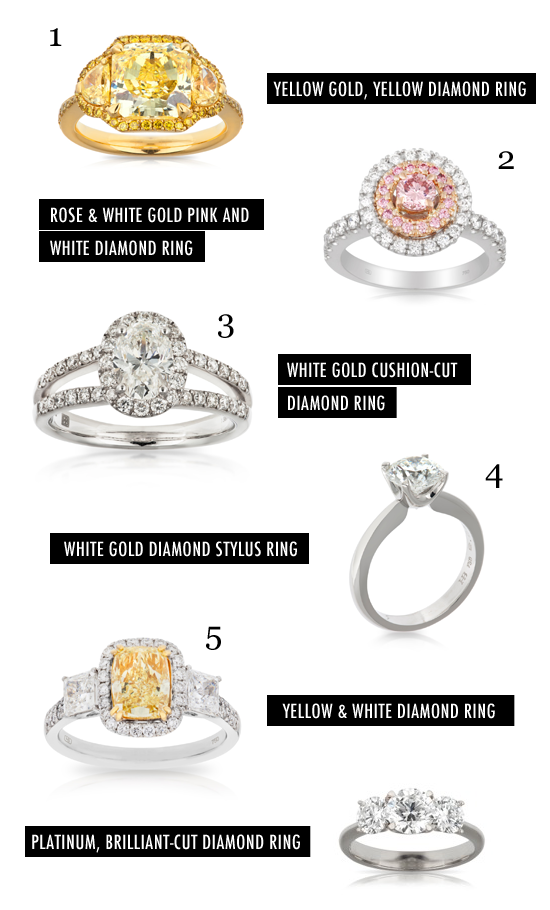 1. Yellow Gold, Yellow Diamond Ring
Wowzers. This fancy cut yellow diamond ring is the epitome of a statement piece (and a little bit disco). Made with a 5.04-carat cushion-cut, fancy yellow diamond and framed by cadi-cut fancy yellow diamonds, this is the ring you buy when you want something truly unique and special.
Who will love it? | The girl who loves to make a statement and wants nothing more than a piece that no-one else has. She's one of a kind and her jewellery should reflect that. Knock her socks off with this one.
2. Rose and White Gold Pink and White Diamond Ring
This beautiful 18-carat rose and white gold diamond ring features round, brilliant-cut pink and white diamonds (adding up to a total gem weight of 1 carat). Pink diamonds are very rare and, hence, very special, and are highly sought-after by diamond buyers in the know.
Who will love it? | She knows her diamonds and she's not afraid of a bit of colour! The pink diamonds mixed in with the classic white is a stunning choice and perfect for the gal who wants the best of both worlds.
3. White Gold Cushion-Cut Diamond Ring
This 18-carat white gold beauty, with its 1.44-carat cushion-cut diamond is a stunning choice. The split band, with the addition of little diamonds set along it, is so pretty, and results in some major razzle-dazzle on the finger.
Who will love it? | She's a 'more is more' type of girl, and she doesn't see the point of having one diamond when she can have lots (she's smart). She loves a bit of sparkle and wow factor and is looking for something that's not on every hand she sees.
4. White Gold Diamond Stylus Ring
Crafted from 18-carat white gold and a 1.06-carat diamond, this ring is the epitome of timeless and classic style, and the style that many women think of when they picture their engagement ring.
Who will love it? | The lady who wants something simple and beautiful that lets the diamond do the talking. She doesn't want all the bells and whistles, just one beautiful stone she can wear forever.
5. Yellow & White Diamond Ring
This 1.5-carat yellow, radiant-cut diamond is set in a classic trilogy cluster with matching princess diamond-cut shoulder gems, set in 18-carat white gold. The addition of the yellow diamond is a stunning choice and makes this ring a real statement piece.
Who will love it? | The girl who is looking for something different, while still retaining that classic 'engagement ring' look, which only diamonds can provide. The addition of the yellow is striking, while still being timeless and elegant, making for a potentially unexpected, but beautiful, choice.
6. Platinum Brilliant-Cut Diamond Ring
This 2.0-carat Platinum Diamond Ring features three round brilliant-cut diamonds, set in a trilogy design. Round brilliant cuts are very popular, and the trilogy set is a great choice for ladies wanting more than one diamond on their finger (who can blame them?).
Who will love it? | The diamond-lover who covets a classic look with a twist. Some people see trilogies as representing the past, present, and future of a relationship, so, if she's a sentimental gal, chances are she will lap this right up.
TUL Note: Need more inspiration? Head into Hardy Brothers in Brisbane's CBD and let the super-friendly and knowledgeable crew help you with your ring decision. It's an important one, so we suggest letting the experts guide you. And don't forget to have fun!
*Obviously, this was the best afternoon, ever.
Image credit: Hardy Brothers