Engagement parties can be stressful occasions. Sure, you want it to be a lovely event, and you want everyone you love to come, but, at the same time, you don't want it to overshadow any of the actual wedding day events.
Should it, for example, be more formal than your rehearsal dinner? Do you invite those poor people who won't make the cut on the big day? Or, if you do invite them, will they be massively disappointed when they don't get an invite? Is your sister going to have three cosmos and hit on that one sexy, but unfortunately married, groomsmen? Stress!
Because we basically eat out for a living, we happen to know a few of the best Brisbane venues that can host your engagement party, and—here's the best part—take all the stress out of the night for you.
A sophisticated venue with slick river views, absolutely amazing food, and great wine? Sounds like a great engagement party to us. We have been Bar Alto fans since way back, so it's no surprise we think this beautiful restaurant is the ideal spot to celebrate your upcoming nuptials. And because the Bar Alto staff are absolute professionals, this night is sure to go off without a hitch.
Sassafras is the ideal location when you're after all the relaxed charm of a backyard party, without any of the hassle of actually throwing it yourself. With cocktail and vegetarian menu options, this spot is a guaranteed crowd-pleaser. And, when you hire their backyard venue, you receive a free cake. (That's not a typo. We said free cake!)
Restaurants that cater to the gluten intolerant and produce great food are rare. Restaurants that do all that AND offer up their space for private functions are practically non-existent. Claret House team their amazing food with an impressive cellar, and they pride themselves on creating functions specifically for their guest's unique tastes.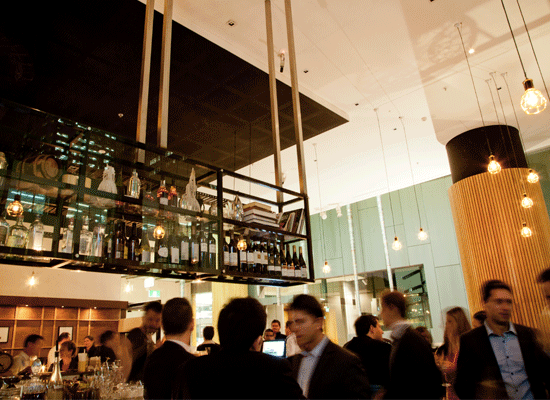 Intimate engagement dinners are sometimes just what the doctor ordered (especially when you're planning on inviting all and sundry to the main event). Public have a very private dining room perched above the hustle and bustle of the restaurant floor, with your own 'library' room for pre drinks. And their share plate menu means business.
New Farm Park
Before the stress of the wedding kicks in, take the hassle-free approach and opt for a relaxed, picnic-style party. Best of all, your sun-dappled party goers will be forced to hit the road once the sun goes down.
Because big bowls of pasta make everything better, your events is going to be smooth sailing at 1889 Enoteca. You can hire their gorgeous underground cellar for private functions, and with all that amazing Italian plonk on offer, no one is going to be having a dud time.
Tucked above the street on top of Pearl Café, The Servery offers a private dining room where you can gorge on their exquisitely roasted meats with your nearest and dearest, and your soon-to-be in-laws. Because nothing says 'we're almost a family' than elbowing each other out of the way for the best cut of pig.
Image Credits: Geoffrey Zabell, Splendid Actually