Regardless of whether or not they have more fun, ask any of the hairdressers in Brisbane, and they'll tell you: Being blonde is no joke.
Which, come to think of it, explains why you all went bananas for our round up of the best Brisbane hairdressers for blondes last year.
It's not something that we, or the hairdressers of Brisbane, take lightly and luckily the lovely and very talented team at White Gold Boutique in Teneriffe see it as their mission to have every girl's flaxen-hair dreams realised, no matter the starting point.
So, while we had our hair fancied in the lovely boutique, we chatted with Anna Stewart — owner of White Gold and one of Brisbane's best blonde colourists — and her amazing team Vanessa and Cassie, to get the highlights and lowlights (geddit?) of going blonde, and staying that way.
Editors tip: White Gold are go-to for being one of Brisbane's best blonde colourist but they also do a mean cut and blowdry, plus they can mix up bangin' colour for any dye job!
LIKE A VIRGIN
Those with hair that's just been touched (by colour) for the very first time are lucky ducks! Usually, you'll see results in your first go:
"Going blonde, from virgin (never been coloured) hair is pretty straightforward. Our advice at White Gold would be to aim for a natural low maintenance blonde to allow the client to get used to the change and upkeep."
GO FOR (WHITE) GOLD
"With hair that has been previously coloured dark brown, it depends on how much colour build up is in the hair," says Anna. In other words, be patient Urban Listers. It could take you anywhere from 3-6 sessions to get the right shade of blonde. Why so long? "The lightening product needs to break through layers of this old dark colour and therefore throws many shades of gold on the journey to the right blonde," says Anna. You may even have to compromise an intsy bit. "Start with light brown first visit, then a lighter brown second visit, and then a dark blonde third visit and so on," Vanessa says.
ROMANCING THE [EMMA] STONE
One of our favourite red-haired muses has probably done this more than a few times. We love her as a redhead, but if Emma Stone plans on going back to blonde, she's in for some fun. "Going blonde from red hair can be an even more challenging process. It's not impossible, but clients must allow between 3-8 visits to achieve the desired blonde. Every step off this process will be very golden until we can reach a cleaner shade if the hair is strong enough to cope," Cassie says.
GET LOW
If you want the fun of blonde without the commitment, then Anna recommends subtle foils in balayage or ombre. "This is the best technique for low maintenance hair, because visits to the salon can be done between 6-10 weeks," she says.
Or, if you don't mind heading to the salon regularly (every 4-7 weeks), opt for a full colour to get the best coverage and brightness.
TONE IT UP
"Olive skin tones should aim for golden, warm, caramel and beige coloured blondes. Pale/pinkish skin tones are best to aim for cooler, cleaner, milker blondes. There are exceptions to this rule but it's a pretty good estimate," says Vanessa.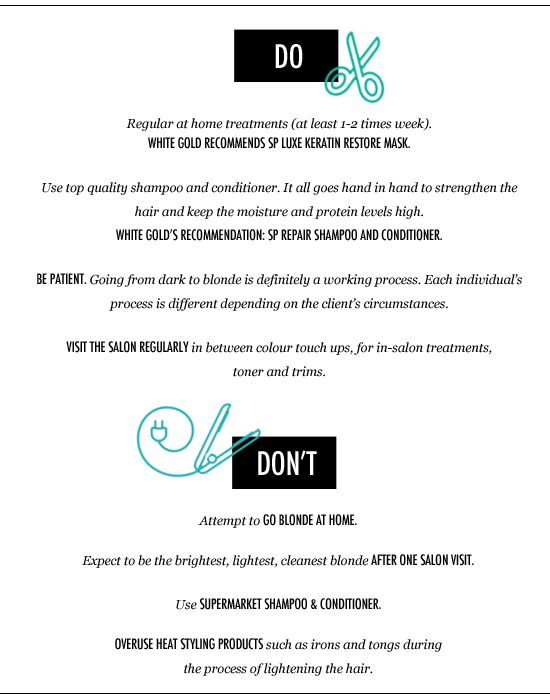 Image Credits: White Gold Boutique, Harpers Bazaar via Micayla Pearl, Supermodels.nl
TUL Note: Today's List Love post is proudly sponsored by White Gold Boutique and endorsed by The Urban List. Our sponsored posts will never be a secret — the List Love seal will be stamped on any sponsored material you see on the site. Thank you for supporting the sponsors who make The Urban List possible.