"We welcome anyone who just wants to enjoy great coffee, good music and local artists," says Brooke Mcilroy, co-founder of Brisbane's newest coffee shack, Hustle and Grind.
Now that's a mission we can get behind.
If you live in Fortitude Valley, you might have noticed this place emerge on McLachlan Street during the COVID pandemic. Hustle and Grind isn't the bright ray of light in the new dawn of the hospitality revolution, but it's not really trying to be. Mcilroy says the cafe is more about getting back to basics, or as he puts it, "the business of good vibes and good coffee". And when all the fair-trade dust has settled, isn't that what we're all searching for?
"Well we actually opened in the middle of COVID-19, so we needed to make sure we were all across the regulations," he says, "but we haven't really needed to pivot the business or anything. We just did as much research as possible, and if we weren't sure of anything, we phoned QLD Health."
Opening a new café is tough at the best of times, and these are certainly not the best of times. Throw in the cut-throat location — Fortitude Valley has quickly become Brisbane's unofficial capital of brunch, beans and baristas, and you might have expected Hustle and Grind to struggle. Instead, the guys have been killing it, slinging A-grade coffee, courtesy of Tim Adams in Warana, almond milk from The Alternative Dairy Co, and a selection of vegan treats from a range of Brisbane bakeries.
Locals seem to be responding to Mcilroy's "good vibes" strategy, no matter who they are. "Fortitude Valley is full of different people from different walks of life," he says. "We have avid travellers, a younger demographic who enjoys the local art scene and parents who drop their kids off at kindy."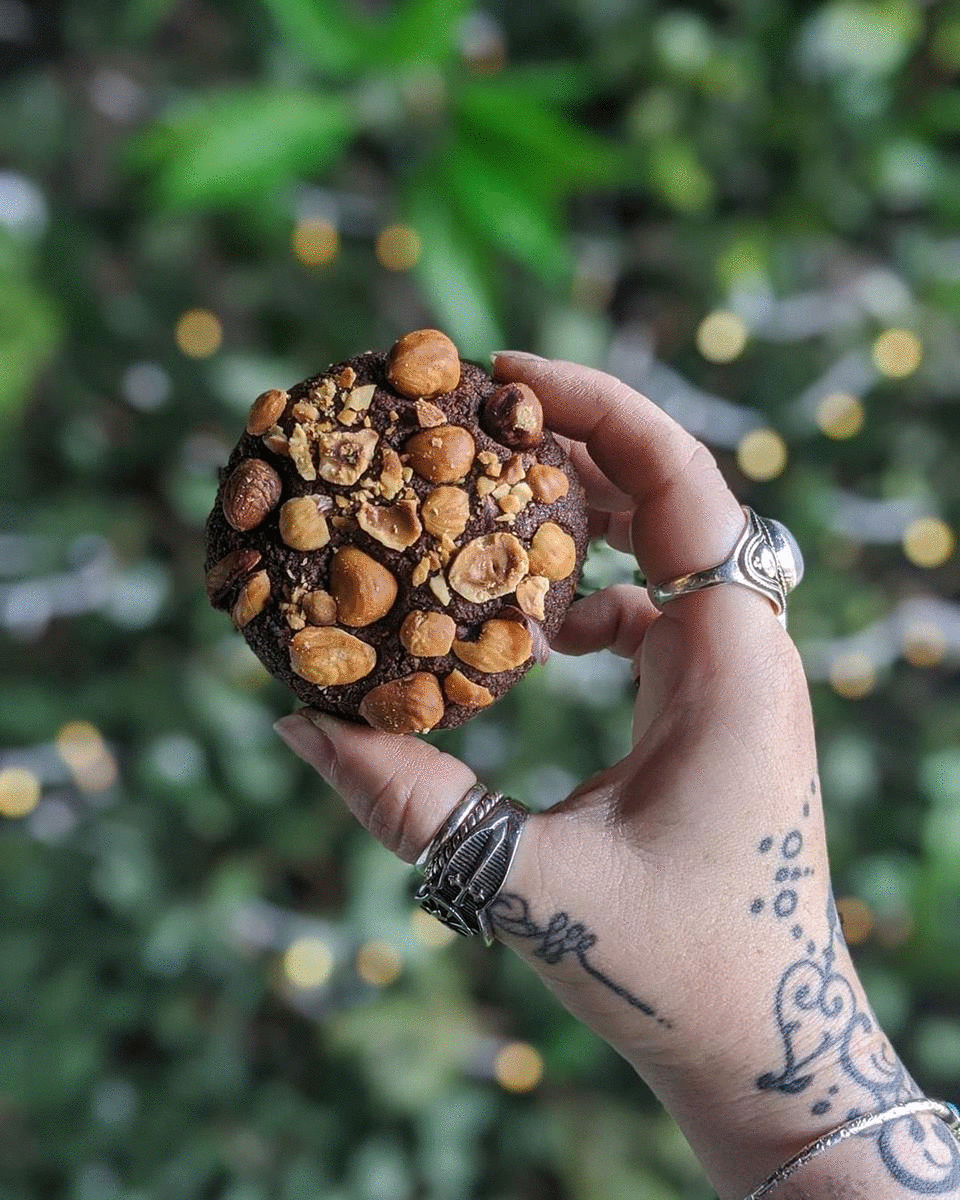 It's not easy to appeal to all those groups at once, but Hustle and Grind's skater-slash-industrial-slash-tattoo-parlour aesthetic seems to do the trick. You can tell this place doesn't take itself too seriously. And after reading thousands of pretentious, "organically sourced" café menus, people kind of appreciate something that does what it says on the tin.
One other thing that sets this place apart is the community focus. Cast our eyes over the latticed plant wall and you'll spot prints from up-and-coming tattooist Jordan Crabtree. Mcilroy says the idea is to champion a different Brisbane creative every few months, chuck their prints up on the wall, and send every dollar straight back to the artist. It's a good reminder that hospitality, when it's done right, isn't just about serving double-shot lattes shooting the shit over the steamer wand.
"We want to support small businesses that genuinely care about the product they supply," Mcilroy says. "We love what we do, and we've always been passionate about the industry, so we want to support others any way we can. At this point, we've got a charity tip jar, with all proceeds of the month going to a particular charity."
Cafes tend to go wrong when they try and do everything all at once. Hustle and Grind doesn't fall for that trap. They serve damn good coffee, delicious vegan treats, and quality local artwork. That's pretty much it. They've somehow managed to establish themselves during a global pandemic, and they're consciously trying to improve their local community. If it's a choice between highfalutin concept cafes, and these guys – we know where we're going for brunch.
You can find Hustle and Grind at 17 McLachlan Street, Fortitude Valley. Or follow them on Insta and Facebook.
Image credit: Hustle and Grind