It's that time of year for making resolutions and cutting back on the fork to face feasting of the festive season. The time has come to get the heart rate up and get fighting fit again; we're not talking snore-fest cardio sessions or blah yoga holds, we need a little action and adrenaline to get the old bod (and brain) inspired!
Fun runs are so 2015, so if you're looking to kick-start healthy habits and ditch the squishy bits, you'll want in on this year's ultimate fitness fun; the Noosa Summer Swim.
Only a couple of hours from Brisbane, the Noosa Summer Swim is the perfect way to stretch those sea legs while working on your tan lines, and help you get into shape. Held slap bang in the middle of summer on Saturday 30th January, and hosted on picture-perfect Noosa Main Beach, this is the third year that contestants will make the dash from sand to surf in a race to the finish line.
Starting and finishing at the Noosa Surf Club, the Noosa Summer Swim has three courses to choose from, for all ages and abilities; The Noosa 1km Short Course, Noosa 2km Long Course, and the Noosa 3km Marathon distance (for anyone looking for a serious challenge), plus the Junior Giants series for the under 16's.
The crystal clear, calming water at Noosa is the perfect setting for an action-packed summer dip, not to mention the ideal spot for a post-swim celebratory lunch with epic ocean views! If you're up for making a weekend of it, book in to some sweet accommodation in and around Noosa at visitnoosa.com.au.
Entries are open now, but be quick, as online submissions close at 4:00pm Friday 29th January.
So what are you waiting for? Throw on your best togs, bring your mates, and get beachside for the most fun swim of your life. You'll never look at your gym class the same way again!
For full details and registration for the Noosa Summer Swim, click here.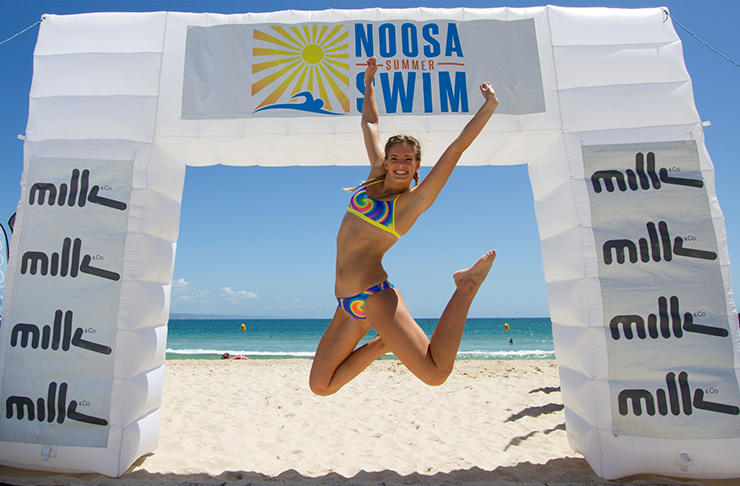 Image credits: World Series Swim
TUL note: This article is proudly sponsored by World Series Swims and endorsed by The Urban List. Thank you for supporting the sponsors that make The Urban List possible. Click here for more information on our editorial policy.