We little Urban List piggies love to go to market, so of course we're delighted the James Street Food Trail is kicking off this Saturday. This foodie adventure is a full week of live cooking demonstrations, divine dinners, and intimate, one-off events with James Street's biggest names, and it all starts with one massive day of markets, global street food, chefs live in action, and one epic picnic. (There's also book signings, cheese cake and fashion, and a pork bun eating competition!)
Here's our hit list of the events you must, must not miss this Food Trail:
Market Madness
| Meet the faces behind the Standard Market Co.'s produce, as all your favourite producers pop up a stall and tempt you with interactive tasting stations and cheap eats on-the-go. Stalls will include Meredith Dairy, Bangalow Pork and Dello Mano brownies (er, yum), so you know there will be many-a-tasty morsel to go around.
Bucci will be re-creating Little Italy in their arcade for you to enjoy a taste of this contemporary Italian powerhouse. With salumi, cheese and some of Bucci Pronto's piadas to boot, Little Italy would make even Nonna proud!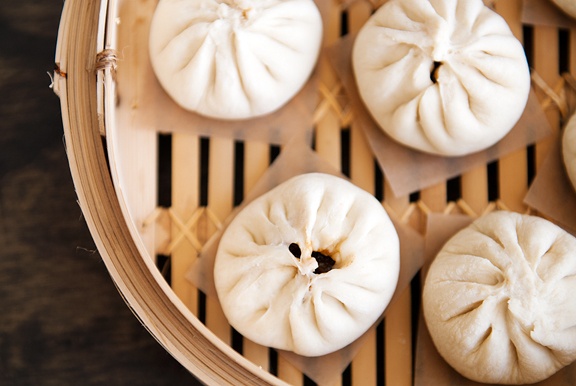 If you think that your stomach is up for the challenge, then be sure to stop at Happy Little Dumplings who are hosting a pork-bun eating competition from 12PM. We wonder how many of these steamed babies you can chow down?
Fancy a slice of humble pie? With a NYC-inspired collection on the racks, Beau In The Woods is inviting you to feast on the famed New York baked cheesecake at their James Lane store all day.
Watch Chefs in Action | Don't miss the rare opportunity to see your fave James Street chefs in action, as they cook up a storm right before your eyes in the ILVE Tent, just outside Harvey's. Get the goss' on all the tips and tricks you need to know to cook like these award-winning pros at home. With presentations from Gerard's Bistro's Ben Williamson, Bucci's Shaun Malone, Harvey's PJ McMillan and loads more culinary super stars, you are bound to learn a thing or two. And they even have Feast Editor, Alix Clark MC'ing the day's presentations, and sharing her own substantial cooking experience. We'll be taking notes. And asking to lick the spoon.
If you've enjoyed a glass of Craggy Range at Cru Bar once or twice, then join this esteemed vineyard outside St Barts to sample all five wines from the recently launched 2011 collection for a small donation for AEIOU charity.
Global Feasting | Hop down James Lane and find yourself on a culinary journey across the globe. Cuisines from all over will be making an appearance, with tasty tempters popping up from the streets of the Middle Eastern, to Chinese pork buns and more. Go on, take your tastebuds a-travellin'.
Gerard's Bistro famed suckling pig has been on the menu since they opened almost a year ago. If you haven't tantalised the tastebuds with this little piggy, then pop by Gerard's Laneway to pick up a sample plate.
The Urban Picnic | Ok, so we're a bit excited about this one. We've teamed up with James Street to create a hip little hang out space just for you. Should you tire of all that walking and munching, come and join us in astro-surf splendour, with a whole lot of gorgeous flowers arranged by our faves at Hacienda, as we kick back in our very own urban-green oasis. We also have a tempting array of snacks on hand—think Arabian sweets from Jocelyn's Provisions and Gerard's, quesadillas from Harveys, and even a warm bowl of soup (with truffles, of course) from Bucci. And, if all that wasn't enough to lure you in, we'll have roaming masseurs on hand, provided by our favourite fresh and friendly James Street day spa, endota, should you require a neck rub.
After you've walked the Trail and been inspired by the array of all things delicious, pop into Scrumptious Reads to get a recipe book for yourself to let the culinary juices flow in your own home!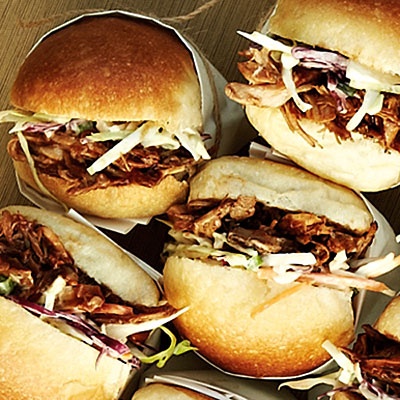 You may know this little hole in the wall as your go-to spot for fresh sandwiches and salads, but Press are pulling out all the stops for the Food Trail with their take on the pulled pork slider! Who says you have to be healthy on the weekend?
The James Street rooftops have been buzzing with activity! Pop into the lane way next to Maryons Shoes to meet the Bee One Third urban apiarists and taste some of the local honey. While we're on all things sweet, just next door will be freshly roasted nuts courtesy of The Nut Market.
TUL Note: Today's List Love post is proudly sponsored by James Street Initiative and endorsed by The Urban List. Our sponsored posts will never be a secret - the List Love seal will be stamped on any sponsored material you see on the site. Thank you for supporting the sponsors who make The Urban List possible.