If, like us, your idea of heaven involves eating copious amounts of creamy, cheesy carbs with crunchy edges, then you may want to sit down and fan yourself for this news: Brisbane's most drool-worthy food truck, Mac From Way Back, is opening a permanent eatery that's all about the most delicious comfort foods known to man.
Yep these legendary mac 'n' cheese purveyors now have a permanent fixed abode, one just off Logan Road in Woolloongabba, meaning you'll be able to get your gourmet mac fix whenever the craving strikes (which, let's be real, is often). While Mac From Way Back has had a few pop-up eateries in the past, we're promised that this one is sticking around for good and we believe it—owner Dane Coote has even sold the old food truck to prove it.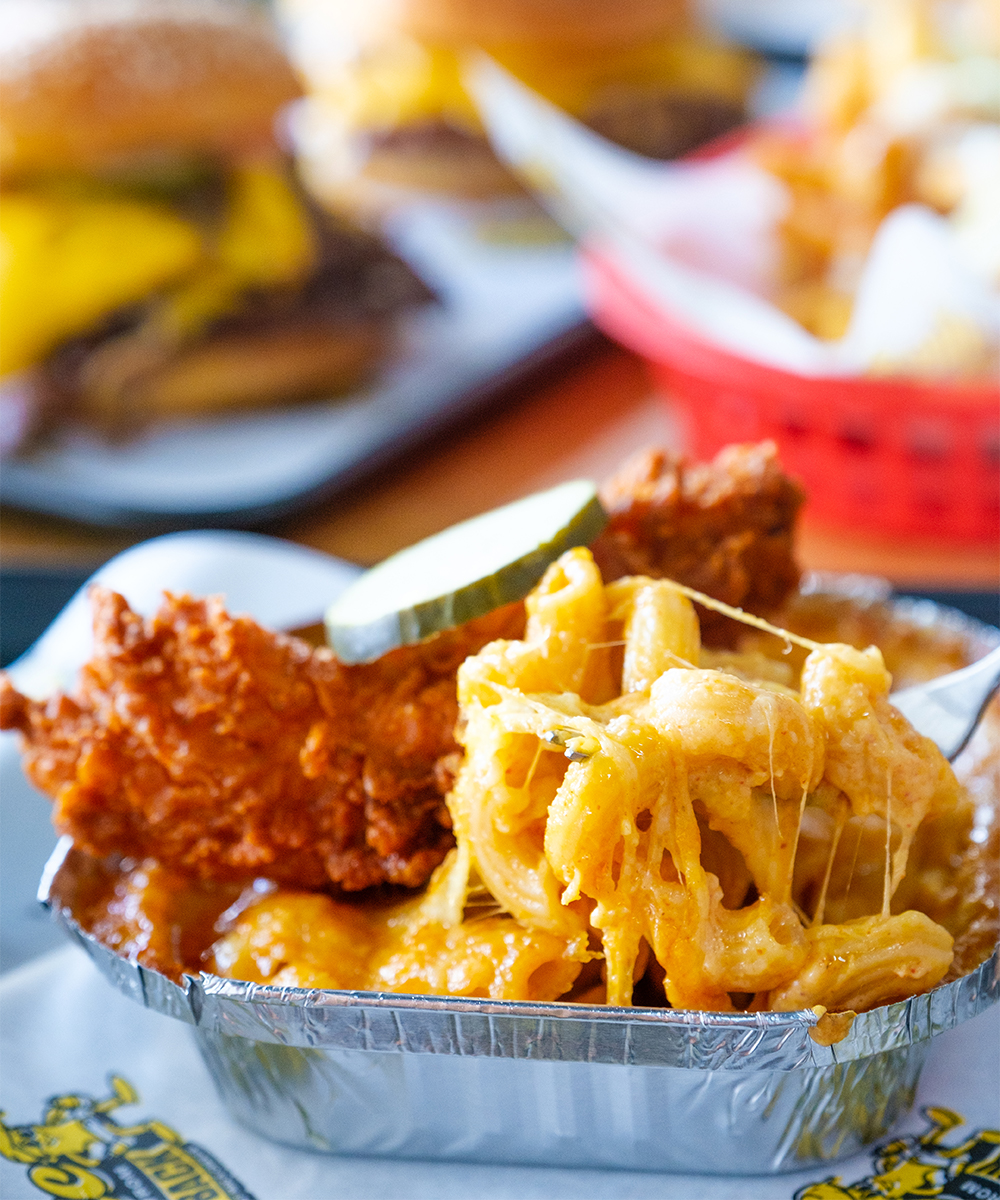 Yep, no longer will you be able to chase those epically cheesy macaroni bowls and insane burgers around town, now you can just pop in to the new graffiti-covered eatery any day of the week. Taking over the old home of Sorrelina Pizzeria, the brick-and-mortar venue is mighty casual (no one will frown at you for spilling sauce down your front here), with black and yellow street art by BoHDi adorning the walls. There's plans afoot to add cosy booths and a larger bar to the space, but for now, you can take a seat at one of the group tables under the watchful eyes of characters Mac, Big Burg, Fried and Slice Money painted above.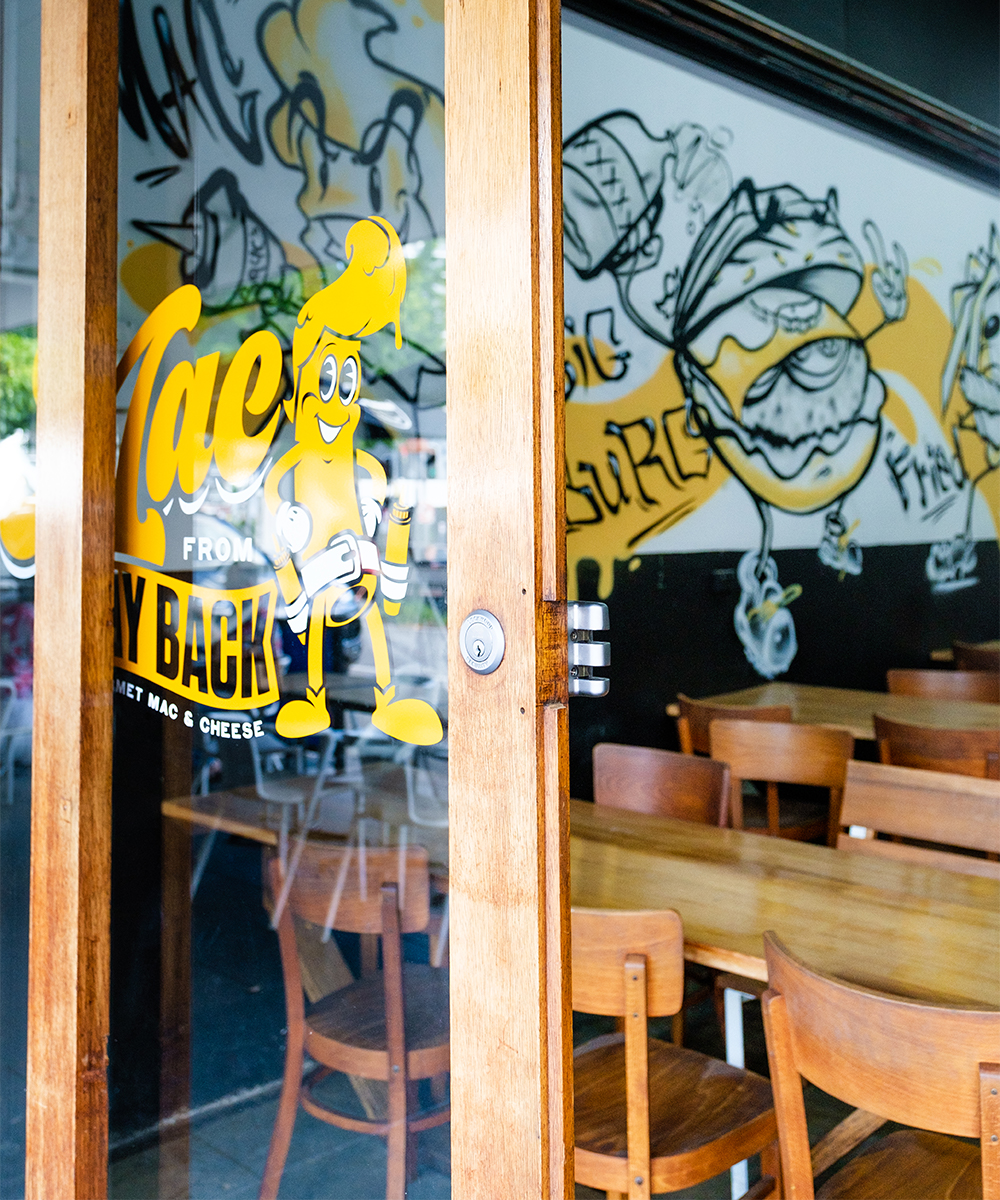 On the new and improved menu, you'll find all your MFWB faves plus a heap of even more cheesy additions. There's the classic mac 'n' cheese bowls, which come with or without the addition of a piece of Nashville hot fried chicken on top, and the smashed burgers that garnered them a posse of food truck followers, featuring a smashed beef patty, plenty of cheese, onions, pickles, mayo and mustard. There's also a fried chicken burger so stacked you'll be hard pressed to wrap your hands around it—or you can go for the loaded fries version, which basically swaps out the bun for a pile of golden thick cut fries. Add on sides of deep-fried mozzarella sticks, mac 'n' cheese loaded fries, grilled saganaki or Dutch curry fries if you dare.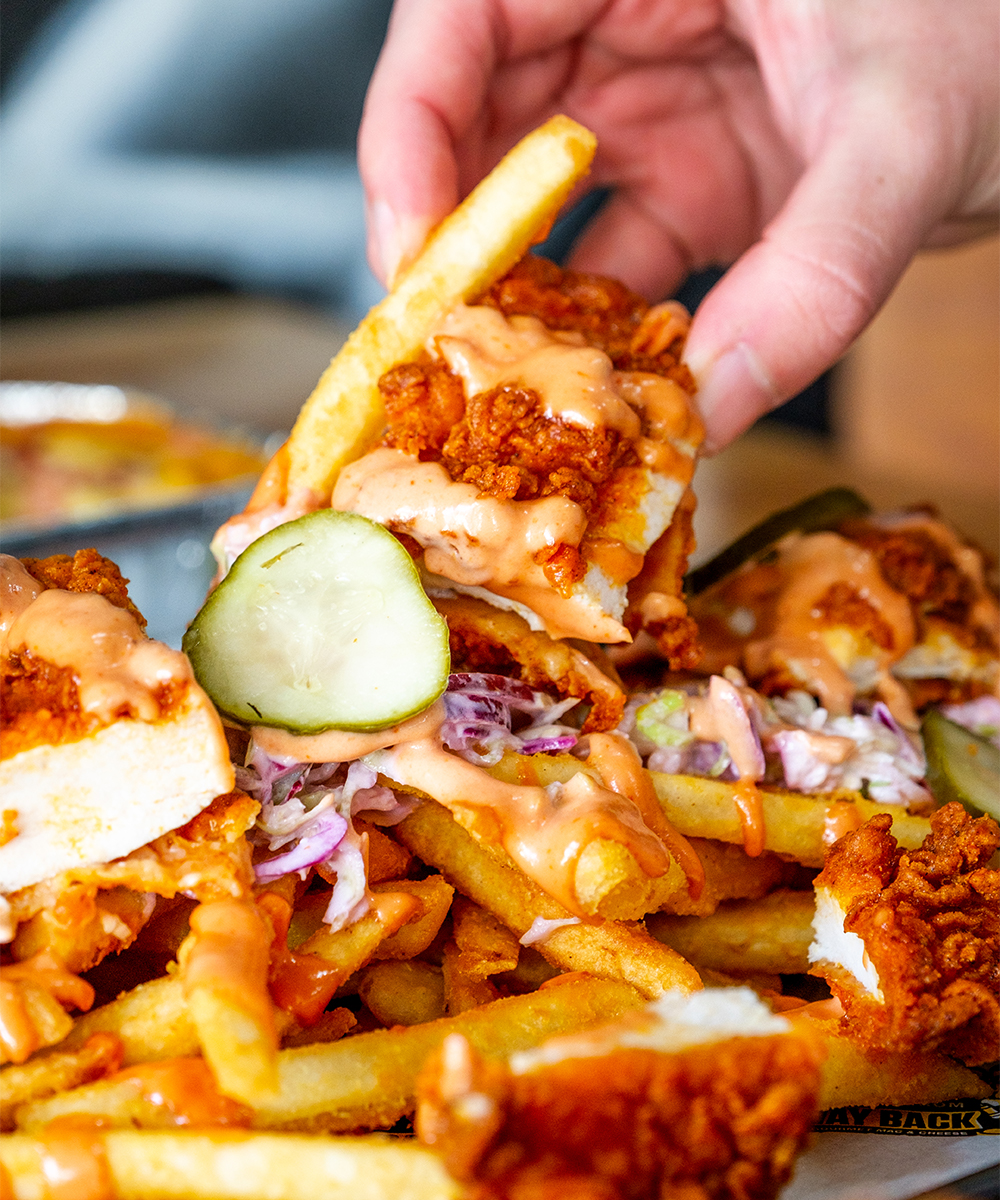 We haven't even gotten to the best part yet—joining the line-up of heart attack-inducing eats is Chicago-style deep dish pizza (yes, that means even MORE cheese), and for dessert, chocolate coated cheesecake slices on a stick. Or you can go all out with their dessert pizza slices loaded with cookies and slices of cake. Yes, actual slices. You'll have to wait until opening day until you can lay your eyes on those, but we've had a sneak preview and we can tell you honestly that you're going to lose your mind.
Drinks for now are limited to the soft variety until the team manages to get a hold of their liquor license, but you can expect to knock back tap beers with your spread once they do. For now though, save the date for Mac From Way Back's official opening on Friday 25 September.
Checked out this neon pink Thai eatery in Newstead yet?
Image credit: Sophie Spencer