Spring for marketeers means fresh flowers, and new seasons produce starts trickling through from the farms (read: mangoes!). This month, be sure to check out the new Jan Power's Farmers Markets at Albion, and also Winn Lane Spring Twilight Bazaar.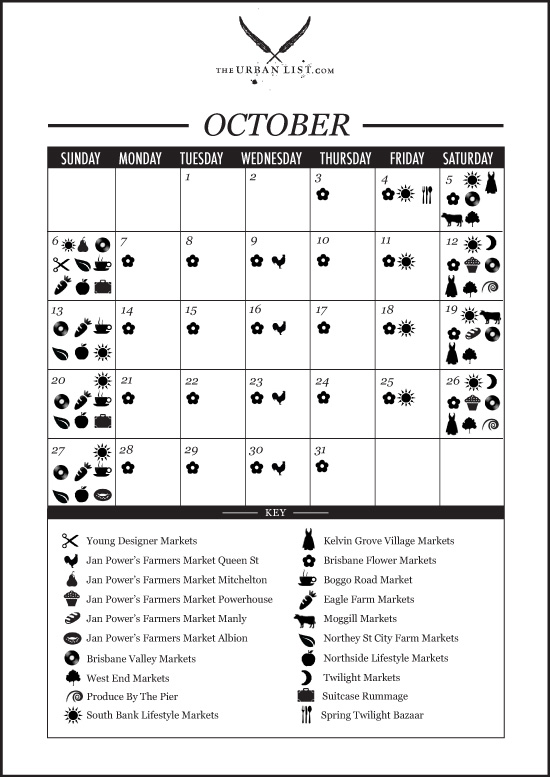 The powerhouse of Brisbane markets, Jan Power, was one of the original founders of the whole market movement in Brisbane. With 5 sites now across Brisbane any given week, you'll be able to find gorgeous flowers, artisan breads, fresh meat, fish and poultry, plus stalls unique to each particular location.
Where: Cnr Hudson and Albion Rd | Albion Mill
When: Fourth Sunday of every month 7:30am – 2pm
Where: Reddacliff Place | Queen Street in Brisbane CBD
When: Every Wednesday 10:00am - 6:00pm
Where: Brisbane Powerhouse | Lamington Street in New Farm
When: Second and fourth Saturday of every month 6:00am - 12:00pm
Where: Little Bayside Park | The Esplanade in Manly
When: Third Saturday of every month 6:00am - 12:00pm
Where: Blackwood Street in Mitchelton
When: First Sunday of every month 6:00am - 12:00pm
Davies Park Market (West End Market)
West End is home to the quirky and curious, which makes their markets very eclectic. Indulge in fresh fruit and veggies, fashion and gifts every Saturday. Find yourself a vintage bargain, or one-of-a-kind homemade piece of jewellery.
Where: Davies Park | Montague Road in West End
When: Every Saturday 6:00am - 2:00pm
Twice a month you can head in to the CBD to trawl through books, clothes, bric-a-brac, jewellery and records. Stall owners bring in a suitcase full to the brim with covetable trash, for you to pick up as treasure. We always find some great vintage pieces here!
Where: Reddacliff Place | Queen Street in Brisbane CBD
When: First and third Sunday of every month 12pm-5pm
You would think a place of this size and quality would be for wholesale purposes only, but it is open to the public as well. There is a great range of blooms here that aren't always stocked by your local florist. The girls in house are more than happy to give you some tips for styling the perfect bunch for a special occasion.
Where: Sherwood Road | Rocklea
When: Monday - Friday 5:00am - 3:00pm, Saturday 6:00am - 1:00pm
If you live near the uni campus, you must get down to the KG Markets every Saturday. There is some great, fresh produce on offer (and for much cheaper than the big chain shopping centres!).
Where: Musk Street | Kelvin Grove Urban Village
When: Every Saturday 6:00am - 1:00pm
The Valley Markets fill the Brunswick Street Mall space with clothing from local designers, crates of vinyl, and hand-made jewellery. They kick off at 8am, so you could even just stay out after a big night, if you're really keen!
Where: Chinatown and Brunswick Street Malls | Fortitude Valley
When: Every Saturday 8:00am - 4:00pm, Every Sunday 9:00am - 4:00pm
Held at the Eagle Farm Racecourse every Sunday, these markets are likely to give you a better return than betting on a horse. With organic fruit and veg, breads, and deli delights, we would put our money on you leaving with multiple shopping bags.
Where: Eagle Farm Racecourse | Lancaster Road in Ascot
When: Every Sunday 7:00am - 12:30pm
The markets at Moggill are a bona fide Farmer's Market. Producers and growers literally pull up in their trucks and pull trays and tubs of fresh produce out, onto a table to sell. There's also a great selection of local, free-range lamb, pork, beef and poultry.
Where: Brookfield State School | Boscombe Road in Brookfield
When: First and third Saturday of every month 6:30am - 11:00am
Northey Street City Farm Organic Market
Northey Street is a farm 7 days a week, and turns into a market space every Sunday from 6:00am. Everything is organic, and everything is reasonably priced also. You must try the Banh Mi! We voted it one of the top 32 things to do in Brisbane!
Where: Northey Street | Windsor
When: Every Sunday 6:00am - 10:30am
It's great to see Boggo Road Jail is now home to something a little less sinister: Markets! Wander through the wide array of stalls, pick yourself up a tasty little Mediterranean treat, and plant yourself in a nice shady spot. Proceed to people watch.
Where: Boggo Road Jail | Boggo Road in Dutton Park
When: Every Sunday 7:00am - 1:00pm
On the first Sunday of every month, local up and coming designers show off their wares at the Young Designers Market at South Bank. It has a great array of women's fashion items, as well as accessories and kids' apparel. There is also art, homewares, and furniture. Brisbane designers are oh so talented!
Where: Little Stanley Street | South Bank
When: First Sunday of every month 10:00am - 4:00pm
The only thing fresher than the Southport ocean breeze is the harvest found at Produce By The Pier. Gourmet meats, freshly grown fruit and vegetables, plus specialty wines and cheeses that make you want to throw away your wordly commitments and live on a yacht.
Where: Broadwater Parklands | Southport
When: Second and fourth Saturday of every month 7:00am – 12:00pm
Usually bare, the cobbled streets of Stanley Street Plaza come to life Friday to Sunday every week with the famous South Bank Lifestyle Market. These markets have the greatest variety of market stalls, from produce, baked goods, and slogan t-shirts, through to palm reading, gadgets, and art.
Where: Stanley Street Plaza | South Bank
When: Every Friday 5:00pm - 10:00pm, Saturday 10:00am - 5:00pm, Sunday 9:00am - 5:00pm
The best markets don't make you get up at the crack of dawn. And they serve beer. The Twilight Markets in West End tick all the right boxes with live music, vintage, designer, and recycled wares, and friendly faces beaming back at you.
Where: 113 Boundary Street | West End
When: Every second and fourth Saturday of the month
This market is all about bringing locals together. Taking place every Sunday in Eatons Hill, these markets are a great morning out with the family, and they even do face painting for the young-uns! Get the poffertjes for brekky and the wood-fired pizza for lunch.
Where: 646 South Pine Road | Eatons Hill
When: Every Sunday 6:30am - 1.00pm
It's great to see another night-time market pop up! Get down to Winn Lane this Friday and enjoy some fresh street food, market stalls from your favourite Valley boutiques, and live music from Brissie bands Twin Haus, and Major Leagues. We have high hopes this market becomes a regular thing.
Where: Winn Lane | Fortitude Valley
When: Friday October 4
th
5pm – 9pm
If you love our Market Calendar as much as we do, you can print it out here to put on your fridge, or get it tattooed on your thigh - PRINT ME!
Image Credit: She Left Me Behind
Are there any markets we've missed? Let us know in the comments below...