Let's set the scene on a typical Tuesday night:
It's 6.30pm, you're dead tired, and you're just leaving work.
You had a stupidly busy weekend so the pantry is bare — because, really, who wants to spend their relaxing-time grocery shopping? — and that pesky what-to-have-for-dinner question has reared its ugly head once again.
There are mouths to feed too, and the baying crowds demand satisfaction!
The Options:
1. Some grease-laden takeaway sure to send you to healthy dinner purgatory;
2. A desperate supermarket dash in which you end up waiting in line for half an hour with an unusable assortment of ingredients;
3. Or you could head to Pasta Pantry in Rosalie to pick yourself up some fresh and healthy takeaway, that tastes like homemade cooking, only better.
Pasta Pantry has been assisting the time-poor with gourmet pre-made pastas, lasagne, salads, pizza bases and desserts that won't break the bank, or your waistline either.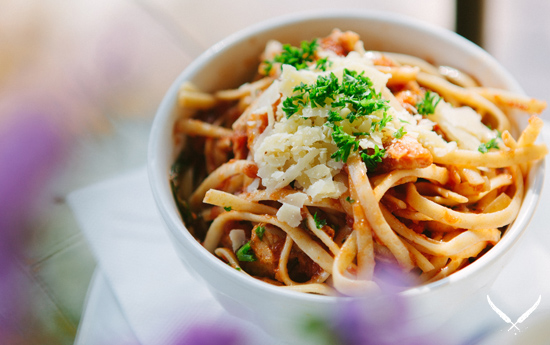 Authentic recipes and great flavours with an emphasis on simplicity and convenience make Pasta Pantry a definite crowd pleaser and a total no-brainer when you're stuck for dinner plans.
They also sell fresh pasta and pizza bases so you can customise yourself (or fool your friends into thinking you actually cooked).
For all you coeliacs, who may be covering your eyes in gluten-induced terror, don't fret, Pasty Pantry has taken care of you with a bunch of gluten free options, and their delicious salads.
But just because they will happily stock your pantry full to the brim of delicious pre-made goodness, that doesn't mean they can't do a mean eat-in meal too.
Great coffee (their barista Jason was even nominated in TUL's annual Barista, Waiter, Cocktail Maker awards) and super fresh juices round out this excellent takeaway option that won't leave you with the time-poor guilts.
What are you doing for dinner tonight?
Image Credit: Daniel Maddock
TUL Note: Today's List Love post is proudly sponsored by Pasta Pantry and endorsed by The Urban List. Our sponsored posts will never be a secret - the List Love seal will be stamped on any sponsored material you see on the site. Thank you for supporting the sponsors who make The Urban List possible.