If you're anything like us, you won't let anything get between you and a good burger. Oozing with cheese, stacked with pickles and dripping with sauce… we want it and we want it now.
No one understands the burger obsession better than the team at Foodora. In fact, they go out of their way to ensure burger deliciousness is delivered right to your front door each and every day. Not all superheroes wear capes, right? Right.
This month, they're taking our burger obsession to a whole new level (as if that was even possible?!), with the appropriately named Burger Month. Yes, we're serious. And all your fave burger vendors are joining in on the celebrations with epic deals AND mouth-watering new creations.
Better yet, the Burger Month also includes the highly anticipated Try Them All Challenge. Translation: the perfect excuse to eat ALL of the burgers.
Eat your way around your city by devouring five nominated burgers and for every burger you polish off, you'll collect a burger puzzle piece. Once you've tried all five, the puzzle is complete! 'Gram a photo with your burger (be sure to hashtag #foodoraburgermonth) and you're in the draw to win.
The lucky winner will receive four Gold Class movie tickets, $100 cinema spending money and a $200 Foodora voucher. Our advice? Use your voucher to order even MORE burgers, duh.
Want to get amongst it? You can find all the juicy deets below. Eat your city's five burgers below. Happy burger'ing!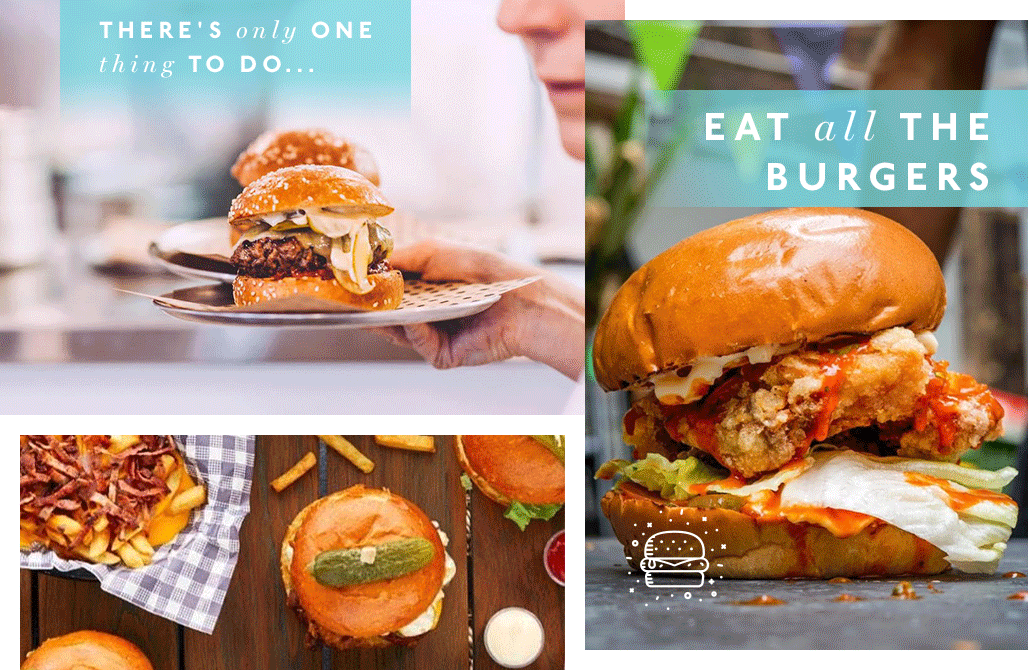 Melbourne
Skipping Girl: Start your Melb burger journey at Skipping Girl. The Try Them All Challenge showcases their epic cheeseburger.
Kung Fu Burger: The Thai boxer packs a punch (pun intended). It's brimming with BBQ pork, chilli mayo and pineapple.
Brooklyn Depot: Get amongst the burger of the month aka holy cheese and truff. This cheeseburger has the not-so-secret ingredient of truffle mayo.
Urger: You'll need to devour two burgers from Urger to complete the challenge. Start with the parma burger starring chicken schnitzel and Napoli sauce.
Sydney
4 Ounces Burger Co: Sydney's Try Them All Challenge starts with the rick Reuben burger. Inspired by the famous sammie, you'll find Swiss cheese, sauerkraut, pickles and pastrami jam-packed into some tasty buns.
Ze Pickle: Work up a hearty appetite before tackling Ze Pickle's 3am burger. It's stacked high with wagyu beef, bacon, guacamole and—the best part—fried cheese sticks.
Down N' Out: Devour Down N' Out's weekly special to complete the challenge. Keep tabs on their Insta to see what's up for grabs.
Bare Grill: Polish off Bare Grill's aptly named bare burger to be in it to win. We love the cheeseburger's oh-so-soft milk bun.
Chur Burger: Complete the challenge on a healthy note… with Chur Burger's spiced chickpea burger! Chur, guys.
Brisbane
4FINGERS: You better believe the Try Them All Challenge is coming to Bris too. Kick things off by wrapping your mouth around 4FINGERS' chicken stack.
Brooklyn Depot: Love all things truffle? Devour the holy cheese and truff for truffle mayo deliciousness.
Hello Harry: Say hello to the mouth-watering lamb souvlaki burger. It's packed with lamb that's been slow-roasted for an impressive 18 hours.
Johnny Rockets: Get Johnny Rockets' OG burger delivered to your door and you're on track to completing the challenge!
Fritzenberger: Last but in no ways least, Fritzenberger is whipping up a divine buffalo chicken bacon burger for the Try Them All Challenge.

What: Foodora Burger Month & Try Them All Challenge
Where: Various eateries across Brisbane, Melbourne and Sydney
When: For the month of May
For more deets, click here.
Editor's note: This article is proudly sponsored by Foodora and endorsed by The Urban List. Thank you for supporting the sponsors who make The Urban List possible. Click here for more information on our editorial policy.
Image credit: supplied