As we navigate our busy lives, everyday essentials can be easily taken for granted. Underwear, for example, is nearly as old as time itself and it has remained a daily necessity, but have you ever stopped and considered what your underwear is made out of or whether or not underwear is inclusive of every skin tone or, most importantly, if everyone can afford underwear? Enter The Unseen. A new ING Dreamstarter crowdfunded underwear label that stands for all that underwear should: diversity, our planet and everyone's right to underwear.
Championing inclusivity, The Unseen is a small underwear brand with a mighty mission. Disillusioned by the underrepresentation of diversity in mainstream media and the impact of body image disempowerment, founder—and former teacher—Caitlyn Overell decided it was time to create inclusive underwear that's both better for the world and the people who inhabit it. Dedicated to creating a range of organic and ethically-produced underwear, the label not only includes a range of various colourways to cater for a broad spectrum of skin colours, but it also gives back to those most in need.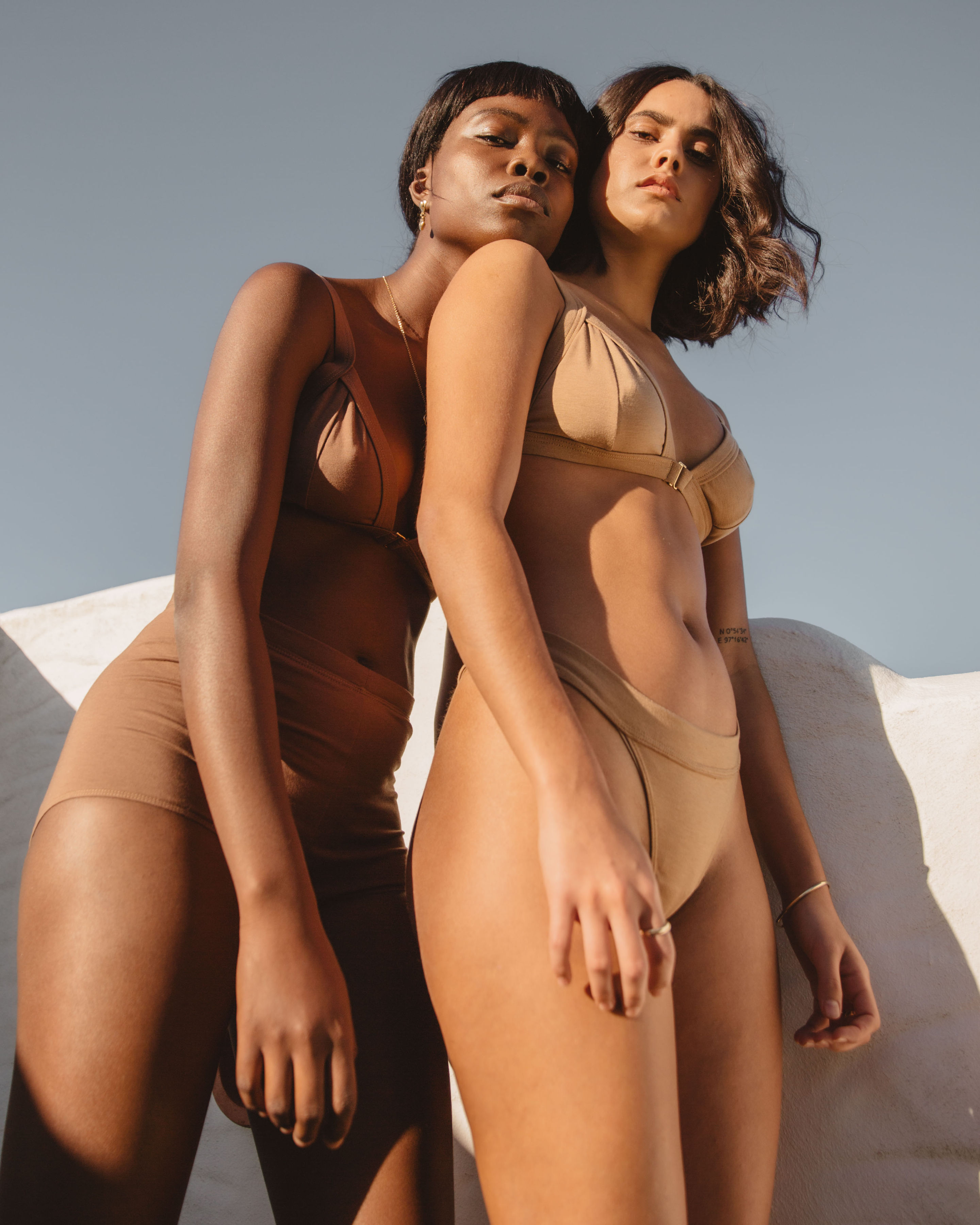 Sadly, underwear is one of the least donated items to community and domestic violence shelters so, to combat this matter, The Unseen has partnered with a number of shelters across Australia to donate pairs of underwear to men, women and teens who are homeless or seeking refuge, with an ongoing commitment of donating five per cent of the label's overall annual stock volume to support over 200 people in need.
As for the launch collection, the brand takes a minimalist and natural approach to traditional underwear garments. Boasting a luxurious blend of GOTS certified organic cotton and bamboo, the range features a bra, Brazilian briefs, a thong and trunks, which all come in five hues of 'nude' and cut a strikingly modern silhouette.
"In the realm of underwear, our options for something that's considerate of people, our planet and our privates is hard to come by," says Overell. "The [fashion] industry is all too dismissive of the toxic concoction of pesticides, heavy metals and other chemicals that our most sensitive areas are becoming exposed to. The environmental and social cost of conventional cotton and synthetics is alarming when you inform yourself.
"And to think this is our norm for underwear, we have to raise the standards."
Now that the label has successfully crowdfunded, Overell aims to officially launch in October 2019. "We're so excited to join the ranks of inspiring brands and businesses who have successfully crowdfunded through ING Dreamstarter. We're now able to fund the production of five shades of Nude across our underwear and kickstart our social mission, donating over 200 pairs of new underwear to our partnering crisis shelter, Brisbane Youth Service. I cannot wait to personally deliver that drop of underwear," Overall says. "This cause holds a huge place in my heart."
If you're after underwear that gives back and want to feel good from the inside out, keep up to date with The Unseen official launch here. Fortunately, the Brisbane-based label is just one of the nine campaigns to have successfully crowdfunded this year through ING Dreamstarter. Click here to see the other incredible stories.
Editor's note: This article is proudly sponsored by ING Dreamstarter and endorsed by Urban List. Thank you for supporting the sponsors who make Urban List possible. Click here for more information on our editorial policy.