Call us sooks, but there's something about winter that makes dining out sometimes seem like a tall order. That's why we love it when our favourite Brisbane restaurants do take away. It shifts the couch versus outdoors ratio in our favour, and leaves plenty of time for MasterChef. Whether you're after dinner or a delicious something to take back to your desk of a lunch hour, Brisbane has takeaway options galore.
These are some of our favourite Brisbane restaurants doing takeaway. Bless 'em.
Mighty Mighty
Everybody's favourite rib joint, Mighty Mighty, have just joined the Brisbane take-away lunch trend, serving up their scrummy soul food to go. Their lunch menu includes beef brisket rolls, their famous hot wings, a classic Rueben, and a pulled pork roll, while the dinner take-out option has beef short ribs and a pork Boston butt. Mighty Mighty's 'Carry Out' menu is available for lunch daily from 12pm to 2:30pm, and for dinner from Sunday to Thursday until 9pm.
Sorellina Pizza
Eating in at Sorellina Pizza in Woolloongabba is half the fun thanks to the killer tunes and totally relaxed atmosphere, but if you prefer the comfort of your own abode then a selection of their moreish wood fired pizzas and starters is up for grabs on this authentic pizzeria's takeaway menu. Become a regular takeaway customer and they'll even shout you your sixth pizza!
Mizu
Ahh, Mizu. In a world of lacklustre and greasy takeway, you really are a shining light. Snap up some of the most authentic Japanese food to chow down on at home from either West End or Teneriffe. Sashimi, sushi, teriyakis, tempura, and salads can all be made to go, as well as some quirky Japanese desserts to finish things off.
Alfredo's
Wood fired pizza is one thing. Wood fired pizza that comes to you is quite another. Throw dessert into the mix (Nutella and banana dessert pizza), drinks (yep, they'll bring beer, wine, sprits, and ice to you), and they fact that they deliver until midnight Sunday through Thursday, and until 1am Friday and Saturday, and you've got one heck of a take away service. Mr Alfredo, you are a legend.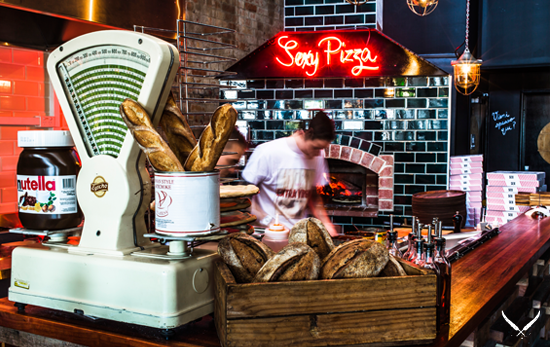 Reef Seafood & Sushi
Takeaway sushi is not a new concept. But takeaway bento boxes, Don sets (including chirashi, salmon, tuna), sashimi, seafood chowder, and fish and chips, all made from the freshest fish, is a novel takeaway idea that we can get behind. Reef is an awesome mix between authentic Japanese and fish and chip shop, and is open until 9pm.
Indian Mehfil
Indian is a takeaway fave, and for good reason; Naan is why we get up in the morning. But exceptional Indian food in Brisbane is as rare as hen's teeth, and an awesome Indian restaurant that not only does takeaway but also delivers is the holy trinity of convenient eating. That's why we're going crazy for Indian Mehfil, with locations in the Brisbane CBD and Mt Gravatt, because you can have their authentic curries and other Indian delights on your table without lifting a finger (well, you'll have to dial to order, but you get the analogy). Our picks of the menu include their perfect methi malai kashmiri (an almond and cashew flavoured curry), and the ling fish fillet pan fried in spices.
(Note: Indian Mehfil's CBD restaurant does takeaway and delivery. Mt Gravatt just does takeaway)
Vespa Pizza
With locations in Woolloongabba and The Valley, Vespa is the ultimate in thin, crispy convenience, because these pizza perfectionists deliver. Their pizza bianca and a bottle of red is our idea of a big night in, and this Brisbane takeaway classic is open 7 days in New Farm, and Tuesday through Sunday in Woolloongabba.
Thai Wi-Rat
Run-of-the-mill Thai, you can find yourself. Epically good, authentic Thai is not so easy to locate. If you can forgive the unfortunate name, Thai Wi-Rat is our pick for top notch Thai takeaway in Brisbane. Found in the China Town Mall, Thai Wi-Rat serve up South East Asian dishes that hit the mark every time. The duck larb is a winner.
Image credits: Geoff Zabell, Daniel Maddock