Each month one member of The Urban List team will be sharing their current obsessions, and—shock—not all of it's edible!
This month, Senior Graphic Designer Gabby Stjernqvist narrows her must-haves down to 10 fabulous things; from Pantone Mugs in pastel pink, to cat-eye Celine sunglasses and summer cocktails at the Royal Croquet Club, here's everything we're loving this month.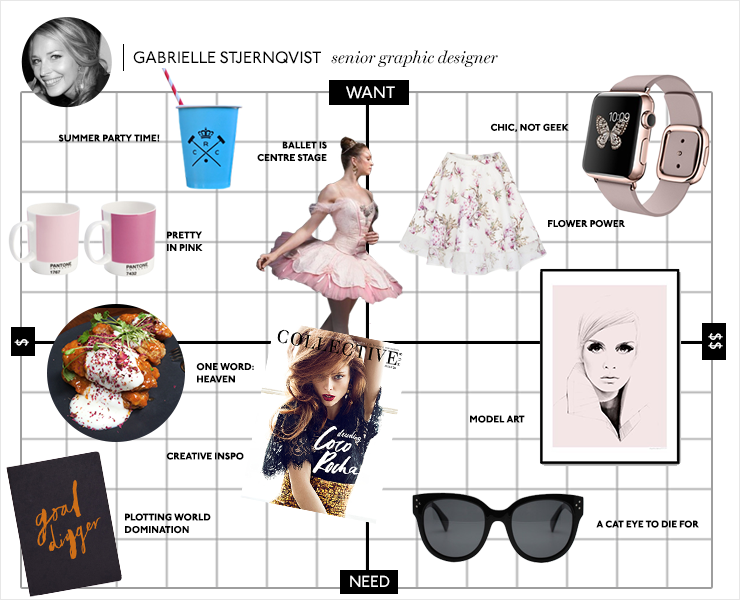 Aje Sirocco Skirt
Summer weather is here. Yew! This Aje magnolia-print skirt is the perfect combination between pretty and party. I just need to save up for it now.
The Apple Watch In Rose Gold
This ain't no tech geek purchase. I'm looking to get the new Apple Watch in rose gold for one reason only: to match my phone!
Magdalena Tyboni Twiggy Print
Twiggy is the coolest fashion icon out there and I need some new prints for our new house. And yeah, okay, truth be told I saw this fabulous Magdalena Tyboni print on my fave TV show, The Block.
Celine Sunglasses
These Celine sunglasses are timeless, black and have a cat eye edge. #necessity
The Royal Croquet Club Garden Party
Hot weather, great food, delicious cocktails and a bit of croquet? The Royal Croquet Club Garden Party is going to be the party of the summer and I'll be there!
Mi Goals Goal Digger Book
I wanna get shit done! And I'll be scribbling in the cheeky Mi Goals 'Goal Digger' book, plotting world domination in style.
Tickets To Queensland Ballet's The Sleeping Beauty
The Queensland Ballet's version of The Sleeping Beauty looks stunning and who doesn't love dressing up and going to the ballet? Also, I secretly wish I was a ballerina.
The Bekaa Chicken Wings At Gerard's Bistro
Gerard Bistro's Bekaa Wings with kishk yogurt and rose petals (!) are the fanciest, tastiest chicken wings ever.
A Subscription To Collective Magazine
Collective really hits the mark with articles about inspiring entrepreneurs across a range of fields and the creative design of the magazine is very cool too. I'm keen to add this to my post box every month.
Pantone Mugs in #673 and #1767
All designers love Pantone right? I love colours #673 and #1767 and pretty pink mugs are a good option I can use erryday.