Everybody knows that Instagram's really all about food, and nothing gets those double clicks like a delectable, indulgent, OTT dessert. If your account's looking a little lacklustre lately and (like us) your sweet tooth rules your life, well, today's your lucky day.
Westfield Chermside's brand-new resort-style dining precinct (which, with its palm trees, turquoise pools and lush lawns is pretty damn 'grammable itself) is the perfect place to start in your quest to fill up your feed with thumb-stoppingly yummy confections. From its huge selection of unreal eateries, we've rounded up the most Insta-worthy desserts that will have you lunging for your phone to bring delicious new meaning to the term "Instagram feed".
Because if you didn't 'gram it, did you really eat it?
Macarons at Savour
Sweet, light and colourful, macarons are a sure-fire way to brighten up your Insta-feed, and Savour's tasty little guys, with their crisp shells and chewy innards, have won our hearts. Available individually or boxed, and in a luscious rainbow of flavours like burnt salted caramel, Madagascan vanilla and coffee, raspberry, rose and milk chocolate, they're basically impossible to take a bad photo of. Extra points if you also capture Savour's ultra-modern minimal interior as a backdrop before scoffing.
Panna Cotta at BiN 931
Sophisticated but relaxed, BiN 931 is your go-to for a refined dessert experience. Their indulgent vanilla pana cotta with rhubarb compote and salted caramel crumble creates a perfect tableaux against the view of the new precinct's gorgeous tropical features—especially alongside an expertly mixed cocktail.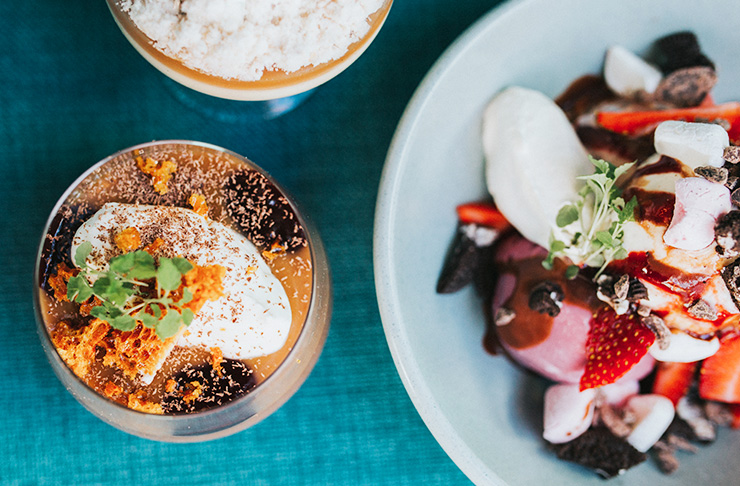 Matcha Soft Serve at Motto Motto
Motto Motto's vibrant green matcha soft serve is always reliably cute, so it's easy to snap a great little Insta-pic before it starts to melt. You can also choose from a black or red cone, and all-matcha or matcha-vanilla swirl ice cream, so you can change things up depending on the look (and flavour) you're going for. Simple but effective, and of course a tasty sweet finish to a delish Japanese feast!
Carcamo's Gourmet Caramel Apples
These guys score extra Insta-points for nostalgia–who didn't love toffee apples as a kid? Imagine if your 7-year-old self could get their grubby mitts on one of these next-level bad boys. Carcamo's cute displays and modern take on these all-natural treats of yesteryear will guarantee all of the Insta-likes.
Churros At San Churro
Mm, churros. Does it actually get any better than sugar-dusted, crispy-fried golden dough dipped in liquid couverture chocolate? (Hint: no). The "Double with Extras" menu option from San Churro is an excellent choice for the 'gram: six churros and two dip-cups, prettied up with sliced strawberry and banana. Melted chocolate dipping action shot compulsory.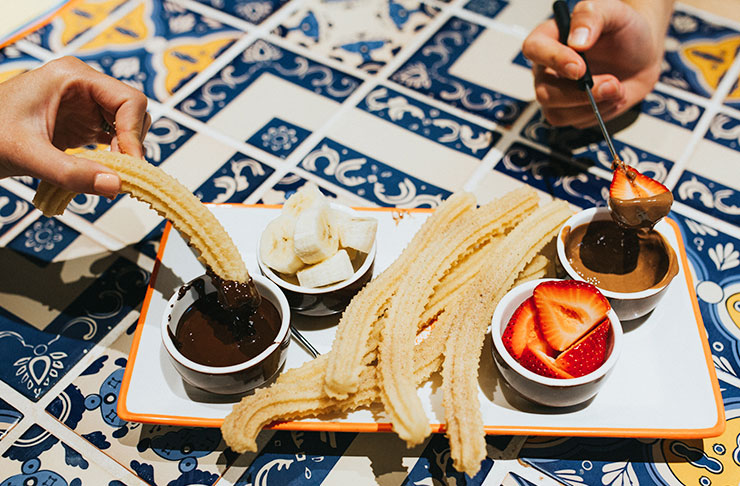 Dessert Pie At Bootlegger
Known for being masters of meat, the guys at Bootlegger also have the sweet side of things on lock, namely their dessert pies. There's apple pie cheesecake, lemon and lime pie, chocolate and peanut butter pie, and cherry pie with almond streusel, but our pick is the banana custard and caramel pie for its uber-indulgent taste and photogenic ooze factor.
Loukoumades At Zeus Street Greek
If you can't post envy-inducing Instas from Santorini like everyone else seems to be, traditional Greek street food is the next best thing, right? Zeus Street Greek's delish traditional Greek doughnuts, covered in walnuts and then either hazelnut chocolate or honey and cinnamon, are sure to ease at least some of the pain of missing out on a European summer.
Concrete At Betty's Burgers & Concrete Co
You haven't had the full Betty's experience if you haven't followed up one of their epic burgers with a Concrete ice cream, and now that we have Betty's in Brisbane, your Insta-stories can feature them whenever you damn well please. Play it safe with one of their reliably delicious combos like lemon raspberry cheesecake or honeycomb orange biscuit crunch; or take a risk with your own mix-ins–who says you can't have peanut butter cups, passionfruit cream, marshmallow sauce AND Persian fairy floss? Not us.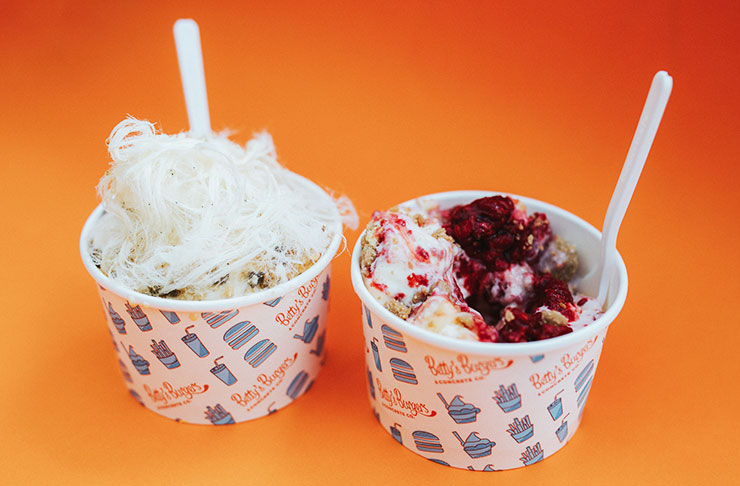 Maple Waffles At Scuzi
Dessert doesn't have to be after dinner. It can be after any meal–or here's an idea: why not just make it your meal? If dessert for breakfast isn't living your best life, we don't know what is. Capture the hedonistic AF moment at Scuzi, with their waffles with maple syrup, Nutella or butterscotch, plus a big ol' scoop of ice cream. Now that's how to #startthedayright.
Image credit: Hayley Williamson
Editor's note: This article is sponsored by Westfield Chermside and endorsed by The Urban List Brisbane. To read our editorial policy click here.