South Bank is burgeoning as a bar and restaurant hub, while Brisbane's craft beer scene is booming, so it makes sense that those two elements should coalesce at some stage.
The physical manifestation of this holy union is called Tomahawk; a new drinking establishment on Grey Street brought to you by the nice people at Tippler's Tap.
If you've been to The Tap, then you'll have a fair idea of what to expect at her South Bank soul sister, namely a wide range of brews and hearty, tasty bar nosh.
Tomahawk is a welcome addition to the zone.
Its timber furnishings sprawl out into the open space in a way that invites you in to grab a stool, or gather round a table with friends, sample some of the food, maybe stick around for a while longer than you'd planned, get your drink on, mingle, discuss beer at great length with the bartenders, laugh, flirt, try some more of the food, try the rest of the beers, and so on and so forth.
In short, it's an easygoing place with has an open feel to it that contrasts with some of the more boutique locales in South Bank that you wouldn't think of heading to if you were after a casual drink or five.
The decor is elementary. There are some overhanging plants up on one wall. The bar is tiled in a brick pattern. Picture Piaf, the venue's former establishment, but simplified.
The most appealing part of the layout is the way the 13 beer taps are stationed, sans labels of any kind, against a steel wall behind the bar, rather than on it. I'm not sure why that's so appealing to me, it just is.
Even though the contents of the kegs corresponding to each tap are written nearby on a blackboard, it is still somehow impressive to see the staff sweep over the correct handle every time without any visual guide, like some kind of hipster beer savants.
The brews are rotated, but you can always count on a well-balanced variety of ales and lagers of differing tints, of origins both local and distant. If you're not sure what you want, ask the cool kids standing behind the bar, they will certainly be able to assist you. Be prepared to pay for quality, though, with small, pony-sized beers going for around $6 and the larger schooners priced around the $11 mark.
There's a carefully selected set of spirits on sale, and you will find a few different types of wine.
In case you missed the point that these guys are in the business of beer, Executive Chef Ali Orchard has designed a menu that doffs its hat to that much-celebrated elixir, incorporating it, and the ingredients from which it is made, into the dishes.
It's an interesting angle to take on bar food, and results in some delectable creations such as the hop-smoked rainbow trout, the sticky stout lamb ribs and the spicy pork and fennel meatballs served with toasted barley. Even the ice-cream is beer infused. Note that food is only served until 9pm, so don't get caught up in tasting IPAs and forget to take your supper!
Tomahawk contributes to the growing South Bank buzz by presenting something a little different that should lure in a new kind of clientele; the kind of cats who would normally be seen at one of West End or the Valley's more chilled bars.
Sound like something you'd enjoy? Better get over there, then.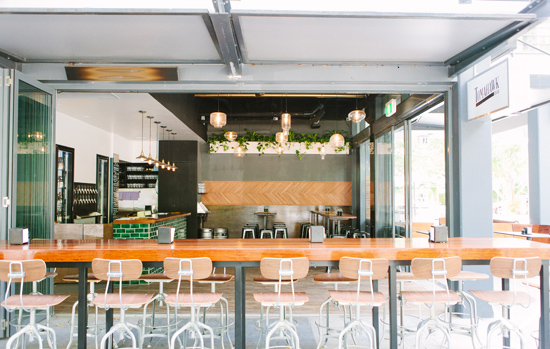 TUL Note: Hailing from the 'Paris of the South,' Bundaberg, Dan Colasimone is back in Brisbane after spending the better part of a decade living overseas. He also writes about sport. He once completed an Arts degree. Twitter: @ArgentinaFW
Image credits: Daniel Maddock