Alexander Lotersztain is an Argentinean-born, Brisbane-based designer, and owner of fabulous design studio, Derlot. Alexander is the creative genius behind some of our favourite Brisbane venues, Limes Hotel, Alfred & Constance, Alfredo's Pizzeria, and Chester Street Bread Co. so we were so excited when he opened his own venue in West End, Depo (and, no surprise, this cool new venue is fast becoming a Brisbane hotspot).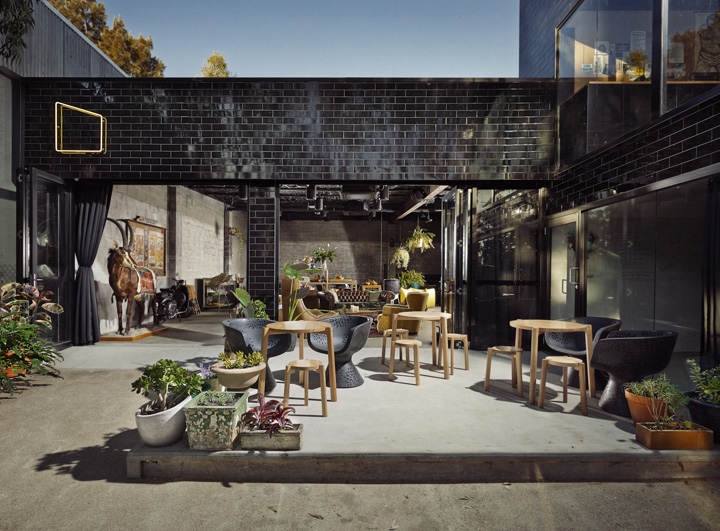 Lotersztain has some serious props amongst the design community both locally, nationally and internationally—his chairs are now gracing the front of Monocle in London! He also did an impressive TedX talk in Sydney about culture shift through design—check it out here.
We took two with the man behind Brisbane's coolest interiors to chat about the best parts of his job, super powers, and a typical day in his busy, super-stylish life.
TUL: Describe in one sentence what you do for work?
Designer.
TUL: What is the best part about what you do?
I am constantly learning new things.
TUL: If you weren't a designer, what other path would you choose?
Something creative, I've always liked anything to do with that side of my brain.
TUL: What do you want people to take away from your design, and from Depo?
To feel inspired, to feel comfortable and to know that someone has taken care of making their experience a memorable one.
TUL: What does a typical day look like for you?
When in Brisbane . . .
Wake up, workout when I can, then quick small brekky with the family and off to the studio.
Pick up a coffee at Depo, check how it is all going. My first few hours in the studio are setting the tasks for the day, then into it, meeting clients and visit sites or projects. Then home for dinner, in time to read a story to my little one.
TUL: Describe your personal style.
No idea how to describe it . . . kind of, mine.
TUL: If you were an animal, what would you be?
An insect of some sort.
TUL: If you could have a super power what would it be?
Get politicians to understand the value of design, sustainability, and what that could bring to the economy and culture. Remove the red tape where appropriate, and put some perspective into it!
TUL: The last thing you purchased?
As we speak, I'm purchasing a ticket to LA for a design forum.
TUL: Best way to spend $50?
Shout a friend for lunch.
TUL: And the best way to spend $500?
Shout some friends a dinner.
TUL: 3 great reads? Or musicians/albums you have on high rotation?
My Depo business partner, Erik gave me a fantastic read: The Art of The Restrauateur, by Nicholas Lander.
Music varies with day, night, work, leisure etc. But, Japanese DJ Munro and DJ Suff Daddy, and soe bebo Valdez for some Latin roots.
TUL: The best gift that you have ever received?
The birth of my daughter, Rio.
TUL: The best gift that you have ever given?
A surprise visit to my parents on Christmas day in 2000. Their faces: priceless.
TUL: What would you request for your last meal on earth?
Probably some sort of dessert.
TUL: Favorite city . . . other than Brisbane?
Tokyo, Barcelona, Buenos Aires.
TUL: 3 places in Brisbane you couldn't live without?
Depo, the River, and the people.
TUL: Favorite Brisbane coffee spot?
Although I now frequent Depo more often than not, Ugees in Boundary Street in West End is a classic.
TUL: Favorite Brisbane restaurant?
My partner's cooking.
TUL: Place for a drink?
I still think the Limes Hotel rooftop is up there on my list.
TUL: Biggest Indulgence?
Travel, always. Inspiring, energising, and relaxing . . . all in one.
TUL: Latest Brisbane discovery?
Some nice little places are popping up in Tennerife, and Alfredo's pizza in the Valley.
TUL: What's next for you?
Plenty. Another project with Damian Griffiths (Alfred and Constance), I like collaborating with him, our projects are always very creative, with scope to experiment.
A really interesting project with Virgin Australia, which is confidential at this stage. Also a very cool project with Gold Coast company, Superior on a new marina and pontoon system. Revolutionary!
Launching a new seating collection with Derlot Editions in a couple of months—looking great so far!
Images credit: Florian Groehn