When an anti-establishment, "anti-designer" contemporary artist pairs up with one of this country's largest establishments in an unprecedented, one-of-a-kind collaboration, the results are sure to be good.
Lister x Westfield Carindale is a match made in contrasting, juxtaposed heaven, and the artist behind the live art installation is just as bold and no-nonense as his artworks.
From Queensland College of Art, to pioneering the street and stencil art movement in Brisbane, to a mentorship with Max Gimblett in New York, Anthony Lister is redefining our perception of the intersection between art and fashion.
In this collab' between Lister and Westfield Carindale, the artist uses his highly stylised hand drawn technique and brash splashes of colour to interpret A/W 2014 fashion trends in the heart of Westfield Carindale.
We took two minutes with this l'enfant terrible to discuss being hungry, zombie hoards, and being the art world's Indiana Jones.
See the exhibition at Westfield Carindale until 15th June between 10am to 2pm each day and 6pm to 8pm on Thursday nights.
TUL: How did you get started? Have you always been into art and design?

A: I'm not into design at all, I never got started in design and I consider myself an anti-designer.
TUL: Have you had any formal training or are you self-taught? How did you get to where you are today?

A: Yes I did a degree in fine art at the Queensland Collage of Fine Art and then followed it up with a mentorship in New York. I might add that none of my lecturers used any of the materials that I currently use in my practice or considered my craft a movement, so go figure…
TUL: Who or what influences your work?

A: Happy people influence my work, dark unloved places influence my work, but I always prefer to refer to the master painter Chuck Close: "Inspiration is for beginners, the rest of us just get to work".
TUL: What do you love about street art?

A: I love the fact that street art exists with tension between its viewers and its creators. I pay attention to everything but the signs on the street. I consider myself a contemporary Indiana Jones searching for the ascetic Holy Grail and then leaving it once I find it in its place.
TUL: Can you tell us a bit about Lister x Westfield Carindale?

A: Many years ago I rented an abandoned room in Kings Cross in a strip club and set it up as a gallery. This was to draw attention to the fact that galleries weren't the only context that art needed to be viewed in order to absorb the aura of fine art consumption. A shopping center is no different to a strip club, the only difference is the toilets are cleaner.
TUL: What appealed to you about the project? How did you get involved?

A: I was simply in the wrong place at the wrong time. I have to admit it is more pleasant to be invited into a space to create than to be chased out of the car park for doing the same thing.
TUL: How would you characterize Australian style?

A: It's like slipping on a banana. At first it looks like it wouldn't be so slippery or painful but in fact, when you're a one legged New Zealander it's not easy bro. I'm never not on purpose therefore I can tell you what is never odd or even.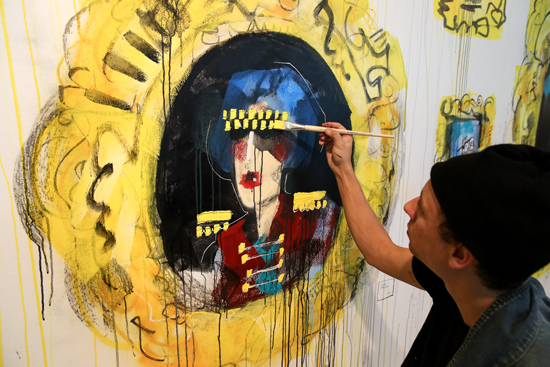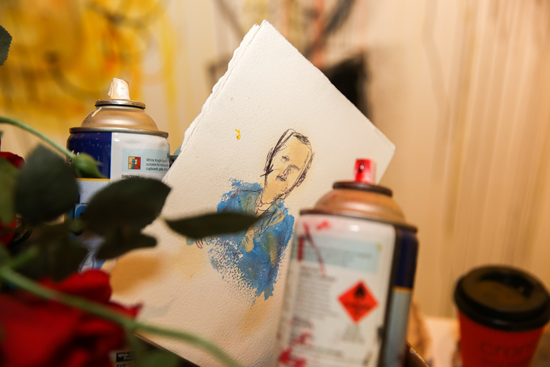 TUL: How do you get started when you are commissioned to create an installation? What's your process?

A: Firstly, I must see the space. Secondly I must meditate in the space. Everything past that is beyond my explanation. I am purely a vessel for vibrations of my ancestors and the lords that have gone before me.
TUL: How long does it take you to create a piece of work?

A: A piece of work is finished when it's done. Time is a slave tool, I'm a slave to my practice.
TUL: What does a typical day look like for you?

A: I just saw a pigeon land on a building and I think I'm getting hungry again.
TUL: You've worked and exhibited all over the world — What's your favourite city?

A: My favourite city is the one I'm in. Having travelled so far and so wide I realize it's not where I am, it's who I'm with that counts.
TUL: You were born in Brisbane — what do you love about the city?

A: I used to love so many things about Brisbane but unfortunately they've all been closed down or destroyed. I wish Brisbane would bring back the bars and car park markets, the grit and the glamour of its disconcern. Authoritarian control has unfortunately killed the character of Brisbane, let's hope this Westfield Carindale initiative can breed new life into the zombie hoards.
TUL: What's the best way to spend $50?

A: On something you need not something you want.
TUL: And, $500?

A: As above.
TUL: What's your biggest indulgence?

A: To entertain interviews with my egocentric answers.
TUL: What's next for Anthony Lister?

A: NYC, London, Paris. You know same old.
TUL Note: Today's List Love post is proudly sponsored by Lister x Westfield Carindale and endorsed by The Urban List. Our sponsored posts will never be a secret — the List Love seal will be stamped on any sponsored material you see on the site. Thank you for supporting the sponsors who make The Urban List possible.