The brains, beauty and biceps behind global activewear label Lorna Jane, Lorna Jane Clarkson is every bit the Australian fitness and fashion icon. To celebrate 25 years in the business, Lorna Jane has launched an exclusive new collection, 'Uniquely' by Lorna Jane, featuring sportswear shapes, chic metallics and quilted embellishments, creating the perfect sports-luxe look worthy of the gym and beyond.
We take two to chat to the lovely Lorna about the latest range, how to work activewear in the boardroom, and what's next for the cult brand.

TUL: First off, happy 25th anniversary! Hip hip hooray! How did it all begin?
25 years ago, I would never have imagined I'd be here today with 150 retail stores globally and a social following unheard of in the fashion arena. It just shows the importance of following your dreams, trusting your instincts and never giving up!

Lorna Jane was born out of a personal desire to create activewear for myself that made me look and feel great while working out – and actually inspired me to be active.

Women in my fitness classes loved my designs and began placing orders. 25 years later we have single-handedly defined the Active Living category – and the rest is history!

TUL: Can you give us a bit of background on your mantra 'Move Nourish Believe'?
Lorna Jane's Active Living philosophy is a way of life that can be easily achieved through the daily practice of Move Nourish Believe. It involves putting your health first by simply moving your body every day, nourishing from the inside out and believing anything is possible if you are willing to work for it.

In my eyes, these three pillars of Active Living are essential ingredients to living with purpose and creating a beautiful active life for yourself.

TUL: Can you tell us a little about 'Uniquely' by Lorna Jane?
Uniquely Lorna Jane is a fashion forward collection designed for the modern women that wants her wardrobe to connect with her busy, multi-faceted lifestyle. Each fashion piece fuses sportswear silhouettes and luxe fashion fabrics to enhance the wearer's freedom and develop her signature active style. The collection really demonstrates that being active is the new black and the days of activewear being confined to formal exercise are long gone.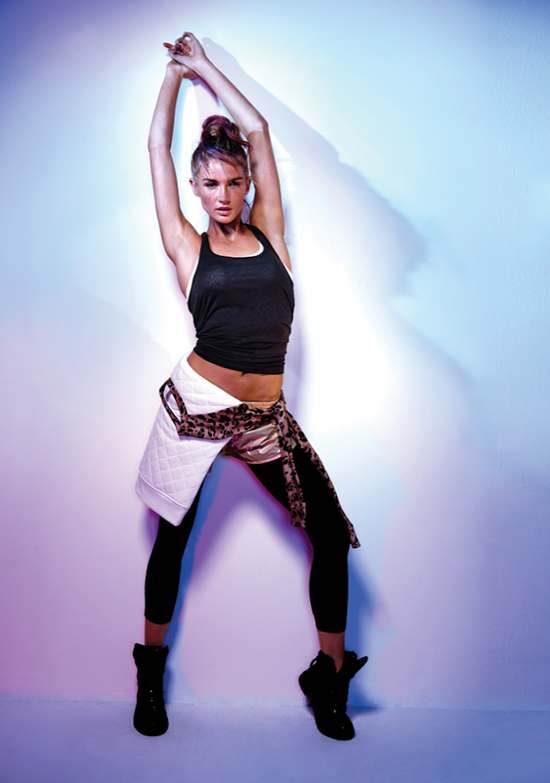 TUL: Any favourite pieces from your latest collection?
Right now I'm wearing the Anya Seamless Top – it has super soft sleeves and is perfect for layering with your everyday fashion pieces. My new Shimmer Active Bomber Jacket is also an essential this season; great for putting on after a workout but equally my go-to when I'm looking for a jacket to wear for a catch-up with friends.

TUL: We all know activewear isn't confined to the gym anymore. How can we work the workout gear off the treadmill?
I would love for more women to have fun with their activewear and wear outfits that inspire them to live active every day. Start by investing in versatile pieces that are comfortable and stylish at the same time, so you're ready to move at a moment's notice.

A great pair of full-length tights that work equally as well on the gym floor or for work are a good idea. Or a cute bra that works back with both your fashion tops and active pieces – I have to say, our bras are so cute that most of my team don't wear conventional bras anymore!

TUL: What's your favourite way to feel the burn?
My body responds really well to yoga and strength training, but lately I'm loving cardio barre for developing muscle tone and sweating out any stress or tension – and 'yes' feeling the burn!

TUL: When winter rolls around, all we want to do is hide our lumpy bits under the layers. What's your top tip for staying motivated in the colder months?
I love the saying 'great bodies are made in winter' and I try to stay active no matter the weather because it makes me 'feel' good. I find it easy to stay motivated when I put a bit of ceremony into my workouts – by simply laying out my active outfit to make sure I'm ready and excited for my next workout.

I also plan workouts with friends to keep us both accountable and, ultimately, checking in with my PT is an effective wake-up call if I'm getting a bit off-track.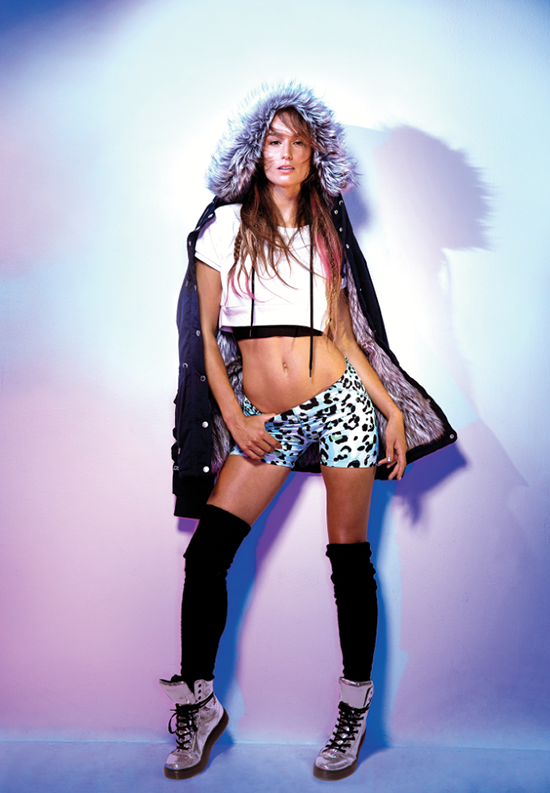 TUL: Do you follow any great health blogs?
I've discovered so many incredible health bloggers while working on my own blog movenourishbelieve.com. Some of my faves are Dr Libby Weaver, Teresa Cutter, Carla Oates, Jessica Sepel and Melissa Ambrosini. Just to name a few!

TUL: Being healthy is…
… the only way to get the most out of your one precious life. I'm endlessly inspired to share my Active Living philosophy and the daily practice of Move Nourish Believe so that every woman can experience how wonderful 'healthy' feels and ultimately live a healthier, happier and more positive life.

TUL: Do you have a go-to nutritious meal?
It would have to be a green smoothie! No matter how busy I am, there is always time to grab my fave greens, a pear or banana, coconut water and a handful of super foods (like glow powder, coconut oil, bee pollen, chia seeds or maca), blend them for a couple of minutes and rush out the door.

TUL: We can't be good allll the time– what's your biggest indulgence?
One of the best things about Active Living is never feeling guilty. I work hard when I'm exercising so I don't think twice about rewarding myself with a relaxing massage or treating myself to some dark chocolate at the end of my day. Life is to be enjoyed and that begins with good health, but also includes doing the things that we love.

TUL: And finally, what's to come for Lorna Jane?
Right now I'm incredibly excited about our continued expansion in to the US. We are also taking Lorna Jane global with new distributors taking on the brand every month. We will continue to design 70-100 new styles every month as well as work on a new line of Move Nourish Believe products for release in time for Christmas 2014. I'm also working on Active Nation Day (Sep 28th) being bigger and better than ever, and I have a new book – due for release in July 2014.

'Uniquely' by Lorna Jane is now available in Lorna Jane, select David Jones stores and online here.

Image credits: Stephen Chee, Breakfast with Audrey