Do you follow Rich Kids of Instagram "They have more money than you. This is what they do."? Are you secretly counting the sleeps until the first episode of Rich Kids of Beverley Hills, the reality TV show inspired by RKOI? While you wait, this is how you can get your 'rich kids' fix. Presenting The Urban Reading List...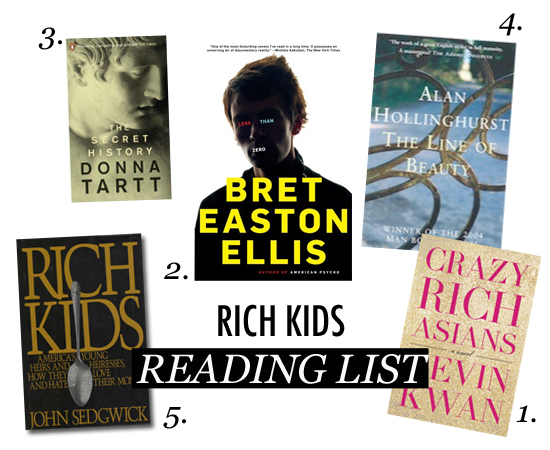 1. Crazy Rich Asians by Kevin Kwan | The Perfect Holiday Book
How's this for a recommendation? The devil in Prada herself, Anna Wintour, described this book as 'mordantly funny'.
This novel is the Chinese version of RKOI. The Bridget Jones' Diary style story is set around the uber-rich Singaporese Chinese jet-set. It is a window into another world — a world of private jets, mega yachts, couture fashion, indiscriminate spending, Chinese tradition and customs. The book will appeal to both fashionistas and foodies . In one chapter, Astrid is in Paris being measured for $200,000 couture dresses then in the next chapter, Nick and his friends are in Singapore arguing about the best place to buy satay in the famous hawker markets whilst driving around in matching silver Range Rovers!
A must read for the beach this summer.
2. Less than Zero by Bret Easton Ellis | The Cult Classic
This underground hit was a pre-cursor to the 1990s TV series Beverley Hills 90210, albeit with a lot more bite than the show. Set in Los Angeles, the story centres around a group of spoilt Hollywood teenagers. Its themes are drugs, sex and disillusionment, so it's little wonder this novel was a cult hit in the 80s.
The novel is thought to be loosely based on Bret Easton Ellis' own life. He was only 21 when the book was published and became an instant darling of the literary world after its release.
For those of you who want to cheat, the movie adaptation of the book stars Robert Downey Jr (yum), Andrew McCarthy, and James Spader. (Fun fact: Most teenage girls in the 1980s either had a crush on McCarthy or Rob Lowe — members of the infamous 'brat pack' that also included Demi Moore.)
Read this book while having breakfast at your local hipster cafe.
3. The Secret History by Donna Tartt | Gothic Thriller and Best Seller
This murder mystery in reverse is a gothic tale is about a closely knit group of students at a small, elite college in New Hampshire. At the start you know there was a murder and who did it, but you've got no idea why they've committed the crime. It's not a 'whodunit' but a 'whydunit'. Think Dead Poets Society, only more disturbing.
The Secret History was published when Donna Tartt was only 28 years old. Tartt and Easton Ellis went to college together, and were close friends. Not surprisingly, the novel was an instant best seller.
This is the perfect book for a long flight.
4. Line of Beauty by Alan Hollinghurst | The Booker Prize Winner
This novel starts in the summer of 1983 in Tory England when Nick Guest, the protagonist, moves into the Notting Hill home of his Oxford classmate whose father is a Thatcher MP. Nick is out of his depth with the privileged governing class, and as the novel progresses his life slowly unravels until he is expelled from the home. It is beautifully written, with graphic sex scenes that leave very little to the imagination. It has been described as the gay Great Gatsby.
For the serious reader.
5. Rich Kids by John Sedgwick | The Non-Fiction
Sedgwick profiles the children of the American rich and famous. Through interviews he gives us an insight into their privileged, and often troubled, lives. He asks — is an inheritance a thrill, a satisfaction, a relief, or a strange burden? This novel is hard proof that 'all that glitters is not gold', perhaps teaching us that the RKOI should amuse us but are not to be envied.
For the rich-kids scholar.
Image credit: Pinterest, The Empress of Dress