Fans of The Spring Blog are already familiar with Catherine's flair for the creative and the DIY, but her latest venture, Showroom — a fluid and innovative retail space and creative melting pot in Paddington — has taken her from small scale to big time. A joint venture between Catherine and Wilde Flora's Caroline, Showroom was designed to house a rotating selection of eclectic online brands that consumers would never ususally get the chance to experience in the real world, including The Third Row, The Small Garden, and Auburn & Green — brands that needed a physical home but aren't large scale enough for traditional retail spaces. We caught up with Catherine one-month after opening to find out how this unique space works, praise Etsy, and play with all the pretty things.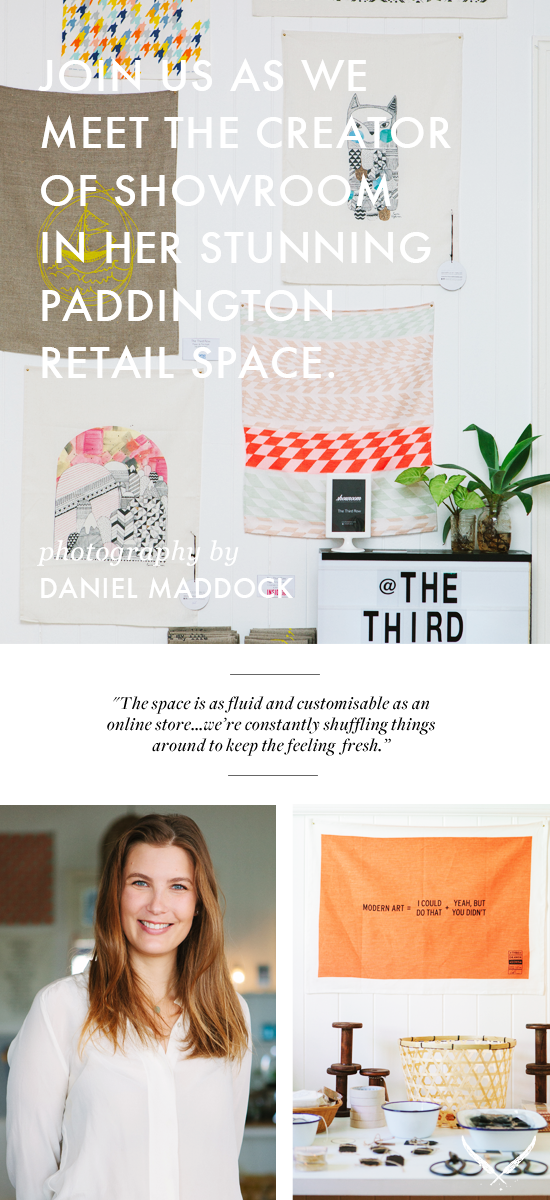 TUL: Showroom is such a original idea – how did you come up with the concept behind the store?
Caroline from Wilde Flora and I were looking for a joint pop up space and couldn't find anything workable in Brisbane. When we stumbled upon our Latrobe Terrace Queenslander it was bigger than anything we'd considered but we couldn't get past the open, inviting feel of the old house. It was too much for just the two of us to take on, so we devised a plan to share the space with other fantastic creative brands in need of a home.
TUL: How does Showroom differ from a more traditional retail model?
We've set out to bridge the gap between online shopping and in-store experience. Say there's a great artisan you follow on Instagram, or a brand that keeps popping up on your favourite blog that only has an online shop, but you like to buy in person. Now you can because we've created a framework for those makers and brands to have a beautiful real-world presence that would be impossible for them to achieve on their own.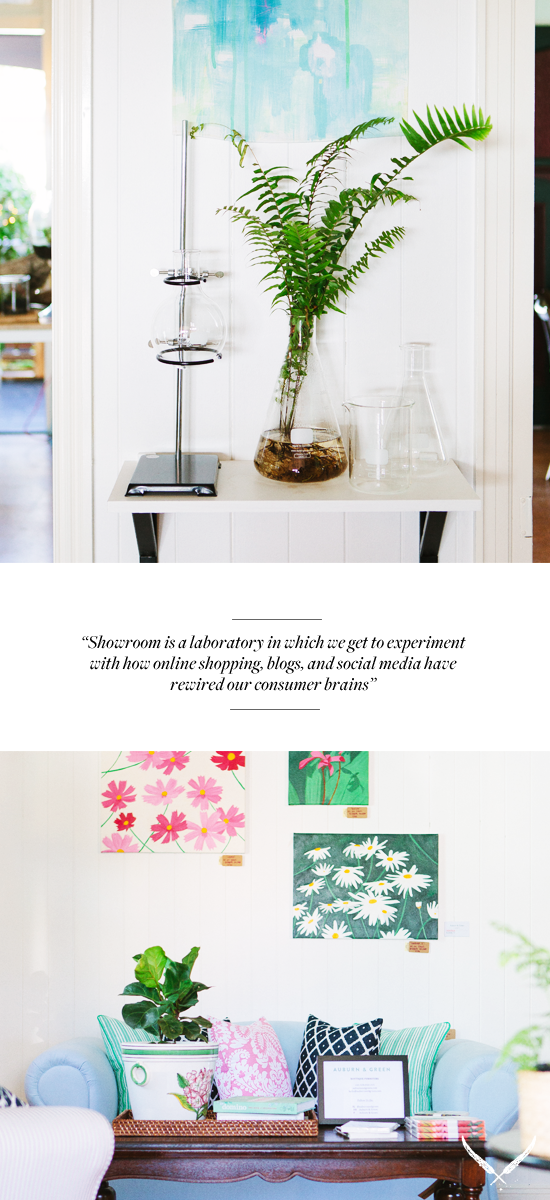 TUL: How does your store reflect the way people shop online? What elements of the online experience have you tried to bring into the space?
For us, Showroom is a laboratory in which we get to experiment with how online shopping, blogs, and social media have rewired our consumer brains. One thing we do is place cards around the shop detailing each brands' website and social media information so customers can hop onto their website and deep dive into what they're all about right there and then.
We also have notes pinned up all over the store indicating which products have been featured in our favourite design magazines and blogs. Not everyone who wanders into the shop notices — some people won't register The Design Files logo — but for those who do it's a cool way of sharing insider tips.
TUL: Can you tell us a bit about how the space works?
Basically, makers and brands pay a weekly fee for us to host a collection of their wares, then we work together to style them, promote them to our followers on social media, and sell them in the shop.
The space is as fluid and customisable as an online store, and we're constantly shuffling things around to keep the feeling fresh for ourselves as much as for our customers.
We also have a portion of the space dedicated to creative pursuits, so you can often find people in the shop learning a new skill or artisans represented in the shop making new stock. That interaction between customers and makers is something we really value, and its even more fun on the weekends when we can get everyone involved through our programme of workshops.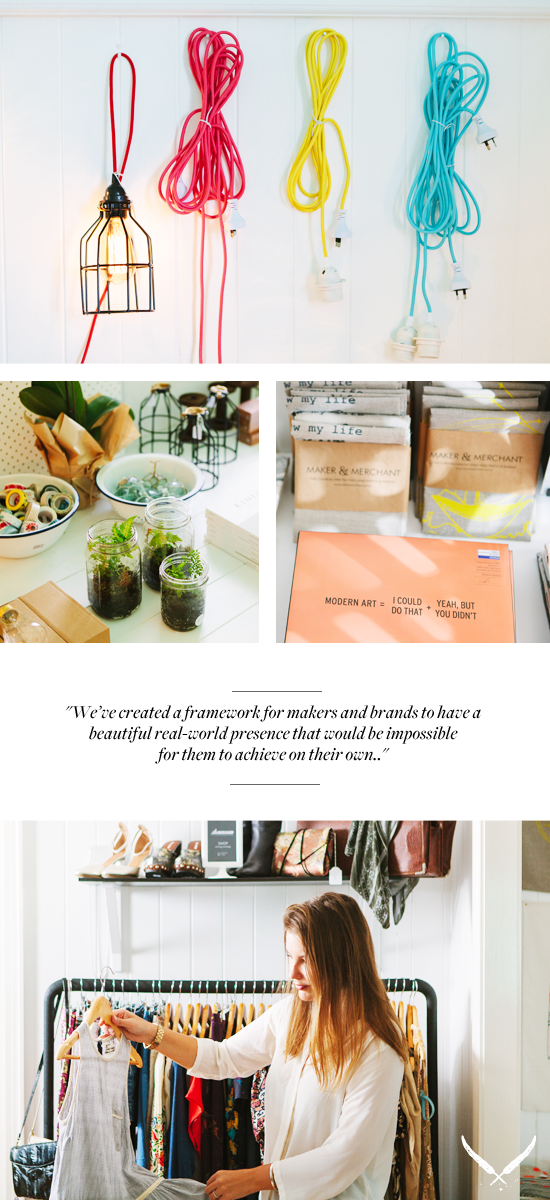 TUL: How do you choose the brands you stock in store?
I'm a voracious reader of blogs, lover of special hand-made things, and a pretty obsessive Instagrammer so I have a long list of creative brands I'd personally love to see in Showroom. We also get a lot of emails from local creatives looking for a space to pop up in and we've 'discovered' some fantastic talents that way.
We hope lots of customers are drawn in because a particular brand they follow is housed in our space, but it's also a compliment when we have to explain our collective concept because customers haven't spotted the differences between our brands; we want everything to hand together cohesively.
TUL: How would you describe the Showroom aesthetic?
Sophisticated, unpretentious, Pinterest-worthy.
TUL: How has the response been from the brands you've approached?
Extremely positive. Creative brands base themselves online because of the flexibility ecommerce affords them; it's a fact that traditional retailers and commercial leases just don't take into account. By bridging that gap we're out to support these small businesses by offering them a unique opportunity to gain real-world exposure in a way that makes sense for how their businesses operate. In turn the creative community has been really supportive of us, and we appreciate it!
TUL: Do you mostly stock local businesses?
Yes. All our businesses (but one*) are Brisbane based; we'd happily welcome brands from across Australia. * Our Adirondack chairs came up from Melbourne.
TUL: Who do you have in store at the moment?
The Spring Shop, Wilde Flora, SWOP, The Small Garden, Auburn & Green, Your Core Light Jewels, Lambie & Co, Nicole Cosis (ceramic artist), The Third Row, Deep Blue Maps, Polywood Outdoors (best Adirondack chairs ever!)
TUL: What are the pros of having all these independent labels in the one space?
For our customers the biggest pro is a huge range of cool stuff. For our brands (aka #teamshowroom) it's drawing on the support of a close-knit network. Creatives tend to work alone, so the shop gives us all an excuse to look up from our laptops and workbenches long enough to bounce ideas around and really connect. We also bolster each other on social media; by sharing each other's posts around we each gain access to a dozen other customer bases for free and that's really valuable from a business perspective.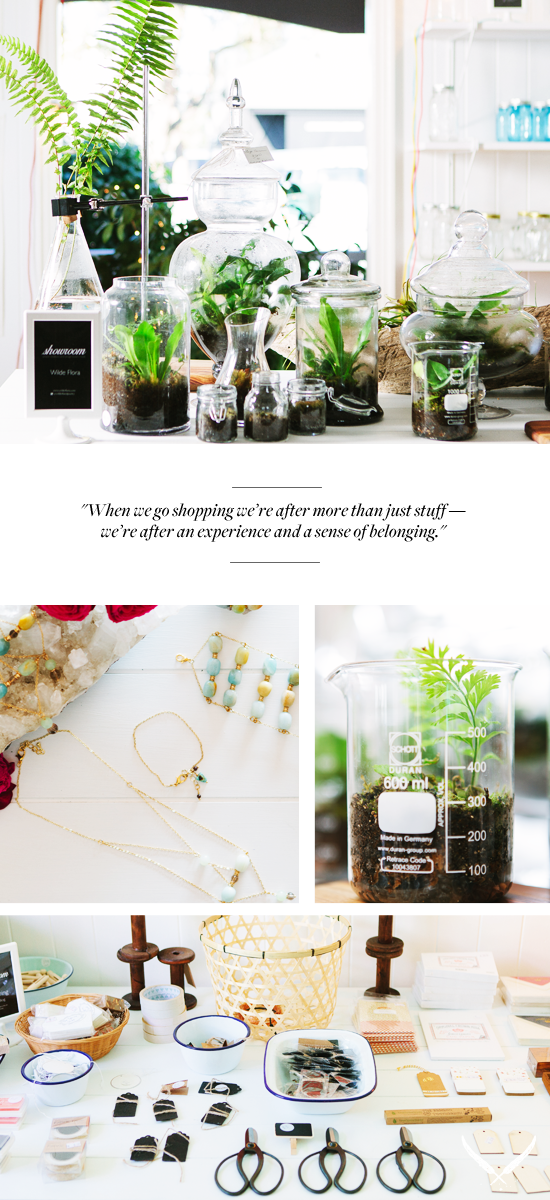 TUL: Why do you think the 'Etsy' movement has been so successful? What is it about these unique hand-made products that appeal to consumers?
Whether we're aware of it or not, I think everyone craves creative expression and the Etsy movement's really tapped into that. As sophisticated consumers, when we go shopping we're after more than just stuff — we're after an experience and a sense of belonging that comes from investing in a brand we can identify with. Handmade ticks those boxes because each thing has a story woven into it, and that's something for us to become a part of.
TUL: Can you tell us a bit about the workshops you offer?
Our sessions are small (usually around 12 people). We sit around tables in our beautiful back room overlooking Paddington's rooftops and we learn in a very relaxed way to do calligraphy or embroidery, make terrariums or kokedama, naked cakes or raw chocolate desserts from someone with expert credentials. We're also developing a series of workshops to help creative entrepreneurs skill up and get more out of their businesses. There's always lots of tea, snacks, laughs, and people walk away with really cool things they never thought they'd be able to make themselves. The workshops always have such a good vibe, and they're my favourite part of Showroom.
TUL: What do you love about working in Paddington — why did you choose to set up shop here?
We love the character of our hundred year old Queenslander. We LOVE the view. We love the neighbouring businesses, especially Little Brew and the new deli Epicure. We also love that Latrobe Terrace is one of the rare streets in Brisbane where people spend half a day wandering up and down on foot poking their heads into boutiques to see what's new and interesting.
TUL: Where do you like to shop in Brisbane?
James Street and The Woolloongabba Antiques Centre.
TUL: And Online?
The Third Row.
TUL: Where's your pick for a great coffee?
I'm a tea drinker but I like Lady Marmalade at Stones Corner for a quick bite or a treat.
TUL: Breakfast?
Crosstown or Billy Kart Kitchen.
TUL: Dinner or drinks?
The Three Monkeys for a laid back supper. Shady Palms for a drink at the end of the week.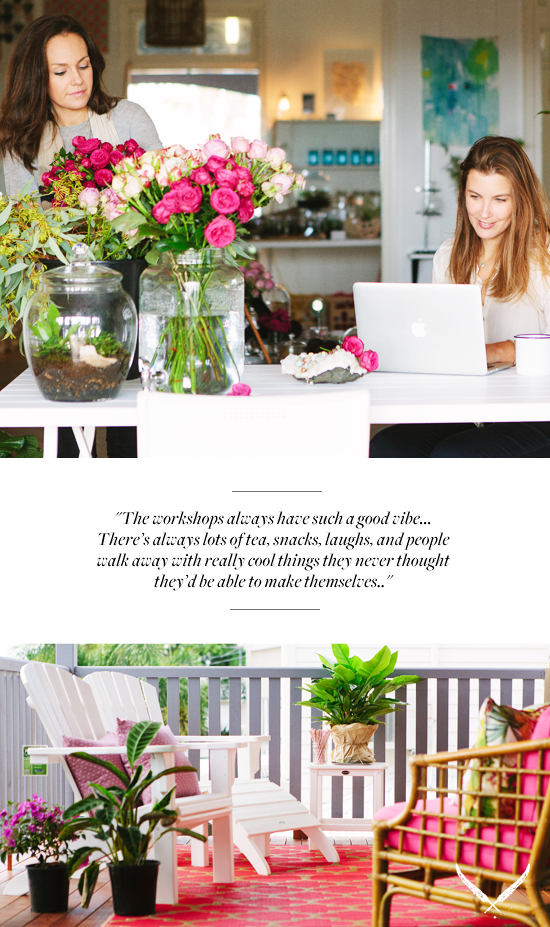 TUL: What's coming up next for Showroom?
Bringing in new brands, developing fresh workshops, and hosting more free events. We opened our crafternoon last weekend was so much fun we can't wait to do it again!