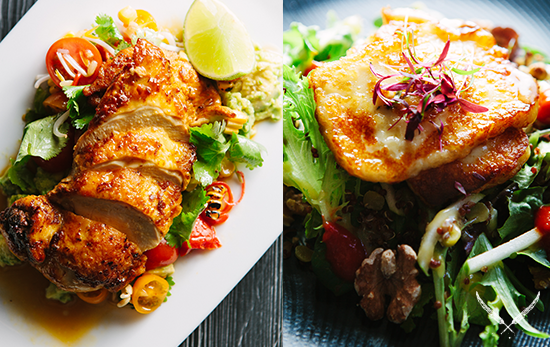 For most of us in Brisbane, lunch has become a bit humdrum, a bit of a snore. A soggy sandwich here, some reheated leftovers there — hardly the stuff of gastronomic dreams! When did we stop caring about the second meal of the day?
Lunch was once a time to luxuriate in the company of others, to eat delicious food in a beautiful venue, and bask in glorious 'you' time. I want a show of hands: who remembers the last time they did that?
We took a moment to reflect on this tragic state of affairs, before realising that it wasn't the food itself we'd lost love for. It's the fact that we as diners want to be wowed, wooed and waited on; made to feel a little bit special, in a place where we can unwind and just enjoy our surrounds — without all the noise and havoc that typically comes with a lunch service. Are we really asking too much?
So, when we heard that high-end Brisbane restaurant Spicers Balfour Kitchen had a lunch offering, we couldn't help but feel that someone had heard our pleas for a decent Brisbane lunch.
Synonymous with casual luxury and relaxation, and tucked away just off the frantic artery that is Brunswick Street, Spicers Balfour Kitchen has been hiding one helluva' ace up its sleeve within the walls of this beautifully restored Queenslander.
An acclaimed venue — as part of the Spicers Balfour Hotel that's basically a given— no expense is spared when it comes to serving up the ultimate luxurious dining experience.
White linen tables are dotted around the expansive veranda and the elegant secluded courtyard below, with dozens of frangipani trees enveloping guests in sweet-scented privacy, adding to the tranquillity of this inner-city locale. You'll quickly forget that you are mere seconds away from the bustle and the noise of the CBD.
The subtle elegance of the surrounds has clearly influenced the lunch menu at Spicers Balfour Kitchen; all the dishes are light and fresh, with a focus on delicate flavours and immaculate presentation. In-house smoked salmon, grilled chicken breast — a far cry from your leftover spag bol' — and for the sweet-toothed, the petit-fours share plate is a must.
Even in the colder months, there is something luxurious about wrapping up in your finest winter garb, and taking a long lunch in such elegant surroundings (finding a spot of sunshine in their courtyard to sit in doesn't hurt either).
Spicers Balfour Kitchen is an easy choice for lunch, for corporate dos or casual catch ups. If you prefer a side of ambience with your meal, you've come to the right place!
TUL Note: Today's List Love post is proudly sponsored by Spicers Balfour Kitchen and endorsed by The Urban List. Our sponsored posts will never be a secret — the List Love seal will be stamped on any sponsored material you see on the site. Thank you for supporting the sponsors who make The Urban List possible.
Image Credits: Daniel Maddock