Brisbane, could you just settle down? So many new establishments have opened their doors recently we've barely had time to scratch ourselves, let alone put together this What's New in Brisbane hit list. These are Brisbane's newest bars, restaurants, cafes, gyms, and the like you need to check out this month.
Kwan Brothers
Because Kwan is the new sister venue to Alfred & Constance and Alfredo's Pizzeria, we knew this new bar and late-night dining haunt was going to be a lot of fun before we even got inside. A few coconut cocktails and some really great pan-Asian grub later, and we're convinced. You can read more about this new Brisbane bar here.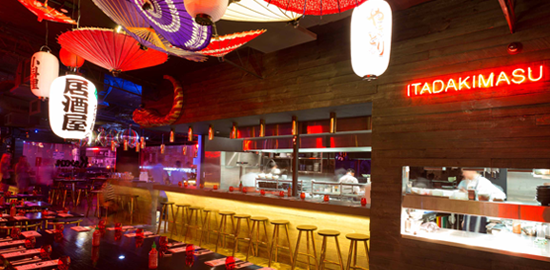 Stretch Yoga
Finding a bit of peace in the CBD is no mean feat, so new Brisbane city yoga joint, Stretch Yoga, will be welcomed with open arms by city cats looking to unwind on a lunch hour. Catering to all levels of yoga expertise, Stretch offers over 30 group classes a week. You've got no excuse not to go.
Nana & Da's
Kedron just won't quit with new cafes popping up all over the shop. We're loving new café Nana & Da's, whose simple tasty menu and quaint your-Grandparents-house fit out are just what the doctor ordered on a Saturday morning.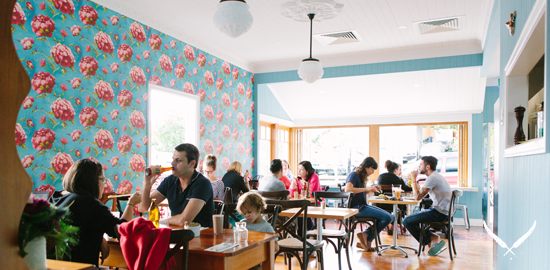 Gerard's Bar
Considering our amorous feelings for Gerard's Bistro, it's no surprise their new Brisbane bar offering, Gerard's Bar is already a favourite. Serving a world-class menu of artisan meats and charcuterie (both in its traditional form, and in a vegan-friendly iteration) that's as long as your arm, as well as a wine list that's perfectly matched to the food, sumptuous bar nibbles, and cocktails, we've found our new after-work watering hole.
Bread & Meat Co.
Sandwich fans, here's one for you. Bread & Meat Co. comes to The Valley via Canada and Katz's Deli in New York, so you know the bread and meat creations coming out of this late night eatery and lunch delivery sandwich shop are going to be top notch. Check out our review of this new Brisbane cafe here!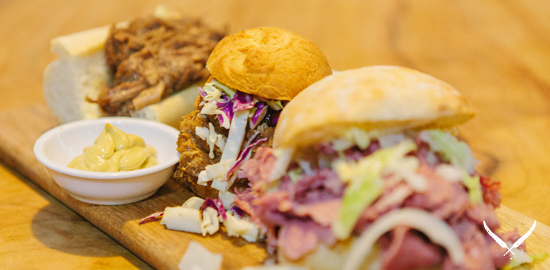 Atticus Finch Café
What's new in Brisbane on the cafe scene, you ask? Atticus Finch, that's what! Serving Supreme Coffee (that's both what it's called, and also a fairly apt description), this quirky new Paddington café is serving breakfast and brunch from their To Kill a Mockingbird adorned café (as in, the walls are literally covered in the pages of the novel.) Also in Atticus Finch's favour, they serve three different kinds of toast: 'regular', 'amazing toast', and toasties. Legends?
The Chalet Bar
The cool kids at The Alliance Hotel have opened their newest drinking den, The Chalet Bar, below their iconic Spring Hill pub. Serving The Alliance Hotel's renowned gastro pub menu as well as an impressive drinks list (schnapps, absinthe, anyone?) in an après ski styled snow lodge below street level, The Chalet Bar is the perfect winter drinks spot. Get the full review here.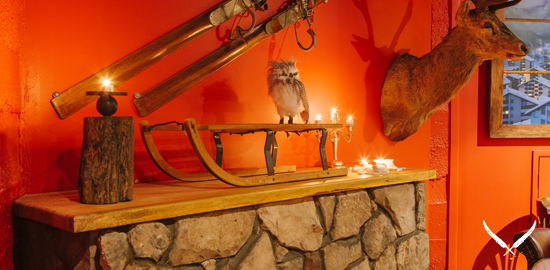 The Twig & Berry
When a new bar opens across the street from your office, it's generally going to rustle up some interest. When that bar is called The Twig & Berry, they've really got our attention. Housed in a tucked away underground space on Commercial Road (right across the street from The Urban List office), The Twig & Berry has a outdoor drinking space and a cracking cocktail menu. You can read more about this new Brisbane bar here!
Fat Dumpling
Wondering what's new and tasty in the The Valley? We're nuts about this new Brunswick Street dumpling bar. It's unassuming, authentic, and completely delish. If you want to know more you can read our Fat Dumpling review here.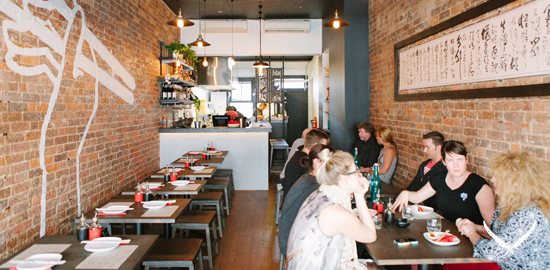 Click here for more of what's new in Brisbane!
Image credits: Oliver Black, Daniel Maddock