I think Homer Simpson said it best: "Sport, sport, sport, sport, sport, sport, sport!" Is there anything that unites us, divides us, enrages us and enlivens us quite like 'sports'? When it comes to ballgames in Brisbane, there's one hub that's always a champion, one hub that can satisfy everyone's pre-game requirements, one hub to answer that nagging question, where should we go before the footy?: Caxton Street.
Thanks to its close proximity to Suncorp Stadium — aka Lang Park — Paddington's Caxton Street precinct swarms with fans of every ilk on game day, much to the bane of local residents. Having dwelled in this fair part of town myself, I can only say one thing: if you can't beat 'em, join 'em. I may have only just learned what offside means, but I have always embraced the ritualistic pre-game feasting.
With Origin just around the corner, the timing couldn't be better to give you a rundown on how to enjoy Caxton Street before a game, whether you're a league, union or football fan. There's nothing quite like the shoulder-to-shoulder buzz on Caxton as the atmosphere builds, so get amongst it Queenslandahhs! Here's our handy guide to where to go before the footy in Brisbane.
For a Pre-Game Pint
There are plenty of watering holes to while away the afternoon before you wander up to Suncorp. Keep in mind that some bars are more football-friendly or NRL-approved than others, so certain venues may cater to different crowds, including what they broadcast on the tellie. A tavern as historic and boisterous as the Caxton needs no introduction. Just look for that sly wink from Mr Fourex and prepare to enter into a veritable scrum of Maroons fans.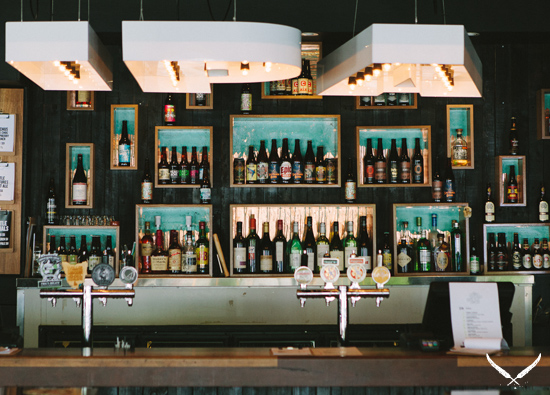 One of the newer kids on the block to help wet your whistle and whet your appetite is Brewski. Brewski has continued being awesome post-Brewsvegas with its rotating taps, featuring crafty brews from the likes of Bacchus, Little Creatures, and a few of our friends from the grand old of US of A. Their 'proper' pizzas are proper good too — they get this Italian's nod of approval.
Tiny corner-dwelling Cartel tends to lurk on the fringe of Caxton's top bevvy spots, but it has to be said the bar staff are some of the friendliest in town; plus they have a couch. It's always no muss no fuss at Cartel — they've been kicking around for a few years and know their way around a beer. Then there's Iceworks —existing on the precipice of Caxton Street and Given Terrace, close enough to be involved in the pre-game revelry but far enough to be spared from the shenanigans. They have a lot of food, a lot of wine, a lot of beer and a lot of cocktails; perfect for the famished Brisbane footy fan. Carn the Broncs!
For an Early Evening Nosh
The A-League season might have wrapped up, but local victors Brisbane Roar (and their den of fans) certainly know how to liven up lower Paddo. The 2014 A-League Grand Final saw Suncorp Stadium at full capacity – that's an orange-tinged sea just shy of 52,000 patrons. Yeah, this 'football' thing is kind of taking off.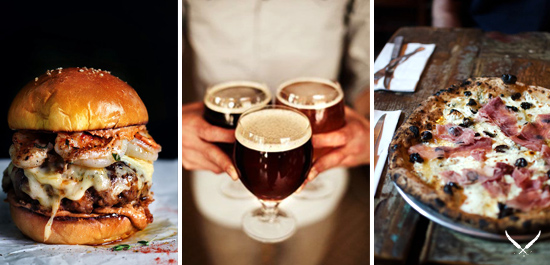 Let me tell you, all that spectating is hungry work. Unless you have a hankering for lukewarm fries that will plunge your weekly budget into the red, plan ahead and get in early to fill your belly before filing into the stadium.
One of the city's best spots for new-age pub grub is Statler & Waldorf, whose classic 'parmy' could even coax a smile from the gastropub's two grumpy Muppet namesakes. A melange of offerings from golden onion rings to suckling pig, soufflés and pappardelle will challenge your idea of traditional pub fare at S&W, making this spot an easy favourite for a pre-footy meal in Brisbane.
Statler's honky tonk neighbour Lefty's Old Time Music Hall is guaranteed to show you a good time before a footy game, or on any given night. It's hard to believe almost a year has passed since Lefty's turned a den of debauchery into a modish saloon, tapping into the Americana trend at just the right time. Sink your teeth into deep southern delights like jalapeno hush puppies, corndogs, po'boys and popcorn shrimp.
For the discerning fan
If you're wondering where to go before the footy when you'd rather not associate with the Reds riffraff, but you're still partial to a little rugby, your best bet is to head to the top of Caxton Street and base yourself at The Barracks. One of Brisbane's finest examples of urban gentrification, the Barracks is the perfect hangout for a pre-game outing that's more about style than getting sloshed.
Peruse the leather-bound novel aka the drinks list at Cabiria, as you sup on oysters with champagne caviar or duck liver parfait with sourdough. Alternatively, unite with your chums over a shared passion for Union at Cabiria's big sister, Peasant. This sultry Spanish temptress encourages intimacy, so order a few (dozen) plates and share the love. Whether it's as simple as warm salty almonds or as extravagant as roasted rack of lamb, Peasant does it a la perfeccion.
The Barracks are filled with some of the best places to wine and dine this side of James Street. However, if you're looking to tone things down, Happy Little Dumplings, Pizzeria 1889 and Hanabishi sushi will keep things casual. Date night or mates' night, The Barracks is pretty much a failsafe.
Getting There
If you're thinking about driving, all I can say is Godspeed good people. I'm not saying it can't be done — especially if you're coming in from the coast or have a gaggle of sports-mad children — but driving, parking and/or walking around Caxton close to kick-off can be a tad trying.
If you do choose to drive, know that the entire 'Lang Park' traffic area extends well into Milton and Rosalie and only warrants 15-minute parking on game day. Don't risk it — you can buy so many beers with that $82 fine!
Special buses run from the city and certain suburbs, but a flash of your ticket should give you a free ride on any Queensland Rail or Translink bus service. I recommend the Maroon CityGlider. I also recommend bringing cash and your game face. Gotta support the team.
Image credit: Lady and Pups