The FIFA World Cup is upon us, Brisbane.
For football fans and sports lovers in general that means a month of sleepless nights and frayed emotions. For those who are not interested at all it will seem as though some kind of zombie apocalypse is occurring, as tired and frazzled colleagues stumble around in a daze, mumbling about Brazucas and magic spray.
The single worst thing about living in Australia is that when major sporting events occur just about anywhere else in the world, the time difference means that all the games are on at extremely awkward hours on our little island.
This time around the competition is being hosted by a country called 'Brazil,' which means we have been screwed over once again as far as timeslots are concerned.
Kick-off times range from 2am to the much-more-reasonable 8am and 11am. Fortunately, every match will be shown on SBS, so you can watch in the comfort of your own home if you so wish. This is the full match schedule with Australian kick-off times.
Part of the fun of these tournaments, though, is going out and enjoying the atmosphere with other fans while watching the matches on gigantic screens (and getting World Cup drunk). There are a few places around town who will be going World Cup crazy and showing most or all of the games.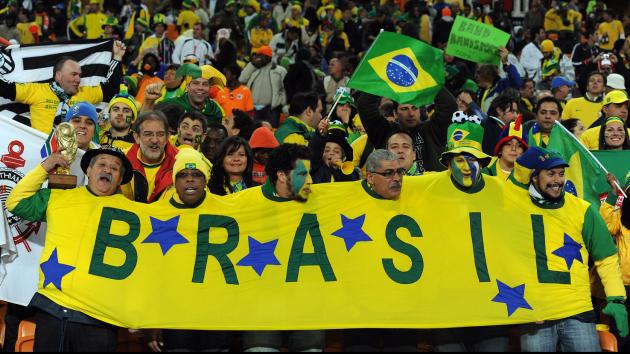 Here is our guide to where to watch the World Cup in Brisbane:
(You can also have a Bo Peep at this article about eating and drinking your way through the tournament.)
King George Square
Brisbane's place of public happenings will be getting into the World Cup spirit by showing key matches on the giant screens, while also providing some sideline entertainment such as samba dancers. Check out which games they are showing over here.
Arrivederci
Park Road is Brisbane's hub for football tournament viewing. The guys at Arrivederci don't just embrace the World Cup, they wrap their arms and legs around it and smother it in sloppy kisses. Every game will be shown on the big screen, every team in the competition will get its own pizza variety, and there will be various specials on offer depending on which games are happening on a particular day.
La Dolce Vita Cafe
Life is sweet at La Dolce Vita when the World Cup is on. The place goes into 24-hour football mode and you can expect a cracking atmosphere, especially if the beloved Azzurri of Italy go deep into the tournament.
Pig 'n' Whistle Riverside and Queen Street
One of the champions of sporting event coverage in Brisbane, the Pig 'n' Whistle are predictably going all out for the World Cup through June and July. Check out their match schedule here, and take note of the lockout times for certain games, due to licensing restrictions. They will be preparing special breakfasts for the morning games and encouraging expat groups to come along to support their home countries, so the place should be pumping.
The Regatta
The oft-inundated Toowong institution, The Regatta, will be showing every World Cup Game on their abundance of big-screen, high definition TVs.
Treasury Casino
The casino is open 24 hours so it is always an option for late-night sporting events. They will be showing all games in their Livewire bar. Hey, if your team loses, you can always go and spend all your rent money on Blackjack afterwards!
TUL Note: Hailing from the 'Paris of the South,' Bundaberg, Dan Colasimone is back in Brisbane after spending the better part of a decade living overseas. He also writes about sport. He once completed an Arts degree. Twitter: @ArgentinaFW
Image credit: McNeil Life Stories, BuzzFeed