So, you're an anti bride. You little rebel.
Anti-brides are going to do everything within their power to make sure their big day is as non-traditional as possible. The anti-bride has a strict aversion to frou-frou meringue dresses, and probably doesn't understand why she's expected to invite her third uncle twice removed to the reception.
The anti-bride sees her wedding day as a chance to party with those she loves, and puts the enjoyment of her guests and family above the 'rules' of a traditional ceremony. Yeah, we kind of love her.
Here are our picks for the anti-bride.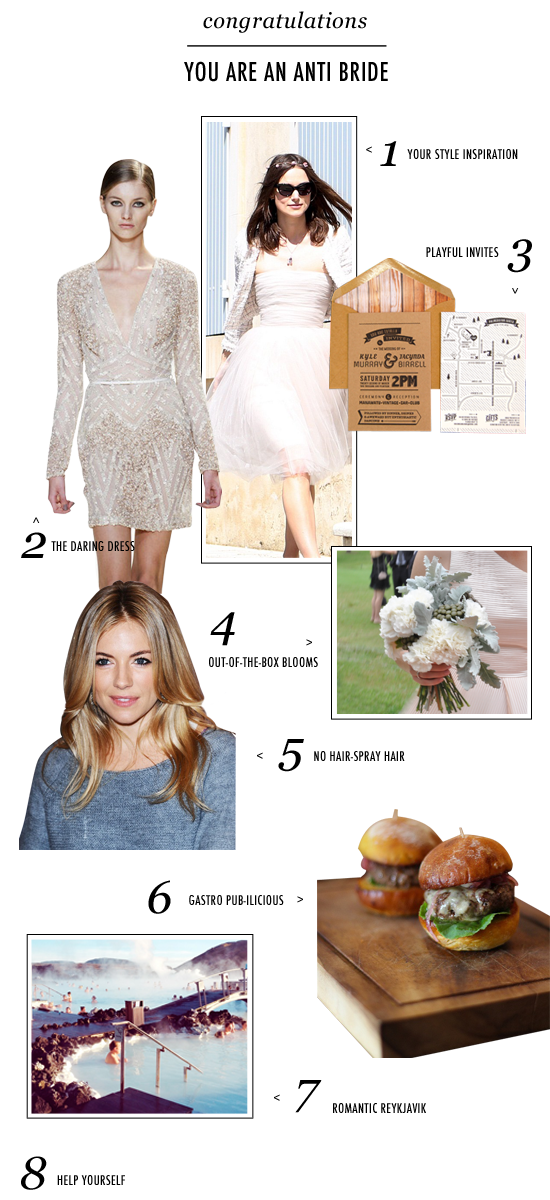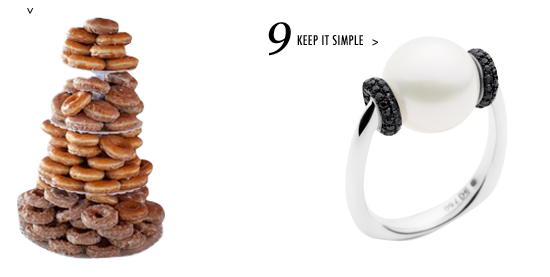 1. The Inspiration
Keira Knightley, in all her angular glory, is an inspiration to anti-brides everywhere. Her short, playful wedding dress, accessorised with Ray Bans, delicate floral garland, and equally cool groom, gave enough of a nod to tradition that you could tell she was actually getting hitched, but was certainly a statement against your typical wedding day finery.
2. The Fashion
When you make the rules, you can't break the rules, and it's never been more acceptable for Brides to have fun with their choice of wedding dress. The anti-bride is the perfect candidate for a mini, something sparkly, or, gasp, a bright colour. You should take this opportunity to find a stellar designer piece and make it yours (while you've got such great validation for the price tag!). Elie Saab makes some drop-dead-gorgeous wedding pieces, but his shorter, party dresses have just the right hint of bridey-ness, while firmly embracing the wedding-as-a-party feel.
What to wear | Ellie Saab
3. Stationery
Because a wedding isn't a wedding if no one's invited, we don't care how cool you are, the anti-bride will be thrilled to bits with the unique and unexpected wording and quirky retro map hand-printed onto their Little Peach Co. invitation. This is one invite that definitely stands out from the typical wedding suite.
Little Peach Co. make every effort to create invitations that are unique and beautiful for each bride. Best of all, they make the design process fun, easy, and fast! Check out a video of the Little Peach Co. letterpress in action, here.
Where to go | Little Peach Co.
4. The Flowers
This is not your mother's bouquet. Built on non-traditional materials, like berries, and using contrasting textures and an asymmetrical shape to add some spunk to your ensemble, the anti-bride bouquet is a statement. The Butterfly Lounge in Red Hill take the time to understand your floral vision, and are happy to play with shape and texture to ensure your bouquet is as individual as you are.
Where to go | The Butterfly Lounge
5. The Hair
If there's one thing the anti-bride doesn't want on her wedding day it's a crunchy up-do, stiff with hairspray. And nothing says dis-establishment than ditching the up do and letting your hair take centre stage in all its natural glory. Get a killer cut and blow dry from the gang at AKA Togninis and let your untamed locks steal the show.
Where to go | AKA Togninis
6. The Venue
The Alliance Hotel is our favourite gastro-pub, and the ideal venue for the bride who's looking for fun, great food, and no fuss on her big day. With function spaces that range from intimate to large-scale, there's definitely a room in the friendly Spring Hill pub for you and your crew.
Where to go | The Alliance
7. The Honeymoon
Just because you're in love, that's no excuse to leave your hiking boots at home. The anti-bride should take this honeymoon by the horns and do some adventure hiking, and what better place to do it than the wild fjords and tundras of Iceland? Gaze at glaciers, dodge the volcanoes, and then top it all of with a rendezvous in romantic Reykjavik.
Where to stay | Hotel Borg, Reykjavik
8. The Cake
If the thought of a giant royal-icing monstrosity makes you feel less than loved up (and, really, who can blame you?) it might be time to re-think the staid old cake styles. Keep things fresh, and treat your guests to cake they might actually want to tuck into, with a tower of donuts, or, even better, a wheel-of-brie cake. Because nothing says forever like a well-aged triple cream.
Where to go | Emily's Sweet Treats
9. The Rings
When the rules of what you should and shouldn't do go out the window, you can actually have some fun with your ring choice. The anti-bride should opt for a showstopper, but not necessarily of the bling-heavy, knuckle-duster variety. The Black Diamond Tranquility Ring by Kailis is a monochromatic marvel, featuring an Australian South Sea pearl, set with pave-set rondells of black diamonds.