Awww . . . you're a romantic bride, how lovely! You're a romantic in every sense of the word and you've been thinking about your wedding day your whole life, so it's understandable that you have some very specific ideas when it comes to your big day.
Romantic brides are fans of all things pretty and whimsical, and are not afraid to embrace the whole L.O.V.E concept in a big way.
Here are our picks for the romantic bride: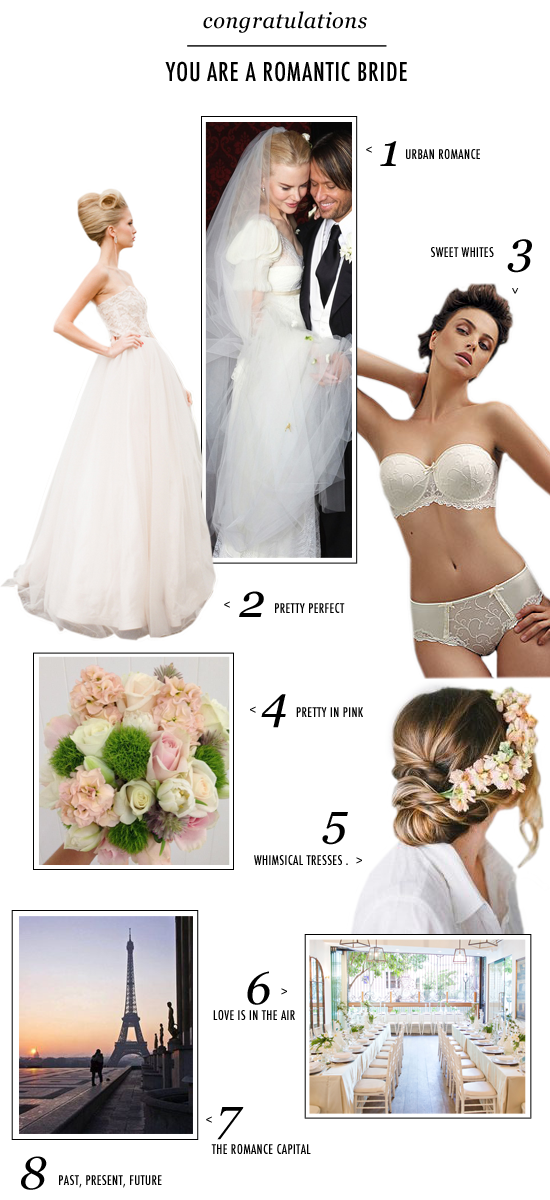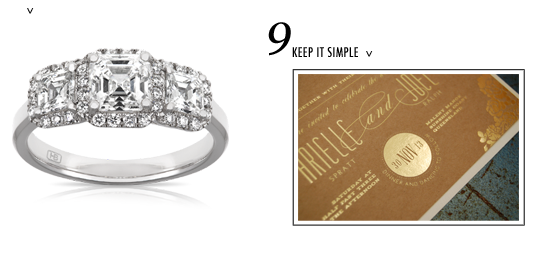 1. The Inspiration
Nicole and Keith married in style in 2006, and while, sadly, we were not in attendance (humph!) we can think of no other way to classify our own Nic Kidman than as a romantic bride. From the dress (custom Nicolas Ghesquiere for Balenciaga) to the string quartet, to the reports of Keith serenading his bride at the reception, this ceremony was all romance, with a capital R.
2. The Fashion
Romantic brides definitely want to embrace the fairytale when choosing a gown for their wedding, but that doesn't necessarily mean going for the meringue. As a romantic bride, you want something pretty, ethereal, and dress that's really going to make you look like a bride, while still keeping with your personal style.
Jennifer Gifford designs is our choice for the ultimate in dress inspiration for the romantic bride. Jennifer's gowns have that beautiful, delicate quality that you can just feel the love seeping out of. Whether it's a custom-made design or something from Jennifer's beautiful ready-to-wear collection, this is romantic bride heaven on earth.
Where to go | Jennifer Gifford
3. Lingerie
Romantic brides want their lingerie to be classic, pretty, and sweet—no colours or crotchless bits, please! Think beautiful lace detailing in classic whites or neutrals, and you're all set.
Boudoir Chic, our go-to for exquisite lingerie in Brisbane, has a range of items just perfect for keeping the romance alive come wedding night.
Where to go | Boudoir Chic
4. The Flowers
Is there anything more romantic than flowers? The romantic bride is all about using blooms as a main visual feature of her big day, and definitely has a more-is-more approach when it comes to wedding florals.
Alba Roses, our go-to Brisbane flower experts, are seeing a trend toward more romantic bouquets, with lots of brides going for a loose, unstructured style, which has a decidedly whimsical feel. The Alba Roses team suggest a mix of soft and deep pinks in romantic blooms such as roses, creamy Lisianthus, velvety Dusty Miller, and wild thistle flowers to create this soft, unstructured, and slightly bohemian vision. Divine.
Where to go | Alba Roses
5. The Hair
Soft, pretty hair is the go-to for the romantic bride—nothing too stiff or structured will do. Off the face and neck, or half-up half-down, the romantic bride's hair should be simple, elegant, and feminine. A low, (slightly) messy bun or even a soft braided up-do will keep this look from veering into twee territory. A veil or some fresh flowers are a gorgeous (and, dare we say it again, romantic) addition. We recommend our friends at Lila Boheme in New Farm who can help you achieve that perfect romantic look.
Where to go | Lila Boheme
6. The Venue
Romantic brides are looking for a venue that is beautiful, relaxed, and intimate, with delicious, elegant, and thoughtful food options to match the tone of their special day. So, what better place for the romantic bride to celebrate their big day than in Spring Food and Wine's beautiful venue?
With a range of packages designed to suit an array of wedding needs (or a custom package for couples that have very specific ideas in mind), Spring is the perfect spot if you're after something unique and stylish. The Spring team also believe in making your wedding day as stress-free as possible, so when you book in they'll introduce you to their Weddings Executive Team (including a wedding coordinator, restaurateur, and banquets team) to ensure your every need is met along the way. The perfect venue? We think so.
Where to go | Spring Food & Wine
7. The Honeymoon
Yes, we know, it's a massive cliché, but is there really a more romantic honeymoon destination than Paris? Non. Whether it's dining on champagne and cheese, twilight cruising along the Seine, or just gazing up at the Eiffel Tower, Paris is pretty much a romance-lovers' mecca.
Where to stay | Le Bristol Paris
8. The Rings
Romantic brides are all about the symbolism of their rings, and take their meaning seriously. They are looking for something timeless and beautiful that reflects their personal style, while making a statement about their relationship.
We love Hardy Brothers' stunning trilogy of asscher-cut diamonds—perhaps to symbolise past, present, and future? Awww.
Where to go | Hardy Brothers
9. Stationery
Choosing the right stationery is crucial for setting the tone of your wedding, and there is nothing more important to the romantic bride than getting the 'feel' right.
We love Little Peach Co. for their tasteful, beautiful, and stylish take on wedding invitations and stationery, and think they are the perfect partner for the romantic bride looking to communicate their big day essentials, beautifully. The Little Peach Co. team are fantastically friendly and helpful, and love to work with couples to put together a brand for the big day that reflects your personal wedding style—the perfect choice!
Where to go | Little Peach Co.
TUL Note: Want to find out your bride personality? Take our quiz! And check out our picks for the cool bride and the anti bride, while you're at it!
Image credits: K99online, Jennifer Gifford, Boudoir Chic, Alba Roses, Lompelita, Spring Food and Wine, Hardy Brothers, Little Peach Co.