How much better can Howard Smith Wharves possibly get? Well, with the opening of Yoko Dining this week, it turns out quite a lot.
A split-level bistro inspired by the raucous energy of Tokyo's izakayas, music bars and pop-infused counter culture, Yoko Dining is a new venue from Jonathan Barthelmess, owner of Greca right next door. Squeezed in between the popular Greek restaurant and fellow newbie Stanley next door, Yoko has taken over the last of the spaces in the heritage waterfront space that once housed the wharves' offices—though you'd never recognise the place from its days as a derelict "old shed".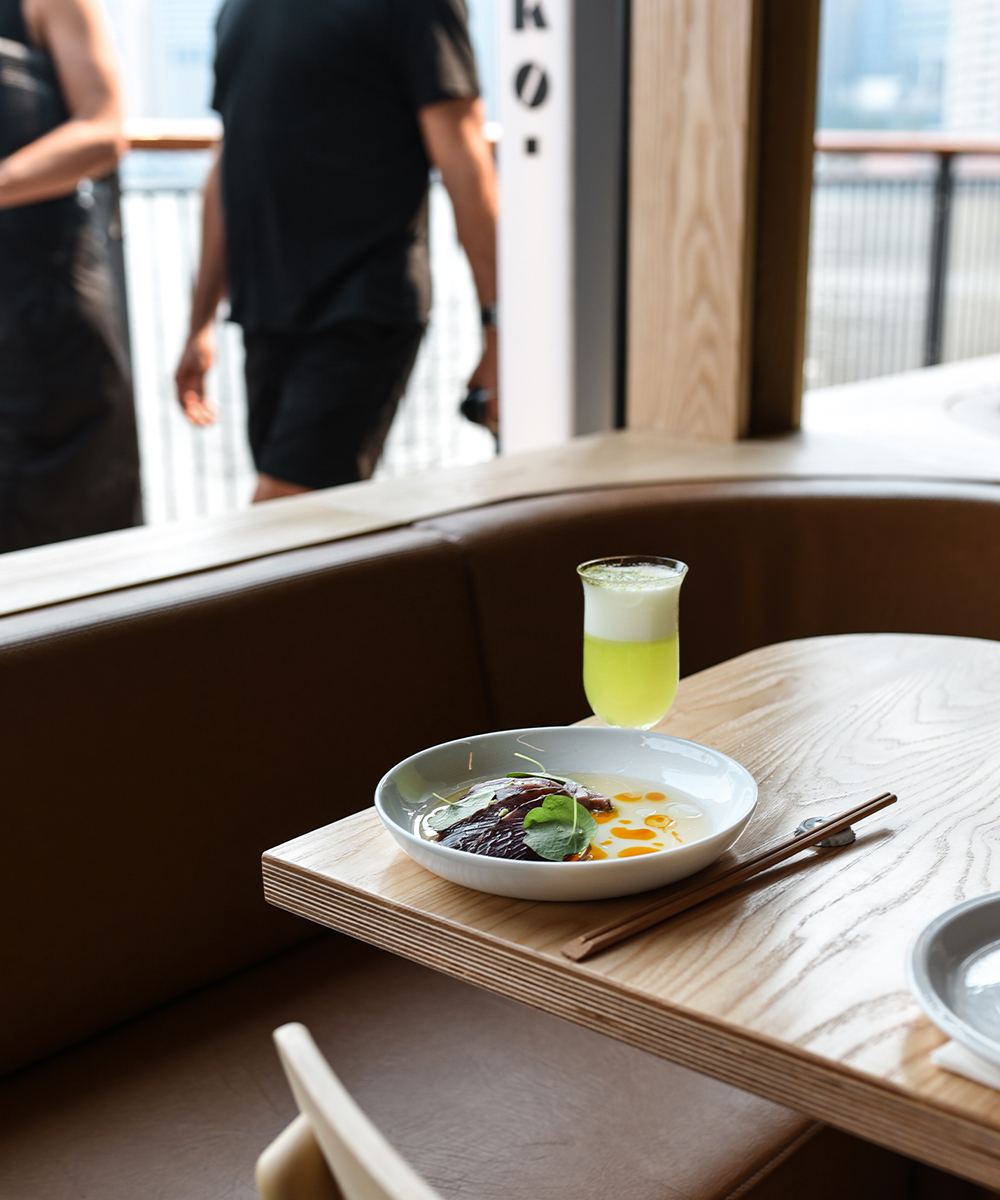 The airy, light-filled venue mixes pops of vibrant yellow tiling with polished concrete and blonde timber, juxtaposed against the wharf's original timber framework. Pink neons light the way up a staircase to the second-floor bar, while quirky Kaws and Miffy figurines peek out from the extensive sake wall and a row of Japanese whiskies above the retro-yet-futuristic bar. Though you can opt to sit outside, under the retractable roof with expansive river views, inside is the place to be, with cutouts in the dividing wall that give a bird's eye view into the kitchen and a projector playing footage of Tokyo's bustling Shibuya Crossing onto the wall.
The star of the kitchen, which is headed up by chef Kitak Lee (with ex-Aria Ben Russell on board as executive chef), is a hibachi charcoal grill, imbibing plenty of smoke and char into the modern menu. Perfect for dinner catch ups with the whole crew, the menu features abundant izakaya-style bar snacks and shared dishes. Order up plates and plates of kimchi okonomiyaki, soba noodle salad, pork gyoza miso-glazed eggplant and chicken karaage, as well as a few dishes from the raw bar, such as delicate bonito tataki, scallops laden with silken tofu and sashimi platters. Extra hungry? Larger dishes like the steamed reef fish or Black Angus porterhouse on the bone will fix that.
Fans of Japanese desserts will want to leave room for sweets like white sesame mochi ice cream and shaved milk, but if not, just fill up on many, many glasses of yuzu and Aperol slushies—sweet, frozen and perfect for a summer afternoon.
The rest of the drinks list is even more impressive. As well as a handful of Asian-inspired cocktails like the Matcha Melon, featuring melon and citrus liqueurs, matcha, lemon and egg whites, there's a hefty list of Japanese whiskies, sakes and even a few gins, plus a very lengthy wine list, ensuring there's no chance you'll go thirsty. And while the bar upstairs won't be slinging drinks for another week or two, you can bet it's going to be a killer spot for pre or post-dinner drinks once the resident DJ starts spinning vinyl from the retro booth.
Make plans to hit Yoko Dining—along with all the other incredible venues at Howard Smith Wharves—soon. Find all the details here.
We've tracked down Brisbane's best Japanese restaurants, you'll find them all here.
Image credit: Larissa Drazic