If you thought pasta in Florence was good, and gelato in Rome was the shit, then prepare to have your taste buds blown away by Sicily's culinary creations. This island is known for having some of the tastiest food in Italy, making it some of the best in the world. Sicillians know how to eat. For them, it's an art form. A way of life. And you better get on it before everyone else realises it too.
If you do Sicily right, you'll certainly return home with a few extra centimetres around your belly. Embrace this inevitability at the outset. It's the best souvenir Sicily can give you. When you get home, all you need to do is look down at your gut and the memories of all the great food you consumed will come flooding back. Oof. Take us back already.
Follow our Sicilian Food Guide and fall into a bliss-filled food coma each and every day of your trip.
1. Granita In Catania
Granita is an icier, less fatty version of gelato (this means you can pig out on it all day long without feeling too guilty). And, in Sicily, it is always made fresh from whatever local produce is in season. No fake flavours here. Nonna would never approve. Choose from either lemon, orange, pistachio, almond, chocolate or strawberry granita. It's best eaten for breakfast with a freshly baked brioche bun and an espresso. This is exactly how we like to start our days in Sicily. Especially as it gets so damn hot here.
The city of Catania is the place to go for this summer treat. These guys have specialised in creating granita since before freezers were even invented. They used to go up to the volcano at Mount Etna and bring back the ice for making granita. They went to some fairly extreme lengths to make this stuff. It's that good.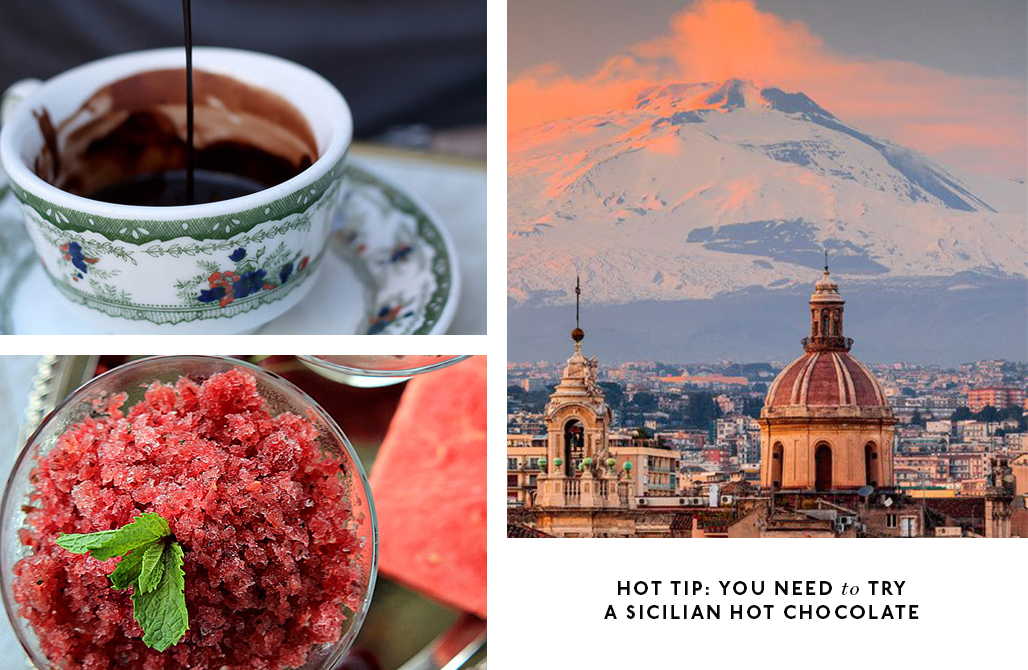 2. Ricotta In Vizzini
You haven't lived until you've had ricotta in Sicily. We love spreading warm ricotta over toast in the morning with a little bit of honey on top, but Sicilians don't stop there. Traditional cannoli are stuffed full of sweet ricotta cheese. Cassatta is a must-have dessert made with sponge cake, ricotta cheese and glace fruit. It's also used in pasta dishes, stuffed into doughnuts, and thrown on top of pizza. Sicilian ricotta is so damn good they'll put it on anything.
And the tiny little town of Vizzini, up in the mountains, is the best place to go for this low-fat sheep's cheese. They hold the International Ricotta Festival on April 25, where you'll see all the inventive ways in which Sicilians use ricotta. The small town isn't known to tourists but it's views over the rolling hills are gorgeous. Sit in the main square with Leon, the Vizzini stray dog who follows guests around town, and nosh on some homemade cannoli in the sun.
3. Seafood In Messina
When you're eating around Sicily, you'll mostly be consuming seafood. You should have pasta with sardines, swordfish steaks, clams in tomato and garlic sauce and deep-fried whitebait. Good seafood is staple for Sicilians. It's affordable and always kept simple. They're not going to mess around with good fresh fish. Always ask what the fish of the day is when you're eating out in Sicily, then immediately get the whole thing for yourself. It's ok to be selfish with Sicilian seafood.
The old port town of Messina is filled with seafood markets. Young and old men will be crying out into the crowd, telling you that they're giant severed swordfish head is bigger and better than everyone else's. It's wonderfully macho and all too phallic. But once you get beyond this, you can find some great fish to take home and cook or you can choose from one of the countless seafood restaurants lining the streets of Messina. Any seafood you eat here will be divine.
4. Citrus Fruit In Syracuse
If Sicily is known for anything, it would have to be their massive orange and lemon groves which are scattered all over the vast island. Sicilians set the global benchmark for citrus quality. Head over in November, when it's a bit cooler, and grab their insalata di arance—a fresh orange and fennel salad which should be ordered with any lunch or dinner. Otherwise, simply order some fresh orange juice with your brekkie.
The most rare and famous citrus fruit, the blood orange, can be found in only very particular regions in Sicily. The sweet blood orange variety, the Tarrocco blood orange, is best eaten in Syracuse around winter and spring time. Sit by the beach in Syracuse, which used to be the centre of the ancient world, and rip open some cold blood oranges. They are used in many dishes but we prefer to just eat them as they come. Dig in and get messy.
5. Street Food In Palermo
Street food in Sicily is the shit. It's where you find some of the freshest produce and sometimes even the most bizarre. You can grab an arancini on the go (don't waste your time getting them in a restaurant), they're best on the streets. You should also try Pane panelle e crocche which is nothing more than chickpea fritters in a bun. They are a deep-fried carb overload. You're welcome.
And the ancient city of Palermo is hands down the best place to get street food. You'll find old greasy men cooking crazy good seafood on the side of the streets—for a fraction of the price of the restaurant next door which gets their fish from the same fishmonger. But it's often best to get street food from one of Palermo's many famous food markets. Here, you can get a dish which is only served in this seaside city. But it isn't for the faint hearted. Pani ca' meusa is a greasy, scary-looking spleen burger which often comes with some fresh ricotta on top. It certainly doesn't look appetising but it's one of the best things you'll ever shove in your face.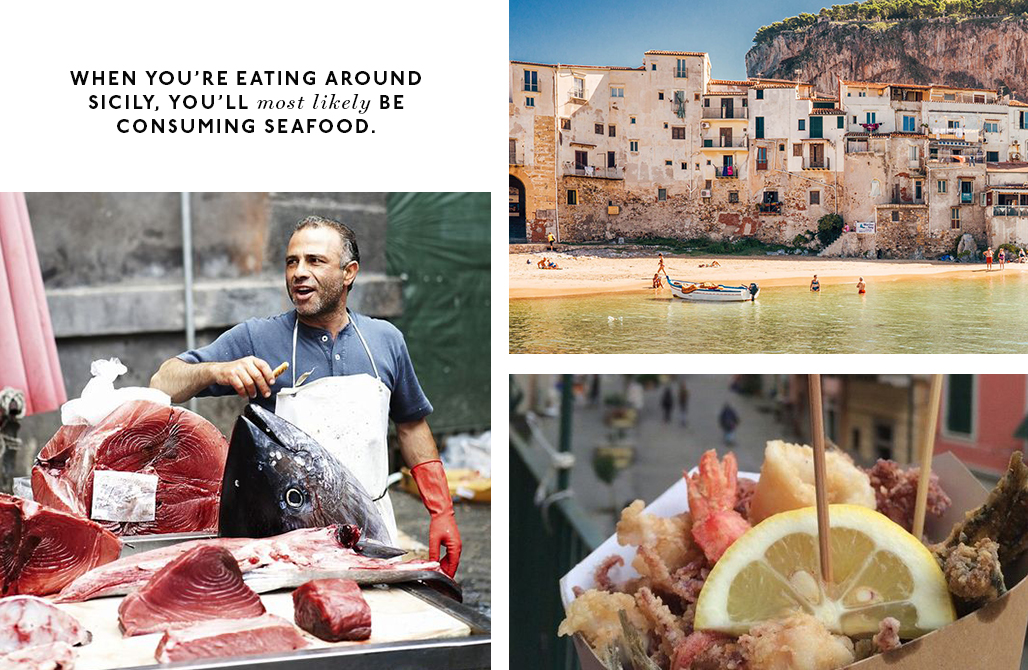 6. Eggplant In Milazzo
Eggplants are the Sicilians' potato. You can do anything with it. You can get deep-fried eggplant chips, eggplant parmigiana, or pasta alla norma. But the most famous eggplant dish in Sicily would have to be caponata. This eggplant stew is lush. Every nonna has their own version of this. And each nonna's caponata is spectacular. Sicilians will never get this one wrong. In fact, they'll never get eggplant wrong. Ever.
Milazzo holds the annual Eggplant Festival on the first weekend of August. Here, the markets are full of the big purple vegetable which every man and his dog is buying. You'll even find folk music, dancing and eggplant related art—nothing phallic here folks. They love this vegetable so much, they'll even sing songs about it.
7. Pistachios In Agrigento
Sicilian pistachios are a little bit different than those which we're used to. These are a little longer and have a more intense flavour, most likely due to the volcanic soil they're grown in. And, like most good produce grown in Italy, Sicilians use them in everything. But, if you try them in any form, it must be as a pistachio pest. Damn this stuff is good.
And our favourite spot to try it is in Agrigento. Located on the southwest shore of Sicily, Agrigento is best known for its pristinely preserved ancient Greek temples which now bring in busloads of tourists every day. Sadly, these guys miss the town itself which is full of great eateries. We are obsessed with Osteria Ex Panificio, an outstanding restaurant overlooking the sea which serves out-of-this-world food. Get the Busiate pasta with Sicilian pistachio pesto. It will change your life.
8. Chocolate In Modica
Now most people wouldn't immediately think of chocolate when thinking of Sicilian food, but, like most things, Sicilians have perfected their own kind of chocolate making. Sicilian chocolate is inspired by the Aztec original recipe for Xocoatl which was introduced by the Spaniards, during their domination in southern Italy. It has a grainier texture and packs a punch.
Modica is, by far, the place to be for chocolate lovers. They still use ancient recipes to make their bars and flavour it with vanilla or cinnamon but can also add oranges, pistachios, amaretto and whatever else you can think of. We suggest you try the epic hot chocolate in Modica. It is thick, granular and strong. Just how it should be.
So, Why Is Sicilian Food So Damn Good?
There are so many reasons why Sicilian food is the best. Firstly, thanks to its location right in the middle of the Mediterranean, the climate and soil here allows for the best fresh produce to be grown. We bet you've tried some banging Sicilian lemons and blood oranges that have been imported over to Aus. That's just a tiny taste of what you can expect to find here.
But history has also helped shape Sicily's local dishes. The island was occupied by the Greeks, Germans, Romans, Normans, Arabs and Spanish (just to name a few). Each of these cultures has left its mark on Sicilian cuisine. It is diverse and delicious.
Travel bug biting? We know, us too. New Zealand is great this time of year.
Design credit: Isaac Smith