If you're anything like us, the absolute BEST part of travelling abroad is the food, glorious food!
And while we'd love to eat our way around the world 365 days of the year, sadly this isn't really feasible. Don't worry though, because the Gold Coast is killing it in the international food game lately. And we've found one particular foodie destination where you can travel across the globe and back again, without hitting the currency exchange—The Kitchens at Robina Town Centre.
So, buckle up, peeps, 'cause we're transporting you to all corners of the world, no expensive plane ticket required.
Hearty Italian Fair | Lucky Lucianos
Sink into a leather booth in the moody-lit dining room of Lucky Lucianos and you'd be forgiven for forgetting you're in a shopping plaza. Get an express ticket to Italy where authentic grocer goods line the kitchen, servers with thick accents bring you a midday Negroni and antipasti boards, while you salivate to the smell of wood-fired pizzas. Lucky Lucianos is the first Gold Coast venue for prolific Sydney restaurateur Tom Chidiac, and we reckon Nonna would be proud. We ate and loved the Salumi antipasti plank, crispy roast beetroot salad, Vegetariana pizza, and a marinara seafood linguini generously loaded with prawns, scallops, and mussels. So drool-worthy you'll wanna Insta the shiz out of it all. Want dinner before the movies but your squad resembles the size of the Carlton footy team? Then head straight for the metre-long wood-fired pizzas. There's only one word: bellissimo!
Teppanyaki Japanese | Saiko
Walking upstairs at The Kitchens is like jumping on a flight across two continents, especially when you pull up a stool in front of chef Stanley Lee at his sleek teppanyaki restaurant, Saiko. If there's one thing better than face planting a flavour-packed dish of Asian cuisine, it's having your mouth water as said dish is chopped, spiced, flame-grilled, tossed, and set alight before your very eyes. Teppanyaki turns dining into a full sensory experience and now, at Saiko, it's easily accessible any time you feel the urge! You're gonna love the chef's specialties—seared Wagyu sirloin with housemade BBQ wasabi citrus sauce on a bed of sautéed veg, or the curious Scallop Sakura—a tasty rice cake layered with tender zucchini, grilled scallop, and a honey mustard sauce. Only got time for a quick lunch? Saiko's $12 to $17 lunch special with meat, steamed rice, salad, miso, and veggies is a sweet way to pop your Saiko cherry.
Vibrant Venezuelan | Fiery Deli
Literally sailing half way across the world on a small boat to bring traditional South American street food to the Gold Coast, you've gotta take your hat off to adventurous brothers Eric and Kevin. Starting with a market stall in 2011, graduating to a colourful food truck, which still does the rounds of key events, and recently migrating from their Burleigh Heads store to The Kitchens, these boys have been busy. With help from their families, everything dished up at Fiery Deli is made with pure love and even more pure produce—there are no canned ingredients to be found here! These guys were first to introduce the Coast to arepas—a crunchy corn pocket bread, fondly known as a "taco burger". We can't go past the Venezuelan Grande arepa, loaded with slow-braised pulled beef, black beans, bacon, avo salsa, and caramelised plantain chips. Or the sweet 'n' salty plantain chips with chunky avocado lime salsa, handmade empanadas and patacones (similar to an arepa though stacked on a salty plaintain round). And because it's unlikely you'll be jetting off to Venezuela any time soon, TF we have Fiery Deli.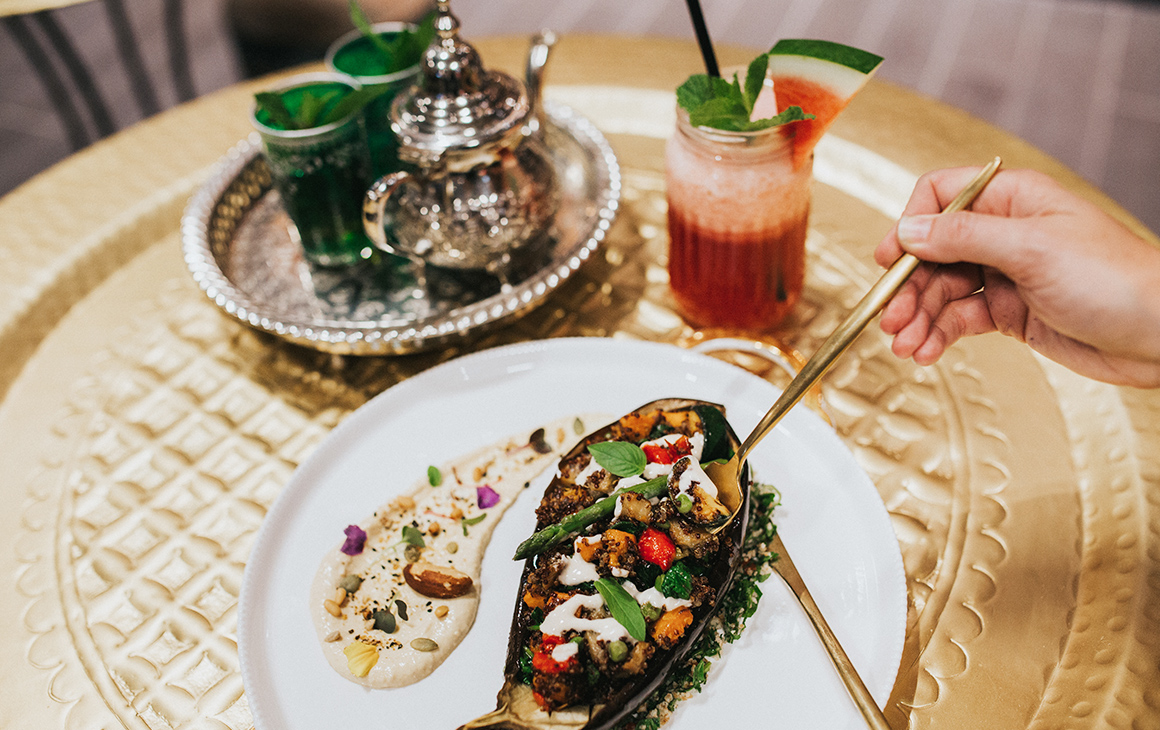 Teas Of The World | Esahi Teas
Is there anything more comforting than a cup of tea on a cold day? We highly doubt it. Coffee culture is bordering obsessive on the Gold Coast, but the gentle folk behind Esahi Teas passionately believe tea deserves a larger slice of the spotlight. Here, here! Inside The Kitchens' homegrown boutique teahouse, you'll uncover teas with influences spanning the globe. From fragrant Moroccan Mint poured from intricate teapots to traditional Japanese Matcha that's loaded with nutrients, vitamins, and antioxidants. And the Indian Masala Chai, you ask? As co-owner Rolnia tell us, you'd never accept powdered coffee when you go into a cafe, so why drink anything inferior when it comes to chai? At Eshai, they ground spices of cardamom pod, clove, and peppercorn with ginger, and then brew over the stove to punch out the flavour. One taste and you'll never go back to the imitation version. Tea has been enjoyed across the world for over 5,000 years and unlike the sharp buzz and crash of coffee, is adored for its unique slow-release stimulating and calming qualities. Come for the tea and stay for the exotic Middle Eastern-inspired brekkie and lunch eats. You'll be glad you did.
Greek Food Of The Gods | Jimmy Grants
Perhaps you haven't quite grasped the significance of this yet, but we were the envy of Australia when chosen by celeb chef George Calombaris to open the first ever Jimmy Grants outside of Melbourne. With souvas that have gained a cult-like following down south, you know they are the real deal when they come stuffed with seasoned hot chips. It's the simple things, but they got us good. Can't afford the flight to Athens? No wuckas. Lose yourself with traditional souvas stuffed with your choice of lamb, prawns, chicken, beef short ribs, or falafel, and sides of hummus, tzatziki, and baklava. Can't drag your lazy toosh off the couch, but still daydreaming of a Greek escapade? These guys aren't Australia's most popular order via UberEATS for nothing. Are they in your delivery zone?
South East Asian Street Eats | Roti & Buns
Cooking up Malaysian and Hong Kong street food like nobody's business, follow your nose to the aromas flooding from Roti & Buns. Our mouths are watering at the thought of Jian Bing (Chinese crepes) made fresh before our eyes, hand-crafted dumplings galore, curries, and savoury-stuffed roti (Malaysian flat bread). If the regular lineup at this bustling open kitchen is anything to go by, Roti & Buns is making some of the best Asian street food on the Gold Coast. But don't be deterred by the (short) wait; press your nose against the glass, breathe in the fragrant spices, and picture yourself in the chaotic markets of Kuala Lumpur; all this and you can still be back in time for your afternoon yoga class.
Where: Robina Town Centre, Robina Town Centre Drive, Robina
Editor's Note: This article is proudly sponsored by The Kitchens and endorsed by Metropolist. Thank you for supporting the sponsors who make Metropolist possible. Click here for more information on our editorial policy.
Photo Credit: Hayley Williamson for Metropolist