Sprouting in the rural landscape of Cudgen on the Tweed Coast (just down the road from popular Farm & Co.), Red Earth Brewing is the new farm-style brewery you need to know about.
Located five minutes' drive west of Kingscliff and based on a working avocado farm, Red Earth Brewing takes its name from the volcanic soil of the fertile Tweed caldera.
With Mount Warning, the avocado trees, cane fields and trademark red soil as its backdrop, this grand old building originally functioned as an avocado production shed. A rustic corrugated façade, raked ceilings and a collection of salvaged doors and windows round out the industrial tap room interiors.
With a hyper local and low-impact focus, many ingredients will be sourced from nearby farms, while the spelt byproduct is carried over by tractor and distributed as feed to Farm & Co.'s rescue pigs. Progressive yet totally raw, we reckon breweries don't come more Australiana than this.
Community is at the cornerstone of this tightknit region and will be at the heart of everything produced at Red Earth Brewing. With the slogan "brewed by mates for mates", for six years head brewer Zeke Hower honed his skills with the legendary Stone & Wood Brewing Co., and is now the skillful master of ales, lagers and everything in between at this new 12-hectolitre brewhouse.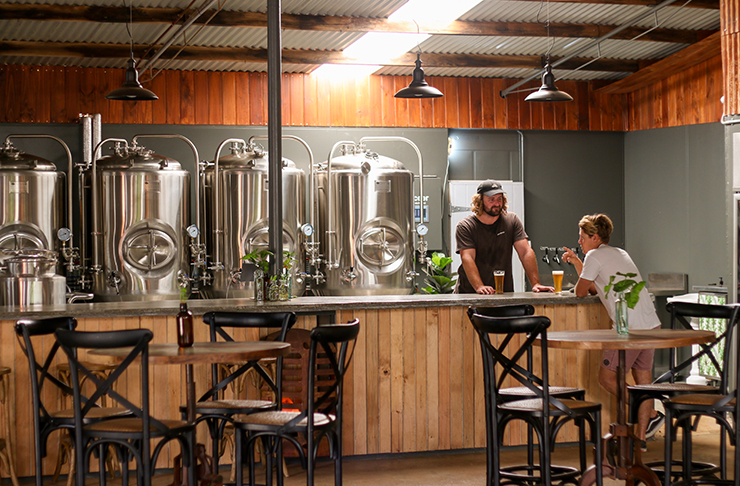 Swinging open its striking barn shed doors for the first time this weekend, first brews pouring at the taps will include their signature Rising Sun Pale Ale, a golden-bodied beer with subtle notes of citrus fruits and which tastes like sunshine. Thirsty patrons can also enjoy Zeke's new IPA, Pilsner and mid-strength Lager, while relishing in a rotating roster of local foods trucks and live entertainment—ensuring this will be a destination brewery worth travelling south for.
Non-beer drinkers or designated drivers can sip on Gurbuchi (an Aboriginal fermented tonic or native Kombucha), produced by a NSW family utilising organic, wild harvested whole native fruits, flowers and leaves—like finger lime, Davidson plum and lemon myrtle—and mixed with pure Kalang spring water. To nibble on, they'll also be starting out with minimal bar snacks like the beef jerky sourced from Alstonville Quality Meats, soaked in Red Earth's IPA, and next smoked and dehydrated in house.
While you'll totally want to skip across the border to sample the goods this summer, rest assured it most certainly won't be your last trip to Red Earth Brewery. Once the liquid gold is consistently flowing from the taps, subsequent phases planned for the brewhouse are equally exciting.
Early next year, you'll be swilling brews while also noshing on local produce and indigenous bush tucker, cooked over logs on an open fire pit in an outdoor kitchen. When things really ramp up, Red Earth Brewery will have capacity for events, weddings and the distribution of their brews as far as demand will carry it. It's seriously cool stuff, right?
So, cancel your weekend plans, the brewery opens this Saturday 23 November, then regularly every Friday to Sunday, 11am to 8pm (NSW time).
But be warned. Sink a few coldies in that fresh country air, and we can pretty much guarantee you'll soon be searching the real estate sites for property, wanting your own slice of the rural life.
The Details
What: Red Earth Brewery
Where: 592 Cudgen Road, Cudgen, NSW
When: Opening Saturday 23 November, then open regular Friday to Sunday; 11am to 8pm (NSW time)
For more information, click here.
Want to explore more of the scenic Cudgen area? We recommend you check out Farm & Co. while you're there.
Image credit: Supplied