Queenslanders, we know you love your home that's why we're on a mission to help you explore our beautiful backyard and support businesses that need your help right now. We're challenging you to support 20 Queensland businesses in 2020. Make the promise to stay home but don't stay in—staycation the right way by getting out and visiting the towns and regions that need you the most.
Leave the bright lights of the city behind and prepare to unwind, we're heading deep into the heart of Queensland's stunning Southern Downs and Granite Belt. This glorious slice of countryside paradise is teeming with cult-status wineries, breweries and restaurants boasting a vibrant farm-to-table scene just waiting to be explored. Found just 90 minutes from Brisbane, the Southern Downs and Granite Belt is the ideal weekend escape.
To help you plan your country getaway, we've partnered with Tourism and Events Queensland to bring you everything you need to eat, see and do in the Southern Downs and Granite Belt.
THINGS TO DO
Pedal Your Way Through The Granite Belt
Cycle your way through the stunning countryside and experience the very best of the region's food, drink, nature and history with Granite Belt Bicycle Tours And Hire. The tours will send you pedalling past beautiful produce farms, breweries and cellar doors, as well as deep into state forests to discover historic castles before stretching your legs to explore eerie caves.
Live Like The Crawleys At Abbey Of The Roses
This manor has serious Downtown Abbey vibes. Built in 1891, Abbey Of The Roses is a castle-like manor in Warwick that has been transformed into a hotel boasting all the luxury comforts without sacrificing any of its history and charm. Book a romantic getaway or if you're just visiting for the day, book in for a guided history tour followed by a morning tea with jam-filled scones. You'll feel just like Lady Mary Crawford.
Sip Your Way Through The Southern Downs
A getaway to the Southern Downs and Granite Belt region calls for lazy days spent sipping cult-status wines and crisp craft beers. The Filippos team have done the legwork for you and curated a memorable mix of tours so you can skip between cellar and brewery doors, sample a few fine wines and brews, and indulge in a true farm to fork experience with ease.
Shop At An Iconic Saddlery
If you're looking to work some retail therapy into your weekend, be sure to stop by family-owned business Kent Saddlery in Stanthorpe. A haven for hand-crafted leather goods like bags, belts, boots, notebook covers and horse saddles, you're bound to walk out the door with a shopping bag or two. You can also meet the makers at a workshop and learn how to craft some leather goods of your own.
See The Sights On A Historic Steam Train Ride
All aboard the Southern Downs Steam Railway, we're exploring the countryside in style. Experience the magic of this restored steam train with a day trip down to Wallangarra, a restored historic station close to the Queensland and New South Wales border. There's also a Winery Mystery Tour package where you depart the train at Stanthorpe and hop onto a bus to sample the fare at some of the Granite Belt's finest drops, before jumping back on board for the return run to Warwick. Although the Southern Downs Steam Railway is currently closed, there's certainly no reason you can't start planning your magical train experience now.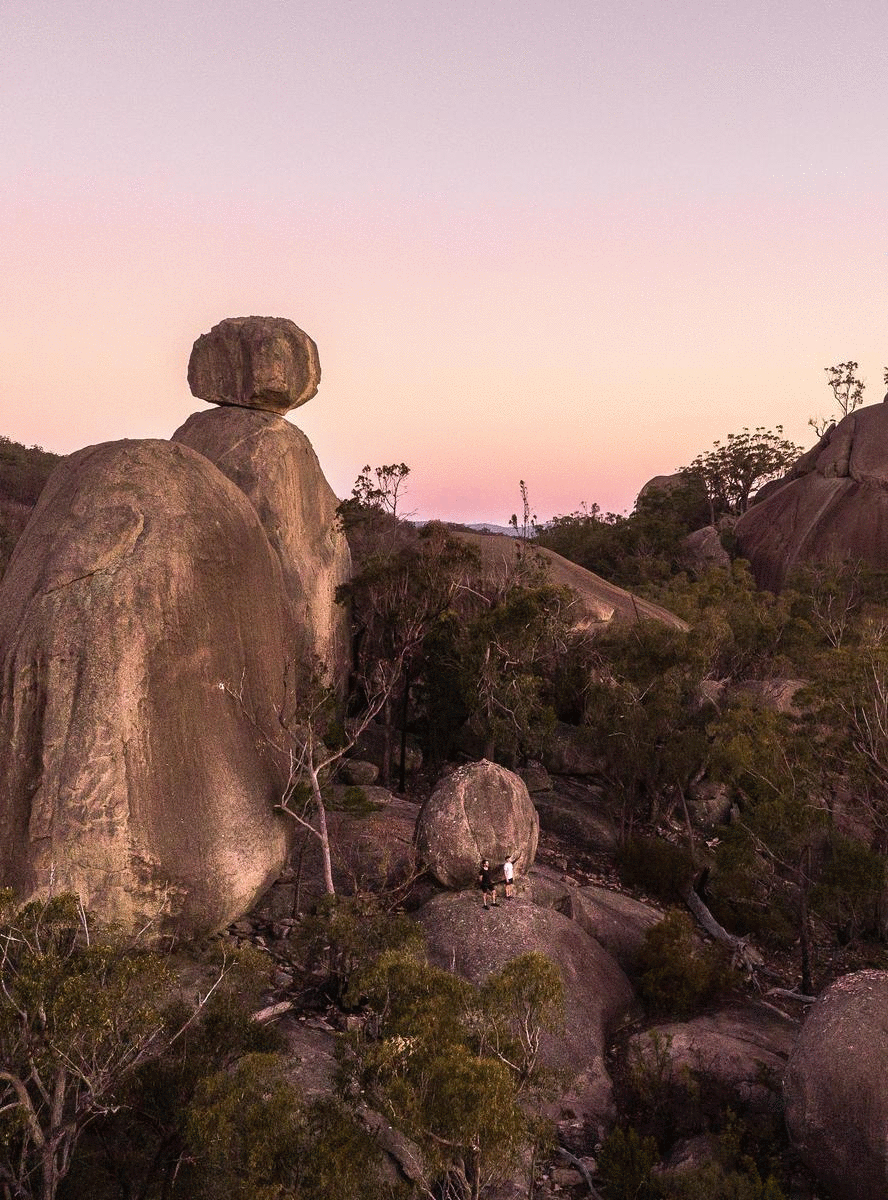 WHERE TO EAT AND DRINK
The Peak Restaurant at Spicers Peak Lodge
Set to a uniquely Australian backdrop, it's only fitting that The Peak Restaurant dishes up the best of modern Australian cuisine on a plate. The menu is littered with must-try dishes like Saltbush Lamb Rump and Humpty Doo Barramundi with a focus on locally and sustainably sourced produce. Book well in advance and prepare for a night of pure luxury.
Hidden Creek Winery Café
Tucked away in Ballandean, Hidden Creek Winery Café serves up stunning scenery and drool-worthy dishes aplenty. Here you can dine and drink al fresco-style beneath leafy trees with a glass of your favourite wine, stretched out on a picnic basket, and even with your furry friend in tow. Otherwise, venture inside to the cafe where a menu of locally sourced, organic and homegrown ingredients awaits. With floor-to-ceiling glass windows, you'll be able to soak in 'Gram-worthy vistas of the vineyard and lake.
Suttons Juice Factory and Cidery
For a taste of something different, head to Suttons Juice Factory and Cidery for hand-picked and freshly crushed apple juice and cider. Housed within a rustic packing shed-turned-cafe, trust us when we say you're going to want to come for a tall glass of crisp cider and stay for Sutton's famous homemade apple pie.
Tobin Wines
At Tobin Wines, they're kicking it old school with a winemaking philosophy that has little reverence paid to the winemaker or winemaking process. Instead, it's all about the grape and the result is totally unique. Tucked between the lush rolling hills in the Granite Belt, a trip to Tobin Wines is the best way to experience the region in a glass.
Ballandean Estate Wines
Built in 1932, Ballandean Estate Wines know a thing or two about the perfect varietal. Step through their rustic cellar door to sample a few drops before unfolding your napkin at their signature restaurant The Barrelroom. For a more relaxed vibe, make your way down to the vineyards with a hamper in hand for a lazy afternoon watching the sun fall behind the mountains.
Symphony Hill Wines
Symphony Hill Wines boast some serious accolades with their senior winemaker Abraham de Klerk turning heads and their previous winemaker Mike Hayes adding Australian Winemaker of the Year to his belt. Better still, their cutting edge, neo-vino movement has won the approval of Prince William and Princess Kate, and even Barack Obama. If it's good enough for the Duchess, it's good enough for us—we'll see you there.
Granite Belt Brewery
Tucked away on 30 acres beside the state forest in Stanthorpe you'll discover Granite Belt Brewery. Set amongst the vineyards, this countryside gem is a romantic spot to throw down the picnic blanket, kick back with a beer in hand and tuck into a glorious antipasto board from the restaurant. Consider your next date sorted and get ready to score some major brownie points.
Ridgemill Estate
Nestled at the end of a sleepy country lane in the beautiful Severn River Valley you'll stumble upon Ridgemill Estate's 10-acre vineyard. Not only does Ridgemill produce award-winning alternative varieties, but they also do it with sustainability in mind, focusing on low input farming techniques for a healthy vineyard. We're here for it.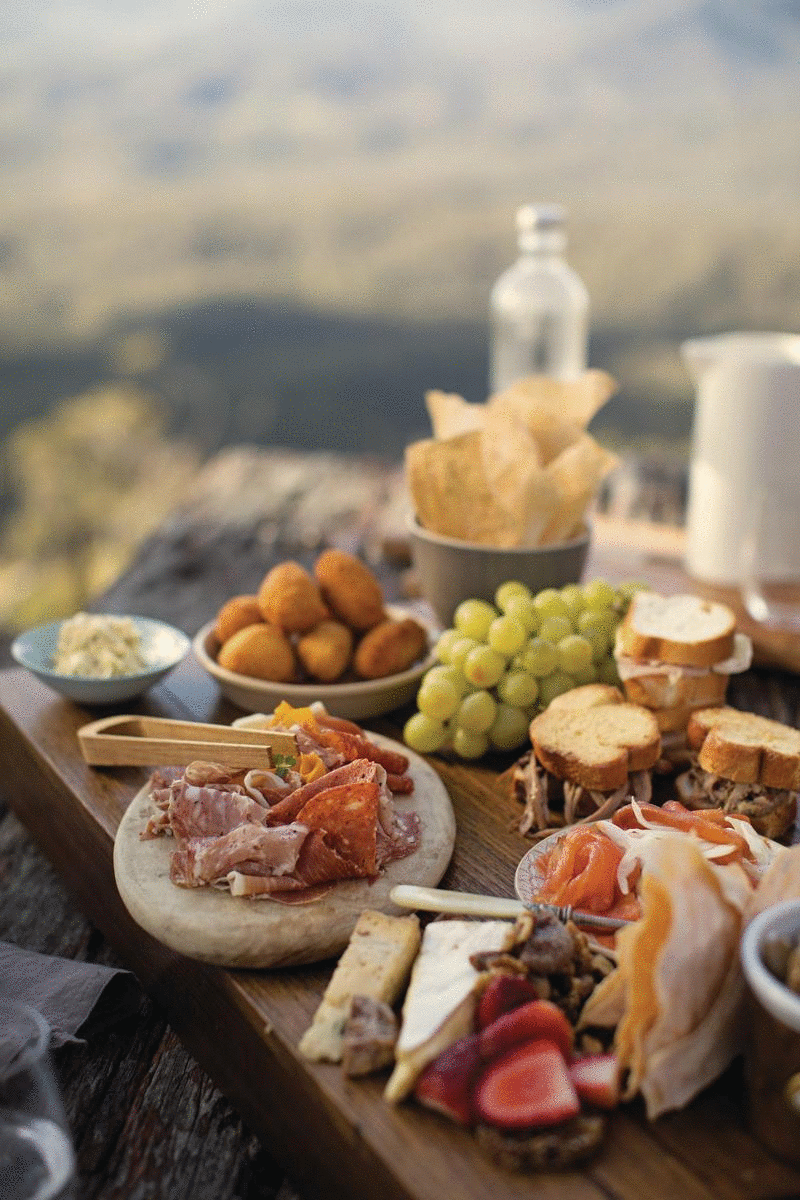 WHERE TO STAY
Spicers Peak Lodge
Set on 8,000 acres with a backdrop of World Heritage Listed national park, if you're chasing a weekend getaway with all the luxury comforts then you need to send Spicers Peak Lodge to the top of your hit list. Spend your days skipping between the pool, the spa and the award-winning restaurant—you honestly can't go wrong.
Granite Belt Retreat
If you're looking to impress your significant other with a romantic weekend escape, this countryside brewery, restaurant and retreat is a perfect choice. Unwind in a cosy cedar timber cabin next to the toasty log fire with a book in one hand and refreshing ale in the other. We're feeling relaxed already.
Goomburra Valley Campground
If you've been itching for a digital detox Goomburra Valley Campground is just the place to pitch a tent. Located on the Darling Downs and situated on the banks of Dalrymple Creek, here you can fill your days with bush walks, exploring hidden swimming holes, and gliding down the creek in a kayak. And, thankfully, if you don't want to commit to total bushwhacking, there are toilets and hot showers if you aren't game to hit the creek for a freshen up.
Diamondvale Cottages
Nestled beneath towering gum trees on the banks of a tranquil creek in Stanthorpe, Diamondvale Cottages offer slow countryside living matched with luxury comforts. Check into one of their romantic cottages where you'll fall asleep to the sound of a crackling log fire and rise in the morning to a sumptuous breakfast delivered to your door. Spend your days exploring the property, getting to know the farm animals, or take the Heritage Trail into town along the waterworn boulders of Quart Pot Creek where restaurants, shops and wineries await.
Ridgemill Estate-Cabins
If a wine-filled getaway set to the backdrop of a picturesque vineyard sounds like your idea of a good time (isn't it always), then you need to head straight to Ridgemill Estate-Cabins. Spend your days frolicking between the vines and sipping wines before resting your head in their self-contained cabins that have been thoughtfully built with sustainability in mind.
Alure Stanthorpe
Alure's luxury spa villas and 'Gram-worthy glamping tent is set on 50 acres of picturesque land that is well set for privacy, and with only three couples checked in at a time, it's a truly romantic and serene experience. Step outside your villa and slip into the outdoor spa for a relaxing soak as you gaze up at the starry night sky. For the glampers, the tent boast floor to ceiling windows so you can enjoy the vista of a glittering canopy of stars from the comfort of your bed. Trust us, you'll never want to check out.
31 The Rocks
With uninterrupted views of the beautiful Granite Belt countryside and native Australian wildlife, 31 The Rocks is the ultimate place to unwind from the daily grind. Here, it's all about slow living. Spend your days strolling through the bush and admiring the local flora and fauna before returning to your cottage to watch the sunset with a wine in hand.
Grovely House Bed And Breakfast
This stunning sandstone B&B is run by Stanthorpe locals Faith and Steven who boast traditional hospitality and country charm. Situated on two acres with stunning views of the Severn Ranges to the southwest and surrounded by rose gardens, Grovely House B&B is a beautiful and peaceful place to rest your head. Not only that, but you're also perfectly positioned with the best of the Granite Belt restaurants and wineries at your fingertips, with the closest vineyard just 10 minutes away.
If you haven't experienced the idyllic Southern Downs and Granite Belt yet, we think it's time you did. And what better excuse to explore our beautiful backyard than to support Queensland businesses that need your help right now. Join our 20 For 20 Challenge here.
Editor's note: This article is sponsored by Tourism and Events Queensland and proudly endorsed by Urban List. Thank you for supporting the sponsors who make Urban List possible. Click here for more information on our editorial policy.