Melbourne's beer gardens – we drink in 'em, we sit in 'em, we complain about the weather in 'em. But with so many to choose from, how do you know which beer gardens rise above the pack? The Urban List has pooled its collective drinking and dining experience to bring you 11 of Melbourne's best beer gardens. From old-school garden hideaways to split-level decks and post-footy watering holes, these are the beer gardens that are worth spending your Friday night (and Saturday afternoon, and Saturday night…) in. To the beer gardens of Melbourne, we salute you!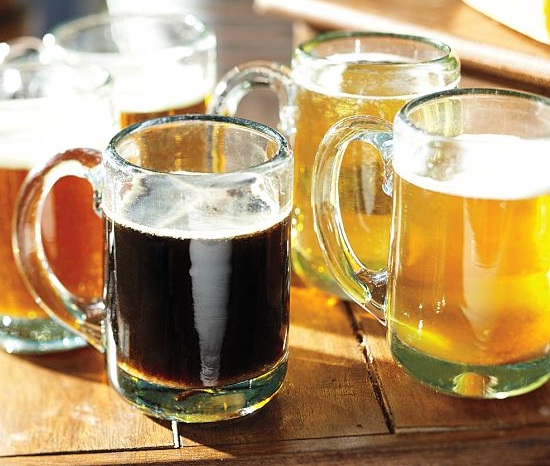 NORTHCOTE SOCIAL CLUB
A favourite live music venue, Northcote Social Club also boasts a comfy front bar and one of Melbourne's best beer gardens. The elevated, split-level deck is mostly covered and also doubles as the pub's bistro, serving quality pub meals seven days a week. There's a projector screen for big sporting events, enough greenery to make you feel like you're in a garden and – crucially – toilets, so you can avoid the post-gig revellers inside. Sometimes the little things matter most.

Northcote Social Club | 204 High Street in Northcote

THE BOATBUILDERS YARD
With its sweeping panoramic views across the city, The Boatbuilders Yard is a truly jaw-dropping destination. Nestled in South Wharf, next to Polly Woodside, the relaxed waterfront cafe and bar features a huge beer garden with a mish-mash of tables and deck chairs. Breakfast and lunch are served daily, and there's even an ice cream cart on hand during weekends in summer. If you're looking to show Melbourne off to an out-of-towner, this is just the ticket.

The Boatbuilders Yard | 23 South Wharf Promenade in South Wharf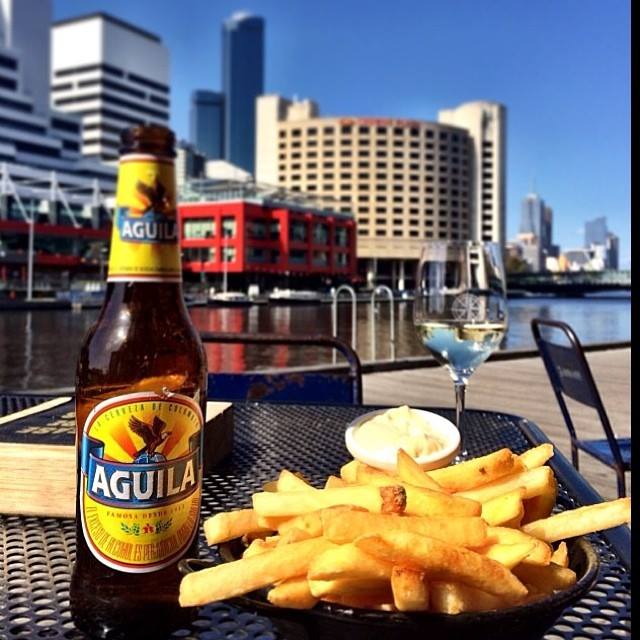 Image Credit: Boatbuilders Yard Facebook

THE BRUNSWICK GREEN
The Brunswick Green has always been one of Sydney Road's gems. It may not have the regular queues snaking down the road like Penny Black or The Retreat, but the cosy venue ticks all the boxes for comfort, good pub grub and friendly staff. Out the back, there's a brick-paved rectangular beer garden with a backyard vibe that we reckon is one of Melbourne's best. Offering undercover and open-air seating, umbrellas and plenty of trees, this beer garden is the type of place you can waste away an entire afternoon without even noticing.

The Brunswick Green | 313 Sydney Road in Brunswick

CORNER HOTEL
The Corner Hotel rooftop beer garden is the stuff of legend. Head up a flight of stairs from the 900-capacity band room, which has hosted everybody from U2 to The White Stripes, and there it is. Expansive, heated and air-conditioned, with huge bi-fold doors able to separate covered and open-air bits. Only a few minutes walk from the MCG, the beer garden is understandably packed on footy match days and before gigs, but it's worth battling through the crowds to score a table. City skyline views are a bonus, and there's a menu of snacks, pizzas and mains available for dinner on weekdays and lunch and dinner on weekends.

Corner Hotel | 57 Swan Street in Richmond

WINDSOR CASTLE HOTEL
The old-school Windsor Castle, nestled behind the train station, almost seems to exist as a respite from the hectic pace of nearby Chapel Street. In here, the beer is cold, the food is reasonably priced and the carpet is sticky. The pub itself comprises several different rooms, and it can be a task in itself trying to weave your way through them to the beer garden. Things get a bit tropical outside with palm trees, a thatched-roof bar, straw shelters, bamboo fencing and a good view of the pink elephants – yes, pink elephants – on the pub's roof. It's a bit kooky – in a very good way.

Windsor Castle Hotel | 89 Albert Street in Windsor

PONYFISH ISLAND
Imagine trying to explain Ponyfish Island to somebody that has never been there. "It's basically a floating island on the Yarra, underneath a pedestrian bridge." Co-owned by Jerome Borazio of St. Jerome's and 1000 £ Bend fame, Ponyfish has a distinct purpose as an oasis from the city's crowds. Things are always pretty chilled down the stairs and the environment – a random assortment of recycled timber stools, benches and a small covered bar – suits. Work in the city? You've just found your favourite lunchtime getaway.

Ponyfish Island | Pedestrian Bridge in Southbank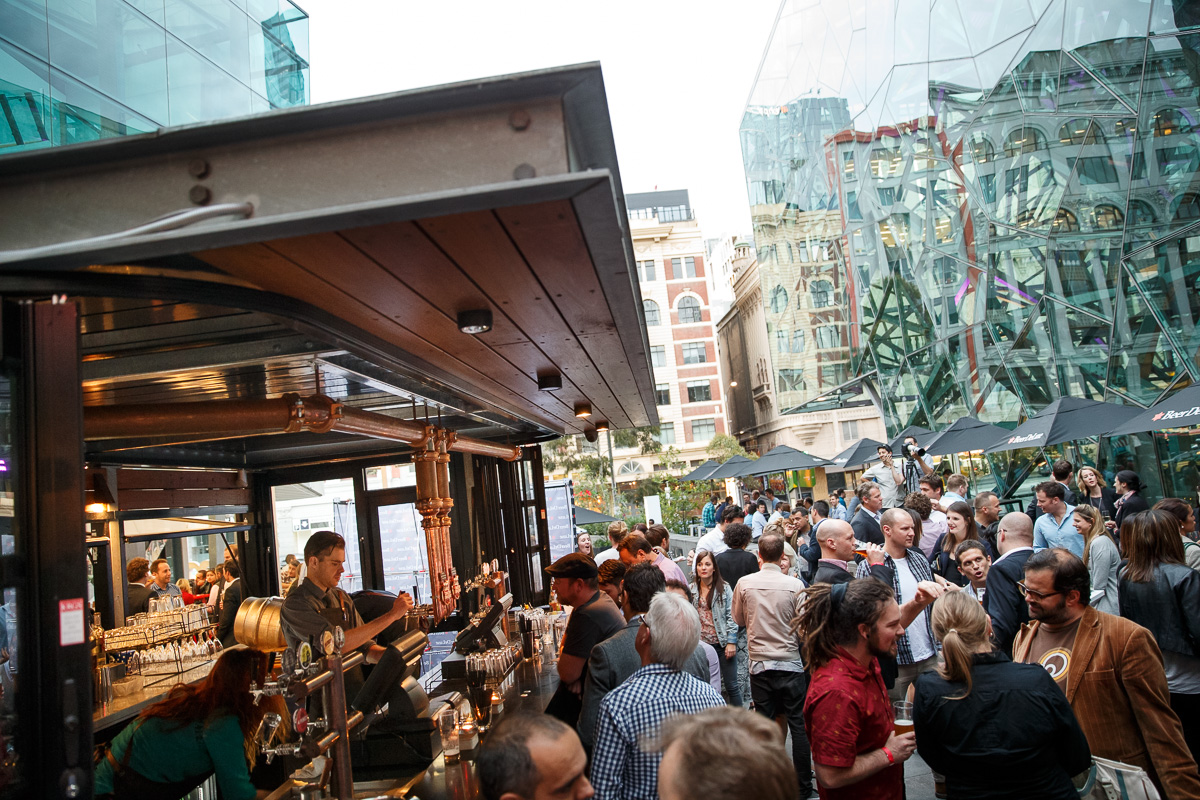 Beer DeLuxe, Fed Square (Photography by Timothy Burgess Photography)

BEER DELUXE
With its central piece of Federation Square land, Beer DeLuxe is the type of venue where you will meet everybody from office workers taking time out, to city shoppers and backpackers. They're all welcome in this multi-level space, which comprises a burger bar, a cafe and a dining room alongside the huge beer garden, which spills onto Flinders Street. There's plenty of seating and shade to enjoy the 'beer bible' of local and imported brews, and the lunch and dinner menus are available 'til late.

Beer DeLuxe | Between NGV Atrium and ACMI, Federation Square in Melbourne

COLLEGE LAWN HOTEL
The website of Prahran's College Lawn Hotel claims to have "the best beer garden in Melbourne" – and while we're not here to decide a gold medallist, it's right up there. The popular, sports-friendly pub recently renovated its beer garden to include an outdoor bar with 10 beers on tap. It's a nice addition to the split-level space, which features a vast amount of greenery, lots of shade, a covered area and big screens blaring sports action. Separated from Greville Street by a white picket fence, the beer garden is large enough to comfortably hold 200 people.

College Lawn Hotel | 36 Greville Street in Prahran

THE LONDON TAVERN
If you're searching for the perfect footy pub, search no further than The London. A drop punt from the MCG, the pub is resplendent with footy memorabilia on the walls, plasma screens throughout, excellent food (with plenty of vegetarian and gluten-free options to boot) and what is perhaps Melbourne's biggest beer garden. The huge paved space is shaded by oversized umbrellas and full of long wooden tables to accommodate groups. The pre and post-footy crowds predictably make things a little hectic, so factor the fixture into your drinking plans.

The London Tavern | 238 Lennox Street in Richmond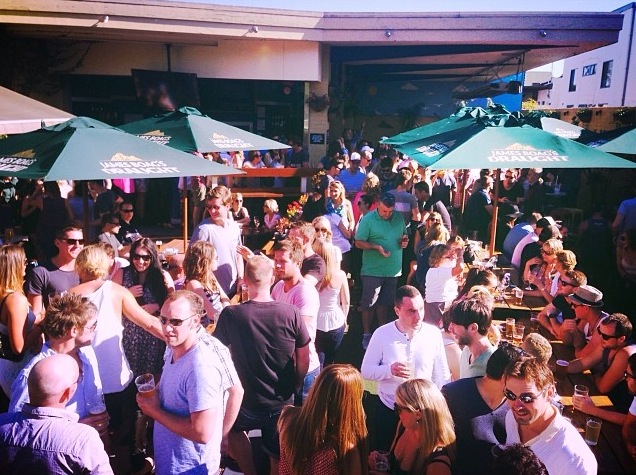 Image Credit: College Lawn Hotel Facebook

THE STANDARD HOTEL
Don't go to The Standard Hotel if you're after bells and whistles. The pub's website makes that blatantly clear – "The Standard has no discernable props of TABs, pool tables, jukeboxes, happy hours or blindness-inducing cocktails." Instead, it's a comfortable no-frills pub with a great menu and more than 10 beers on tap. The beer garden is reportedly the largest in Fitzroy, seating more than 100 people in its leafy surrounds and complete with covered areas and heaters – a godsend in winter.

The Standard Hotel | 293 Fitzroy Street in Fitzroy

THE REVERENCE HOTEL
Less than two years ago, the former owners of Melbourne's now defunct Arthouse Hotel set up shop in Footscray. The Reverence Hotel – or The Rev as it's widely known – is a haven for fans of punk, hardcore and metal music, with two separate band rooms hosting gigs most nights of the week. There's also a cosy front bar and – almost hidden among the chaos – a sprawling, leafy beer garden. The Rev gets bonus points for its menu of vegan-friendly Mexican treats – think tacos, street style corn and jalapeño corn crust pizzas.

The Reverence Hotel | 28 Napier Street in Footscray

Want more drinking spots? Check out our favourite rooftop bars, and top venues for a Sunday session. Or perhaps you'd prefer somewhere quirky.
Need more beer? Check out our Fave 5 Melbourne Craft Beer Breweries round-up!
TUL Note: Melbourne born and bred, Kathryn is a freelance journalist with a passion for the city's arts and culture scenes. When not typing away on her laptop for whichever magazines, newspapers and websites will take her words, she can be found trawling the inner suburbs for good records, books and coffee.
Main image credit: Potterybarn