Are you looking to give back to the community? Interested in squeezing in a bit of purpose-searching in your weekly timetable? Or simply want to stretch your tax dollar that little bit further? Then investing your time and/or money into a local Melbourne charity is the way to go. Luckily, our city is home to a number of worthwhile charities that are always open to a helping hand or a donation.
Here are six awesome Melbourne charities and non-for-profits to get behind.
Sisterworks
Sisterworks is an incredible charity that helps women migrants, asylum seekers and refugees to become financially independent and happily settled in Australia. Based out of Richmond, this non-for-profit currently supports no less than 171 women from 55 countries and provides a workplace, learning centre and sales channel that's designed to help them overcome significant social and employment problems.
How you can help
Sisterworks is always open to donations and new volunteers. To find out more about how you can help, visit their website and attend a workshop at their Richmond-based store (393 Swan St).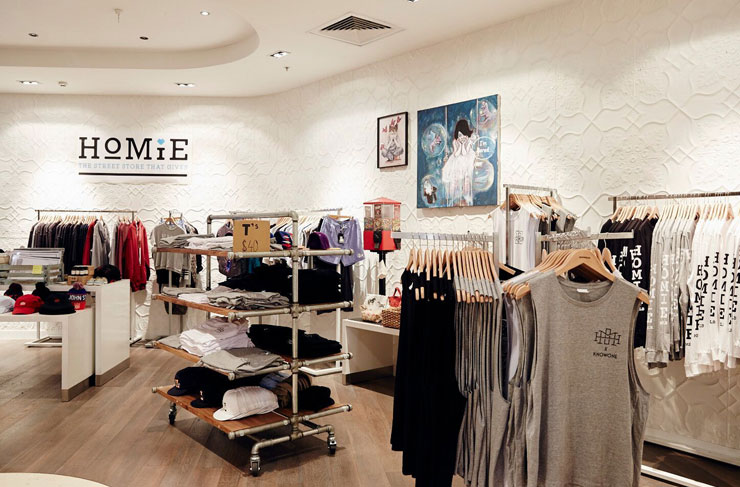 Photography: Social Traders
HoMIE
HoMie is a Fitzroy based brand that sells clothing, but what's amazing is that 100% of their profits go towards people experiencing homelessness or hardship. They also provide young people experiencing homelessness with paid internships and training to help them get a foot in the door. HoMie also holds VIP shopping days where they provide food, grooming and free clothing to Melbourne's homeless population, as well as introducing them to the HoMie support network. Better yet, all their clothes are ethical and sustainable.
How you can help
If you're keen to help out with Homie's cause, you can make a donation, purchase a product on their website, or pop into their Fitzroy store at 296 Brunswick Street and make a purchase or donation in person.
Forever Friends Animal Rescue
Staffed entirely by volunteers, Forever Friends Animal Rescue (FFAR) saves animals from 'death row' and gives them a home, food and endless cuddles. The non-for-profit operates an incredibly generous fostering network of carers, transporters, trainers and behaviourists that help these animals find their forever homes.
How you can help
Helping FFAR is as simple as following them on Instagram to find out when fostering, adoption and volunteer opportunities arise (and for the cute animal pics). Alternatively, you can make a donation or become a sponsor if you don't have a lifestyle fit for fostering animals yourself.

Photography: Emily Sue
Kinfolk Café
Lending a helping hand can be as simple as enjoying a cup of coffee and some avo toast. Staffed completely by volunteers, 100% of Kinfolk Cafe's distributable profits are donated to their partner charities. Customers who visit the cafe decide where their money goes by simply dropping a coffee bean into the project tin of their choice.
How you can help
As we mentioned above, helping out is as simple as making a purchase at their CBD-based cafe (673 Bourke St), alternatively you can volunteer your time at the cafe to help make a difference too.
The Social Studio
The Social Studio is another fantastic NFP that helps disadvantaged young people by creating professional opportunities for creatively minded refugees. They support the creative talents of these young people by helping them make important industry connections and share knowledge, skills and stories. All income generated by the organisation is invested in creating social benefits for students, staff and the community.
How you can help
If you're looking to assist The Social Studio and its brilliant young people, the best thing you can do is purchase their fashion products, order their clothing and utilise their textile services via their website (or visiting their Collingwood store at 128 Smith Street). Not only will you be giving your money, but you'll be encouraging their amazing work.

Photography: GoodSmiths
Centre for Education & Research In Environmental Strategies
CERES is based in East Brunswick and runs environmental education programs, urban agriculture projects, green technology demonstrations and a number of other important social enterprises that aim to help our environment by empowering people with knowledge.
How you can help
You can help this important environmental cause by visiting their nursery, grocer or cafe (at the corner of Roberts and Stewart St in Brunswick East), making a donation, or attending a course or workshop and getting an environmental education yourself.
There are so many fantastic charities and NFPs out there that we haven't mentioned, and unfortunately it would take too long to write about them all. However, if you're passionate about a particular social, animal or environmental cause, you can explore the Pro Bono Australia website to discover a range of organisations that are always in need of your help.
Image credit: Visit Victoria