With the Commonwealth Games all over, and given the reception of the closing ceremony, we need something to cleanse our sport-loving palate—and the Common Woof Games are exactly what we've been searching for.
Part of the Dog Lovers Show running from May 4-6, the Common Woof Games will see a bunch of puppers from all across the world competing in events such as hurdles, discus throw, high jump, vaulting, barrel racing, basketball, 'socca', weight pull, javelin dodge, and a bunch more.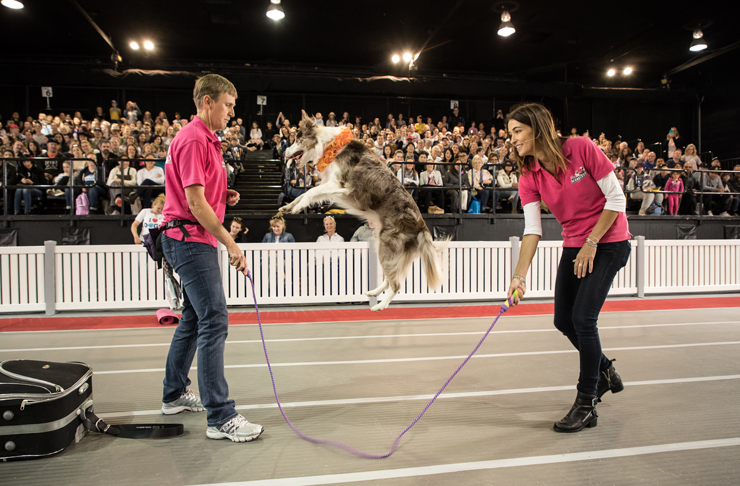 The outdoor forecourt at the Royal Exhibition Building will play host to the Common Woof Games pool and aquatic division where you can check out the DockDogs, as well as pooches of all shapes, sizes and abilities who will take part in Big Air, Rapid Relay, Speed Retrieve, Extreme Vertical, and Dueling Dogs heats—you're bound to get wet.
At the Pet Circle Stage you can catch Dr. Harry Cooper, along with Dr. Katrina Warren and Kelly Gill who will take your through various free educational talks.
There's a massive range of breeds on show at the Dog Lovers Show this year including Chow Chows, Dalmations, French Bulldogs, Great Danes, Schnauzers, Poodles, and breeds never seen before at this event like the Saluki, Clumber Spaniel, Belgian Shepherd, and the Briard.
Also worth mentioning is the Pat-A-Pooch Zone where you can lounge about on beanbags and meet puppies, rescue dogs, service, and therapy dogs. Sounds like a perfect set up to us.
The Details
What: Common Woof Games at Dog Lovers Show
When: Friday 4 May – Sunday 6 May
Where: Royal Exhibition Building, 9 Nicholson Street, Carlton
For more info head to dogloversshow.com.au.
For a rundown on all the dog-friendly joints in Melbourne that you need to know about, head here.
Image credit: supplied