Winter: when one quarter of your year disappears into a black hole of blankets, UberEats and Netflix. Instead of eating your body weight in laksa (well, you can do that too), we teamed up with The City Of Melbourne to bring you every single exhibition and winter market you won't want to miss (how about the largest showcase of Aussie cinema, for a start?).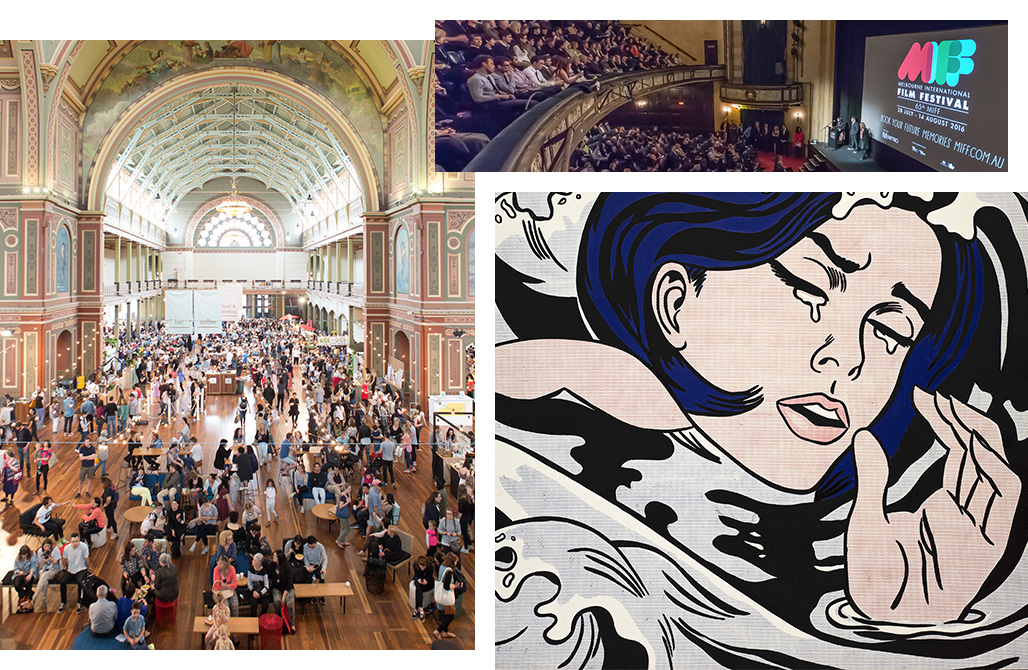 Hosted on the anniversary of the storming of the Bastille back in 1789, Bastille Day is mainly an excuse to feast on croissants in Melbourne. The annual Bastille Day French Festival runs on 14 and 15 July, bringing together Melbourne-based French businesses from around the city. Expect a pop-up French market, masterclasses, music and performance throughout the weekend.

Open House is all about appreciation. Architectural hotspots across the entire program are free to visit, encouraging civic participation and advocacy for better-designed cities. Over 200 buildings are promised across 28 and 29 July, while the entire month will see a series of talks, workshops and performances running alongside the program.

The rule is: Finders Keepers. Returning from 13 July to 15 July at the Royal Exhibition Building, Finders Keepers will host over 250 independent art and design stalls over three days. Local is another rule here, with independent Melbourne designers and Australian favourites making an appearance. Dedicated food and bev stalls will run all day to keep you shopping without the dropping.

Bringing together emerging contemporary artists from Australia, New Zealand and the surrounding region, the Melbourne Art Fair will showcase 40 galleries across two venues (yes, it's a lot of art). Pop by Sake Restaurant & Bar or San Antone for a post-exhibition feed. Runs 2 August to 5 August.

The film event of the year, MIFF is one of the longest running film festivals in the world and presents a highly acclaimed program. The largest showcase of Australian cinema, the Melbourne International Film Festival is home to the world premiere of a range of locally-made films. Pair it with a cosy night out to Pizza Pizza Pizza or Bar Lourinhã for a night in (that's actually out). Runs 2 August to 19 August.

If it's raining, experience true wonder at ACMI's latest exhibition: Wonderland. Bringing together some original behind-the-scenes material from Alice In Wonderlands, fall down the rabbit hole to immerse yourself in jaw-dropping visual effects, animation and development in film tech. Entry is timed so you can enjoy every impossible experience without the crowds. Wonderland is open late on the last Friday of every month until September. Runs 5 April to 7 October.

In partnership with New York's Museum of Modern Art, the NGV will present an exhibition tracing the development and evolution of art and design. Over 200 works will be displayed from the late-nineteenth-century to present, drawing on masterpieces by Vincent van Gogh, Paul Gauguin and Paul Cézanne (usually at home in MoMA). Head to Duke's Coffee or The Journal Café for a post-exhibition coffee. Runs from 9 June to 7 October.

If you're anxiously waiting for the fifth season of Vikings, entertain yourself with Melbourne Museum's exhibition dedicated to exploring the history and lifestyle of Vikings. There will (probably) be less blood and (definitely) less drama, but the exhibition hosts 450 real artefacts including Thor's-hammer pendants and Viking swords from 700 AD. You won't see that on your computer screen. Runs until 26 August.

You can feast until your stomach is full at Queen Victoria Market's Winter Night Market. Returning for another mouth-watering season, pick up four-cheese spaghetti tossed in a 40kg cheese wheel, a loaded Ferrero Rocher sundae or Tiramisu-anything from Melbourne's own dedicated Tiramisu stand.
Editor's note: This article is proudly sponsored by City of Melbourne and endorsed by The Urban List. Thank you for supporting the sponsors who make The Urban List possible. Click here for more information on our editorial policy.
Image credit: Provided.