It's rare to find a spot that could tempt us away from the artistic, buzzing, food-filled haven that we call home. But Bendigo may just be the vixen to lure us away from Melbourne…at least for the weekend.
From lavish one-hatted restaurants to towering art galleries, hidden laneways and unique events, here are all the reasons we want to move to Bendigo.
#1 The Biggest Regional Art Gallery…In All Of Aus!
To celebrate their 130th birthday (oldie but a goodie) Bendigo Art Gallery will be showcasing the huge variety of contemporary, traditional and significant art collected throughout the gallery's history. Bendigo Art Gallery's own curatorial team curates the exhibition, and after 130 years, you can bet your art-loving butt that they've gotten the hang of producing curious, vibrant expositions.
The Bendigo Art Gallery will also host the House of Mirrors in April, as seen at Dark MOFO's Mona. Set-up at Rosalind Park, the House of Mirrors invites you to enter the mind-tripping, disorientating labyrinth of mirrors by Christian Wagstaff and Keith Courtney.
#2 Edible Art At One-Hatted Restaurants
Championing the best of Central Victoria's seasonal, fresh produce, Masons of Bendigo's 7-plate roaming menu is the treat you deserve this weekend (or, every weekend?). Awarded one chef's hat for two consecutive years, every dish on the menu has a strong focus on supporting local producers. From the Victorian wine list to small-batch growers, taste through black mission figs, 'truffle' potato croquettes and McIvor Farm Berkshire pork shoulder.
#3 Become A Pottery Master
If you don't have the personality of a grouchy grandma, you might think that pottery isn't your idea of a fun weekend activity. How wrong you'd be, you young naïve grasshopper. An addictively delicate, hands-on art form, Bendigo Pottery gives you the opportunity to create your very own clay masterpiece on a wheel—and don't worry, an experienced potter will be there to save your grey leaning Tower of Pisa if things go awry. Shop through the antiques and homewares after your pottery attempt, because the experts know what they're doing.
​
#4 Hidden Laneways That Are Out-Doing Melbourne
The latest laneway to pop-up off Pall Mall, wander down Victoria Lane to a gorgeous European-style tapas bar. At Sangria Spanish Tapas Bar fairy lights drift from the top of the laneway, while intimate pockets of tables are scattered across the four-level restaurant. Snagging a spot on the slim outdoor balcony can be a delicate act, but it's worth the tussle. Split their signature paella with your favourite foodie, and don't forget the churros with chocolate sauce for dessert.
#5 They Have A Way Better City Tram Than Us
Historic Bendigo trams will be chugging through the streets every month, because everyone knows that old is the new new. Equipped with live blues musicians, beer, wine and soft drink, cruise through the city as you enjoy the Bendigo Blues & Roots Music Festival's finest talent.
#6 The Best Croissants In Victoria…Yeah, Really
Croissants at the Harvest Rotisserie and Patisserie are no flaky task. A two-day, in-house process, peek across the bar and you may catch a close-up demonstration of the croissant being freshly made. Every batch of buttery pastries are served warm. Order yourself a vintage croissant with San Daniele prosciutto and comte cheese, and savour every last piece of this rich, creamy croissant. The Harvest Rotisserie and Patisserie is an all-day venue, so you can swap your usual dirty sanga for one of these luxe croissants at every hour of the night.
#7 It's Home To Brompton Bikes
Hand crafted and irresistibly compact, London's Brompton Bikes have hit Bendigo in all their tiny glory. Six iconic bikes are available for hire for up to a day, so you can peddle your way through the city's best tourist sights without ever paying for a park.
#8 Vintage Shopping That's More Than Insta-worthy
The View Street Arts Precinct is a shopping lovers' daydream. If you're overwhelmed with where to start the shop of your life, you're guaranteed to have common interests with Made In Common. A space dedicated to supporting up-in-coming designers from Melbourne and Bendigo, you'll find jewellery, fashion, homewares and gifts in this airy, industrial space. Also, there's a hairdresser inside, because the team are obviously overachievers. A better wander through Bendigo will uncover tiny boutiques, shops and other great precincts for shopping.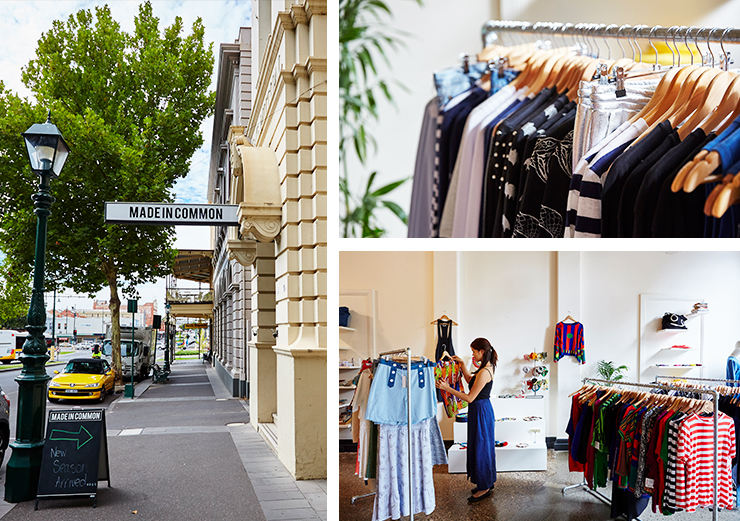 #9 Fairytale Wineries With Fairytale Wines
Set in a charming 1880s red brick cottage, Killecrankie Wines will charm their way into your kitchen cupboard. Home to award-winning wines with character you won't find in your local bottle-o, the red-loving owners are currently producing a brand new variety of wine named 2017 Lola Montez Tempranillo, which is a nod to the famous Irish dancer. The cellar door is decorated with photography produced by the owners themselves and local street artist Nathan Sims, AKA Mr Dimples. In increasing order of importance: sample their boutique range, choose your favourite bottles to take home, and don't forget to pat the two cats—Larry and Willow.
#10 Woodfired Pizza That Rivals Melbourne's Finest
As the name implies, The Woodhouse specialises in everything and anything wood (…ha). From mouth-wateringly tender smoky steak to crisp-crusted woodfired pizzas, The Woodhouse champions regional produce throughout the menu. Head over for premium F1 Wagyu or Inglewood Dry Aged Beef.
#11 DIY Beer
Need we say more? The team at True Brew will help you create your own beer, complete with a customised beer label. Yes, it will be better than that solid homebrew you attempted in the 90s.
Image credit: Michelle Jarni for The Urban List
Editor's note: This article is proudly sponsored by Bendigo Tourism and endorsed by The Urban List. Thank you for supporting the sponsors who make The Urban List possible. Click here for more information on our editorial policy.