Winter's here, but that doesn't mean it's time to hibernate…not when there are so many downright delicious things happening around town! From epic roasts to decadent high coffee, June is full of not-to-be missed culinary highlights. So what are you waiting for? Sink your teeth into our handy guide of foodie events to book in June.
The Roast Collection
There are few things in life as belly warming and happiness inducing as a roast, so we were almost indecently excited to hear about The Roast Collection – a celebration of the humble roast and the very best wintry Victorian produce running across our glorious state throughout June. Many of Victoria's finest restaurants have come on board with roast deals that will have you salivating on your keyboard. With over 100 events taking place, navigating the menu can be overwhelming, so here are our picks of The Roast Collection. Enjoy!
Winter Pot Roast at Balgownie Estate
Planning a weekend mini break in June? Then might we suggest you grab your significant other and make tracks to the Yarra Valley. Specifically, to Balgownie Estate Resort & Spa. Rae's Restaurant has recently welcomed hatted chef, Chau Doan and, as part of The Roast Collection, they're whipping up a succulent veal pot roast for lunch every day. For just $45, your melt-in-the-mouth pot roast will come accompanied with a glass of matched Balgownie vino. Cheers to that!

Winter Pot Roast at Balgownie Estate
Sunday 1st – Monday 30th June
Balgownie Estate in Yarra Glen
$45 per person | 12-2pm daily
Call 9730 0774 for bookings
High Coffee at The Waiting Room
High Coffee at The Waiting Room at Crown is now a little easier on the hip pocket (but not on the waistline). Throughout June and July, $40 will bag you a tower of decadent sweet and savoury treats, plus a glass of sparkling. You'll elegantly munch your way through the likes of smoked salmon and herb crepe roulade and dainty cucumber sandwiches, espresso cream filled mini chocolate éclairs, and chocolate and nutella layered cream cake (TUL's fave). And that's before the piping hot scones and palate-cleansing sorbet arrive! Pinkies at the ready, ladies and gents.

High Coffee
2nd June – 30th July
The Waiting Room at Crown Melbourne
$40 per person | 12-5pm daily (weekdays only)
Call 9292 5777 for bookings
Seafood Frenzy at The Smith
Pick up the phone cos this one's tonight people! This very evening, The Smith will be swimming with a roaming selection of oceanic delights such as mini prawn cocktails, Kingfish sashimi with mango and coconut cream, soft shell crab tortillas and tempura rockling in a milk bun with kewpie mayo. Kicking off at 6:30pm, this will be one fishy feast to remember!

Seafood Frenzy at The Smith
Monday 2nd June | 6:30pm
The Smith in Prahran
$75 per person including glass of Laurent Perrier on arrival
Call 9514 2444 for bookings
Breaking Down the Beef at Hudson Meats
Throughout the year, the kind folk at Hudson Meats in Toorak are running a series of 'breaking down the beast' classes for budding butchers, or simple home cooks. This month it's beef on the chopping block and meatheads who attend will learn everything from the unique characteristics of each cut, to the difference between breeds, how the beast was raised and its journey to the butcher shop. Butcher Micah Hewitt will explain each section of the beast and provide lots of handy tips and tricks on how best to cook each cut. Paired with a glass or two of wine and some delicious Hudson Meats antipasti, we reckon it'll be a bloody good night. Pun intended.

Breaking Down the Beef
Thursday 5th June | 7:30-9pm
Hudson Meats in Toorak
$75 per person including wine & antipasti
Visit the website for bookings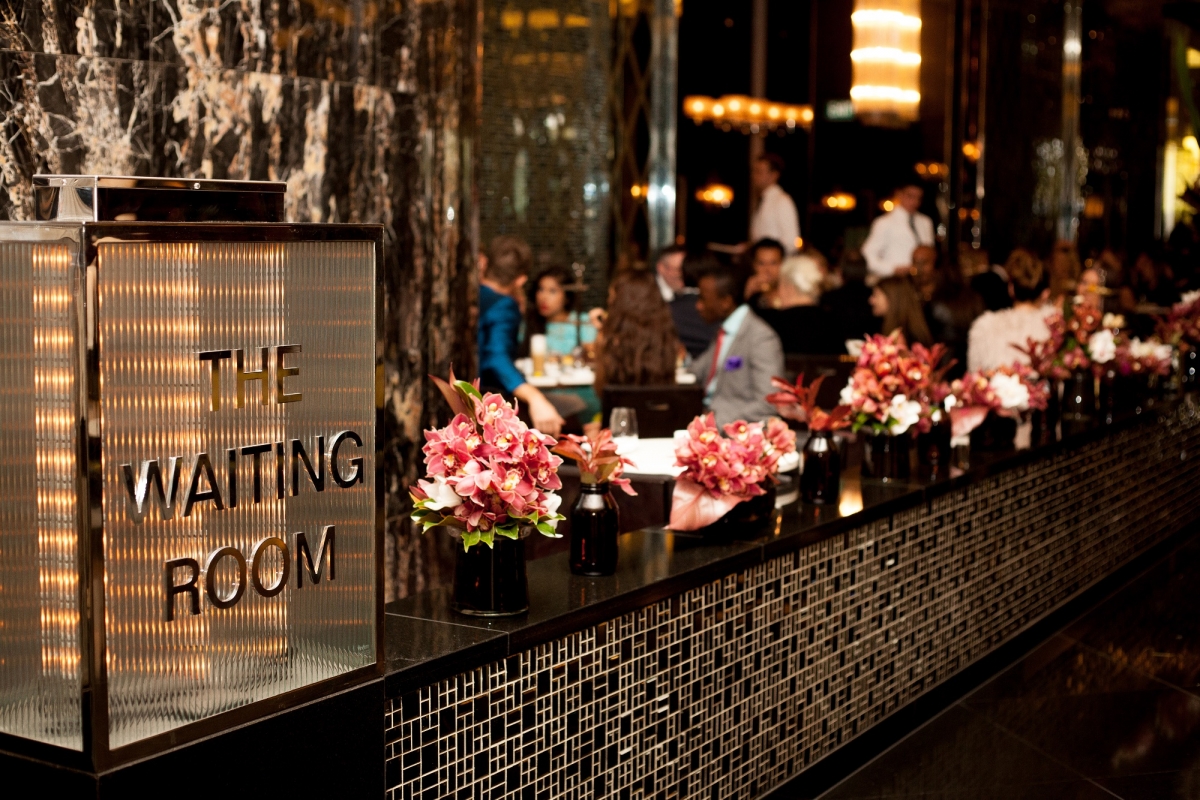 Image Credit: The Waiting Room at Crown
World Sherry Day at MoVida Next Door
Sunday 8th June is World Sherry Day! If you're a fan of Christmas-in-a-glass, MoVida Next Door are celebrating with a special five-course sherry matching lunch. At $70 per head and with two sittings (12pm and 2pm) we think this is sherry good value.

World Sherry Day at MoVida Next Door
Sunday 8th June | 12pm or 2pm sittings
MoVida Next Door in Melbourne CBD
$70 per person for five courses with matched sherry
Call 03 9663 3038 for bookings
Milking Salmon & Curing Roe at St Ali
Seafood enthusiasts, this one's for you. Pop along to St Ali on Wednesday 11th June to learn from the fine folk at Yarra Valley Caviar about how to milk a salmon of its roe. Guests will then be invited to cure the roe into caviar, using Olsson's Sea Salt, and create their own amuse-bouche by adding crème fraiche and the freshly made caviar onto blinis or baguette. Yum! You'll also be treated to tasty bites by St Ali's head chef, Andrew Gale.

Milking Salmon & Curing Roe
Wednesday 11th June | 6:30pm
St Ali in South Melbourne
$25 per person including 250gm Olsson's Sea Salt, bag of St Ali coffee and wine on arrival
Email for bookings
Daylesford Regional Showcase Dinner
This is one event we are popping in our diary in red pen! On Tuesday 17th June, Annie Smithers of du Fermier in Trentham will team up with chefs Stephen Burke and Andrew Beddoes at the Middle Park Hotel for a four-course dinner showcasing the incredible food, wine and produce from Daylesford. Expect rustic winter comfort food like braised lamb shoulder, smoked ocean trout, quail and cheeses, matched with wines from Bindi Wines. Umm, yum!

Daylesford Regional Showcase Dinner
Tuesday 17th June | 7pm
Middle Park Hotel in Middle Park
$130 per person for four courses with matched wine
Call 9690 1958 for bookings
Bistro Vue Truffle Dinner
On the pricier end of the spectrum (truffle is in the name after all) is the Bistro Vue Truffle Dinner – an ode to fungi for which we'd sell our first born to attend. Joining Bistro Vue's chef Chris Bonello will be Manu Fieldel and Philippe Mouchel, with each chef preparing two dishes featuring – you guessed it – truffle. That's six truffle-infused courses, people! It'll cost you $260 (including wine), but we think this decadent event is well worth it.

Bistro Vue Truffle Dinner
Wednesday 18th June | 7pm
Bistro Vue in Melbourne CBD
$260 per person for six courses with wine included
Call 9691 3838 for bookings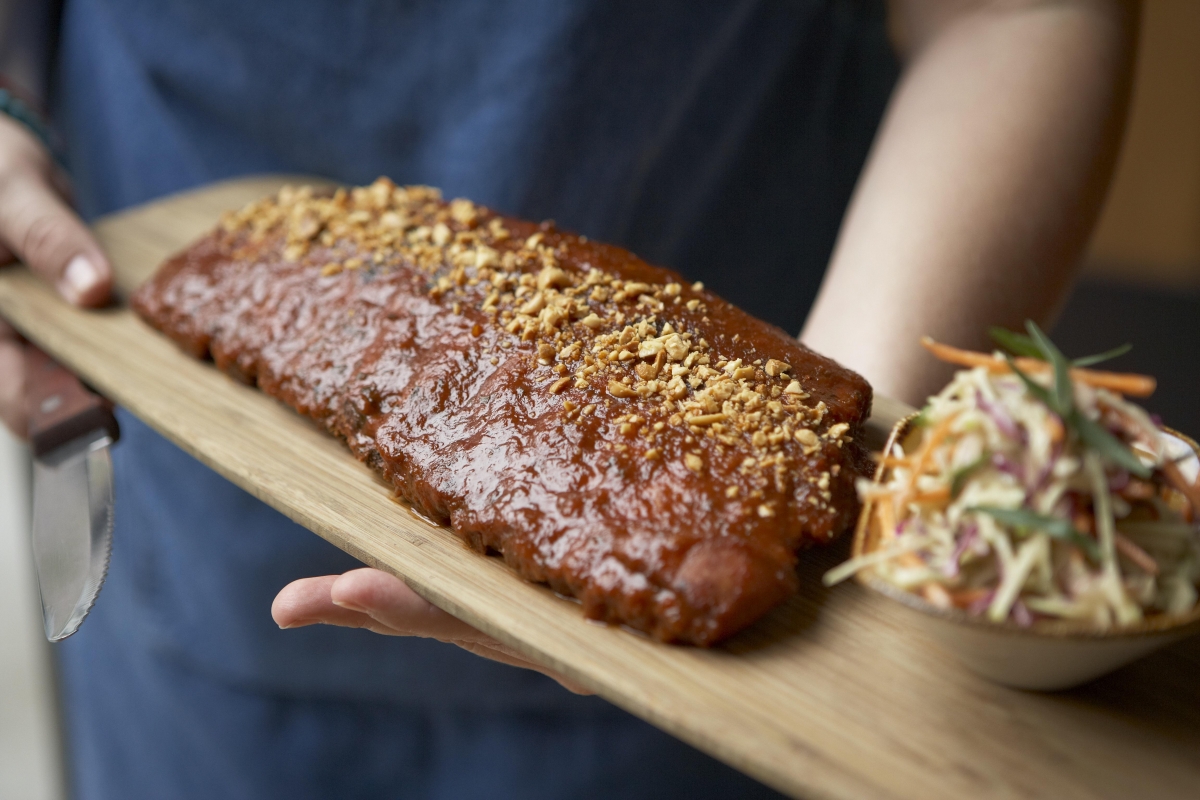 Image Credit: Newmarket Hotel
BBQ Throwdown at The Newmarket
Two of TUL's absolute favourite meaty destinations, Newmarket Hotel and San Telmo, are duking it out in an epic battle of the tongs to determine who reigns supreme as BBQ pit master. Sunday 22nd June is set to be a scorcher, as each venue prepares one dish across the three categories: Bay, Bones and Beast. Whoever wins the most categories will be crowned BBQ throwdown champ. For $75, guests will dine on all six courses, plus James Squire beer and Rogue wine. A very fine Sunday session indeed!

BBQ Throwdown
Sunday 22nd June | 12pm
Newmarket Hotel in St Kilda
$75 per person for six courses, beer & wine
Call 9537 1777 for bookings
Estelle Monthly Wine Dinner
Award winning Estelle in Northcote is running a series of wine dinners in its newly renovated dining room. June's event is focused on the sublime wines of the Loire Valley in central France and will showcase two examples each of sauvignon blanc, chenin blanc and cabernet franc, and some lesser known sparkling and street wines. Guests will also enjoy a five-course dinner prepared by Estelle's Scott Pickett.

Wines of the Loire Valley Wine Dinner
Tuesday 24th June
Estelle | 243 High Street in Northcote
$150 per person for five courses plus wine
Visit the website for bookings
Learn to Lamb with Plains Paddock
You'll be saying 'why shank you' after this informative and tummy-pleasing lamb masterclass, brought to you by Steps Australia. Held at Hobba on 25th June, Anna Kelly, owner and chief farmer from Plains Paddock, a free range sustainable farm and butcher, will be sharing her expert knowledge on all things lamb-related. You'll learn where your lamb comes from, and leave with recipes, newly minted butchery skills, and handy tips on getting the most from your meat. Plus, you'll get to sample some scrummy lamb dishes throughout the evening.

Learn to Lamb
Wednesday 25th June | 6:30-9:30pm
Hobba in Prahran
$75 per person
Call 1300 1 STEPS for bookings
Vineyard Vibes at Rochford Wines
Also warming up the Yarra Valley this June is Vineyard Vibes at Rochford Wines, an indoor, evening version of their popular Cuban Jazz Festival. From 6pm – 1am (you party annnnimals!) on Saturday 28th June, the restaurant, art gallery, cellar door and barrel room at the winery will be filled with the contagious sounds of Cuban percussion, bongos and sax, alongside commercial house DJs. If you're looking to test out those salsa skills, this one's for you. $60 will bag you entry, one roast dinner and a glass of wine.

Vineyard Vibes at Rochford Wines
Saturday 28th June | 6pm-1am
Rochford Wines in Coldstream
$60 for entry, roast dinner, glass of wine | $100 includes bus transport
Visit the website for more info & bookings