Ah winter, that glorious season where trackies can pass as a respectable clothing choice (we're not talking active wear, we are talking old school grey fleece) and Ugg boots are appropriate footwear (around the house, let's not get carried away here) and you can stay in on a Friday night, a Saturday night or what the heck, all weekend long, without judgey eyes from the rest of the world.
There is one thing though guys, one thing that can potentially see your night go from perfection to disaster in one failed sip, and that's when your quality pinot or, let's be honest here, that super fancy goon you saved up for, fails to complement your food choice. But fear not armchair foodies, we asked Patrick Haddock from Reserve Wine Bar in Newcastle what goes with what, and he delivered a mighty tasty list so you'll never run this risk of ruining a night in again, hoorah!

Nothing warms the cockles quite like a good butter chicken, it's the dish we've all ordered when it's cold AF outside, obviously with a garlic naan or two on the side. This buttery goodness is ideal for a perfectly chilled rosé, a drop which will complement the array of delicious spices found in Indian cuisine and also, should you have opted for the vindaloo, will tame the heat without dominating the dish.

Personally we think that every single night should be pizza night and that it's always a good time for a pepperoni pizza. A meal in itself, pizza works well with, you guessed it, juicy Italian varieties such as a Sangiovese or a Barbera, because the juicy fruit and acidity find in these varieties manages to cut through the cheesy goodness and complement the tomato.

The dish that can do no wrong when it comes to the local Thai place down the road is everyone's favourite, the pad thai. A bowl of dreams when paired with the likes of something white, aromatic and not overly sweet, like a Verdelho, Riesling or even a Gewurtztraminer (or Gewurz, to those in the know).

It'll never cease to amaze us how damn well tasty melted cheese can be. And there are soooooo many options the type of cheese you choose, or do you take it up a notch and mix different cheeses together?! No matter what your cheesy flavour, a Chardonnay is a good option and, depending on if you've lovingly buttered your bread combined with a heart stopping amount of cheese, a little bit of oak will also do nicely.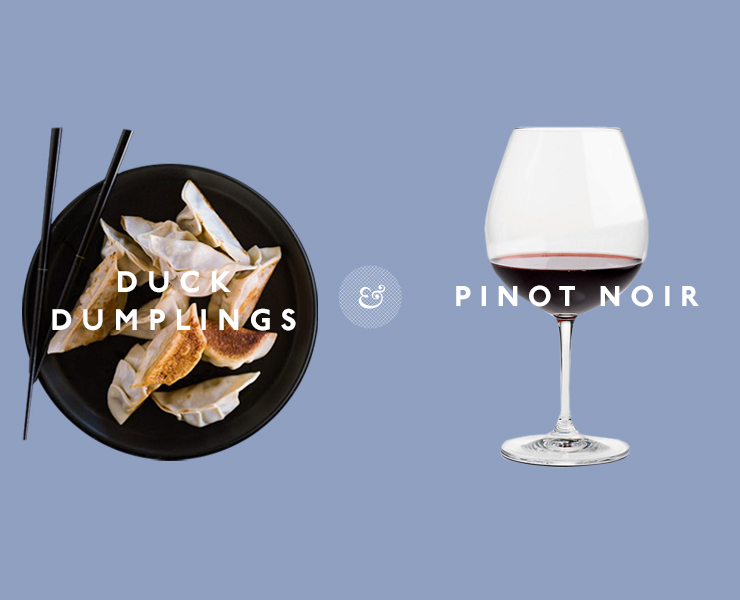 There a few options when it comes to these little morsels of happiness and that's fine by us, because choice. If a seafood dumpling is more your flavour pair this with a Semillon or Riesling or, if there are some duck or mushroom vibes going on, get yourself a big ol' glass of Pinot Noir.

Because you're #worthit and you've damn right earned it when it comes to the end of the week (or Monday to ease yourself into things) the cheeseburger goes well with a big, juicy red like a Tempranillo or even a Grenache, but if we're keeping it real (and don't we always?) head to the fridge and grab yourself a beer.
Need somewhere to buy your wine? Check out these wines under $15 that don't suck!
---
Image credit: Gabrielle Stjernqvist