It's a sweet idea.
Create a designer hotel and spa retreat on the tippy-tip of the Bellarine Peninsula. Where wind whistles through the tea tree scrub and sunsets paint Neapolitan colours across the sky. Something high end and luxurious to rival boutique behemoths like Jackalope. No kids, no stress—just the ultimate weekend break.
That's the dream of Claire Gemes and her husband Rob, the owners of Lon Retreat. Claire's family have held this 200-acre plot near Point Lonsdale for seven generations. She grew up here. Her parents grew up here. Their parents grew up here. You get the idea.
Now the couple has turned the old family homestead into Victoria's newest and most exciting designer accommodation: Lon.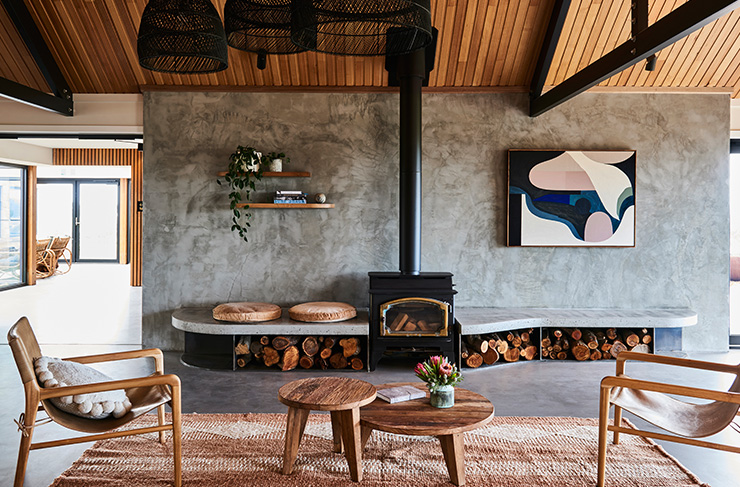 "It's the first work that's been done on the property in twenty years," says Rob, while giving us the Grand Tour. "We wanted to get it right. Fingers crossed we won't have to touch the building now for another twenty."
Rob and a swarm of tradesman have been working on the building for months, getting it ready for the big public launch on 5 October. ("There are 132 windows on the building, and I cleaned them all this morning.")
We were lucky enough to score a sneak peek at Lon over a weekend. While other journos were checking their phones and hunting for wifi, Rob gave us a sneaky tour through the seven designer rooms. Each one is named after a type of cloud, and all seven have their own distinct personalities. "The clouds were Claire's idea," says Rob. "There's just so much sky out here."
First impressions? Hot damn. This place is genuinely stunning.
Where Jackalope gets a kick out of monochrome, Claire and Rob have gone for an earthier palette, as if Lon grew organically from the forests of the Bellarine. The rooms are decked out in soothing olives, tanned leather, gentle greys and Bass Straight blues.
"It's weird for me, because I grew up in these rooms," says Claire. "This was our old kitchen. Now we want people to just relax and unwind. It's very quiet here, very still. We went for something luxurious and high end, but still comfortable."
Lon isn't just a boutique hotel. It's also a day spa. Water has been sourced and piped from natural springs on the farm. You can drive own from Melbourne and indulge in a few different packages: maybe a 150-minute 'Detox & Revival' (full body exfoliation) or an aromatic 'Reflect & Immerse', which includes a massage, facial compress and mineral soak. Prices start from $165 for a 60-minute session, and the spa is open Wed – Sat (10am – 5pm).
You don't have to be into seaweed facials to make the most of Lon though. Honestly, you could load up on supplies and never leave your room. Most of the suites come with views of the surrounding farm (dairy cows included), tea tree scrubland and the distant ocean. "You can see the ships passing through the Heads," says Rob. "Look, there goes the Spirit now."
By the end of the weekend, everyone agreed that the unsung hero of Lon is 'Husky', the small robotic Husqvarna lawn mower that patrols the grounds like a family pet, keeping the grass neatly trimmed. Call us weird, but it was strangely nice to wake in the morning, look out at nature's splendour, and see Husky going about his business
We pitched the idea of putting canapés on Husky's back and letting him roam around wedding receptions. Claire says she'll think about it.
As we said, there are no bad rooms at Lon (you can check out the full range here). But there are a couple of showcase suites. If you've got the cash to splurge (or a lot of apologising to do), book in either Alto or Cumulus. They're legit some of the most beautiful rooms we've ever seen. Alto in particular looks like it should be reserved for visiting heads of state. The Block could take lessons.
"Eventually we're planning to run a culinary experience here too," says Claire. "Probably with a paddock to plate ethos. That's what the farm here is all about."
We'll keep an eye out for that one. But in the meantime, we're just gonna sit back and soak up the serenity.
Wake us when it's time for a massage.
Lon Retreat is open to the public from 5 October. Bookings are open now. Rooms start from $360 per night. And yes, it's very much worth it.
Bellarine Hot Tips
Need some itinerary suggestions while you're staying at Lon Retreat? Here are our favourite spots on The Bellarine.
Image credit: Lon Retreat