Unless you've been living under a boulder, you'll have heard that Rue & Co has recently opened on Collins Street in Melbourne's CBD. A joint effort between George Calombaris's Jimmy Grants, Salvatore Malatesta's St Ali and Chris Lucas's soon-to-be-opened Kong, Rue & Co has been billed as Melbourne's most exciting food pop-up.
George Calombaris, Ben Cooper and Salvatore Malatesta. Image Credit: Rue & Co Facebook.
Setting up shop in the courtyard of Nauru House on Collins Street (this is down the end of Collins Street that fancy-schmancy Melburnians call the 'Paris end'…daaaahling!), Rue & Co brings an urban picnic vibe to Melbourne's concrete jungle. The space is decked out in fairy lights, fake grass and long communal tables, making it the perfect spot for morning coffee and brekkie on the go, lunch with mates, after work drinks, or a good ol' Sunday session. Yep, it's one of the few places in Melbourne that caters to crowds throughout the day, from the minute it opens at 7:00am to late into the evening.
So, pray tell, what of the food? Is it any good? In short – yes, yes and YES.
St Ali gets things started bright and early with their awesome breakfast menu – the smoothie in particular is a highlight. A creamy blend of banana, avocado, spinach, dates, coconut and more, it's incredibly filling and is the perfect way to start the morning if you're one of those people who claim "I'm just soooo busy that I don't have time to eat". Back it up with St Ali's famous coffee and make sure you pick up a profiterole to eat back at your desk.
St Ali's lunch menu is just as good with a variety of babin' burgers on the menu – Seoul Searching (kimchi and fried shrimp, served with chilli mayonnaise), Pork Me (pulled pork with celeriac slaw and apple sauce), St Ali Royale with Cheese (wagyu beef with lettuce, tomato, cheese and special sauce) and our fave, Cheech & Chong's Mushroom Trip (wild mushroom with caramelised onion and thyme). I'm no vego, but hot damn that vego burger was goooood!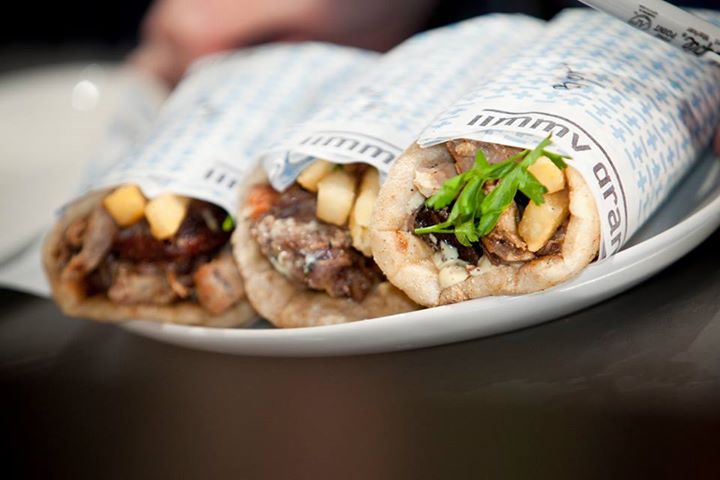 Don't leave without trying the souvas at Jimmy Grants! Image Credit: Rue & Co Facebook.
Next is Jimmy Grants, the all-conquering Fitzroy-based souvlaki joint. The Rue & Co pop-up version presents a 'best of' menu, including slow roasted lamb shoulder, salads, snacks & dips, and of course JIMMY GRANTS' AMAZING SOUVAS! Before you ask, YES CAPITALS ARE REQUIRED – THEY'RE THAT GOOD! Our pick of the two is the Mr Papadopoulos souva with its mix of lamb, mustard aioli, chips and onion, however the Homer (falafels, Greek yogurt and slaw) is also flippin' delicious. Your Jimmy Grants experience at Rue & Co also won't be complete without a steamed Jimmy Dimmy or two, along with some Hellenic Slaw, dips and pita bread.
Finally, the new kid on the block – Kong. Chris Lucas's latest venture, described as a 'Japanese-Korean Pit BBQ House' is one of Melbourne's most anticipated restaurant openings, so it's no wonder that the Kong pop-up at Rue & Co has been packed since it opened. But is the hype worth it? Heck yes. Start off with the kimchi stew with juicy beef chunks and sweet potato and the Korean fried wings, before digging into some steamed buns – the smoked brisket version is our tip! You're going to want to try everything else on the menu too, but if your stomach space is limited (oh if only it was a bottomless pit), don't leave without trying the pork belly Kong Bo Ssam, a snazzy little snack pack that includes kimchi, ssam jang and butter lettuce, along with the BBQ lemon and Gochujang chicken Kong Ssam Roti Roll.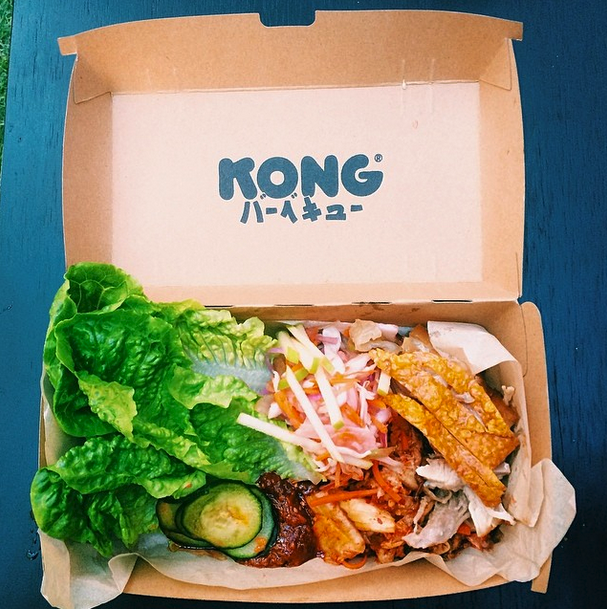 Get a taste of the soon to open Kong BBQ at the Rue & Co pop-up. Image Credit: Kong Instagram.
Whether you're keen to try just the one pop-up, or sample the eats and treats from all three, a trip to Rue & Co is a must. Head in with friends, eat until you burst and then undo your top button and roll all the way home.
For more info on Rue & Co, check out our interview with the guys here.
Rue & Co | 80 Collins Street in Melbourne