As you all know, this week has been taken over by our Spring Racing Series, with giddy up guides to racing and fabulous fashion galore for Derby, Melbourne Cup and Oaks Day. The week is starting to wind up but not before we bring you up to speed on the last race meet of the Spring Racing Carnival – the family friendly Stakes Day. A great way to end a busy few weeks of racing, 'Family Day', as it is frequently referred to, is a great way to introduce little ones to the sport of kings, whilst relaxing in a casual atmosphere.
Ladies and gentlemen (and toddlers, teenagers and everything in between), read on for your guide to Emirates Stakes Day…
History
1881 saw the running of the very first Stakes and since then it's become a much loved part of the Spring Racing Carnival. The Group 1 race, run over 1600m, awards a $1 million prize to the winner and is the culmination of the fun and frivolous racing season. In addition to the horses, Emirates Stakes Day offers a more laidback atmosphere than the other days, with plenty of free activity and events for the whole family.
Fashion
Let's face it, it's been a big week of dressing up! The surprisingly heavy headpieces (trust us, after an entire day perched on your noggin, you'll feel it), the stiletto heels and the sometimes too-tight dresses take their toll, so Stakes Day is the perfect opportunity to adopt a more relaxed look. Maxi dresses are a great option, but if that's not your thing go for simple shapes like shift, tee or tank dresses. Have fun with colours and prints, and if your aching feet are crying out for a break, finish the look off with a comfy wedge or (shock horror) a fancy flat. Accessorise with a big straw hat or even a headpiece inspired by the flower of the Stakes, the red rose. Also don't miss the too-cute kids version of 'Fashions on the Field' – we promise there are no Toddlers & Tiaras type tantrums!
If you're after some Stakes Day fashion tips, look no further…
Dress: sass & bide, Hat: Hatmaker, Clutch: Seed Heritage and Flats: Mimco.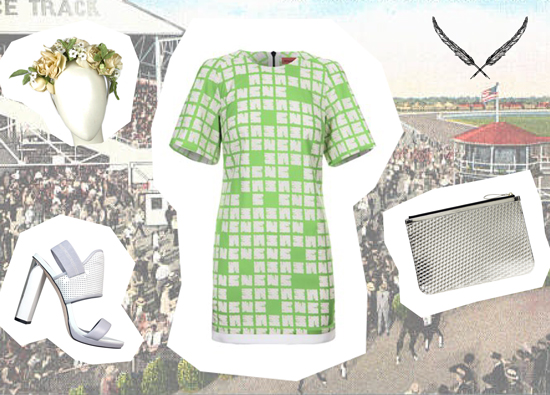 Dress: Manning Cartell, Headpiece: Morgan & Taylor, Clutch: Pierre Hardy from Green With Envy and Heels: Wittner.
Dress: Witchery, Hat: Witchery, Handbag: Reece Hudson from Green With Envy and Wedges: Tony Bianco.
Dress: Country Road, Headpiece: Kerrie Stanley, Clutch: The Mode Collective and Wedges: Nude Footwear.
Don't miss tomorrow's addition to the Spring Racing Series – an interview with our favourite milliner, the amazing Kerrie Stanley!