There once was a time when the only thing we knew about Castlemaine was the existence of "Castlemaine Rock"; that nostalgia-inducing, teeth-shattering golden lolly. After an overnighter away, our parents would bring back tins of it as restitution for us kids having to stay with Nan… Ah, the memories.
Now we know this former gold-mining town rocks in an entirely different way. Castlemaine boasts a burgeoning food scene and a sense of undercover cool. The locals have even started calling it (with tongues firmly planted in cheek) "North Northcote".
We thought we'd investigate what makes Castlemaine our newest cheeky weekend discovery. Here are ten must-dos on your out-of-town itinerary...
#1: Two Chef's Hats = Epic Restaurant Finds
As the first of Castlemaine's two hatted restaurants, The Good Table lives up to its name. Shared feel-good dishes are bright and locally-sourced, best picked at over lots of chatter and vino in a leisurely manner (so be sure to leave yourself plenty of time). We think any place that can make us rave about a cucumber salad must be very good indeed.
#2: There's Coffee And Pastries Galore
It's a bit mind-bending to find a slice of Viennese opulence plonked amid the goldfields. Hopefully your disorientation won't last too long at Edmund and Elna's Das Kaffeehaus as there is a mountain of Winter-busting fare to plough through! Hearty and lovingly-prepared sausages, goulash, schnitzels and European cakes can be scoffed in a surrounding theatrically set with gilded frames, padded banquettes and chandeliers. Of course there are also the rich brews whipped up from the beans of Das Kaffeehaus's on-site roastery.
The experience here is one of luxe specialty coffees accented with lemon-infused sugar cubes, dollops of condensed milk or calorific wafers. We wouldn't mind sharing a little schnapps with Edmund and Elna sometime too.
#3: It's Nailing The Craft Scene
Das Kaffeehaus is actually the first on the hitlist at the newly redeveloped Mill complex. Originally a woollen mill, The Mill has just been transformed (by a sheep farmer no less) into a creative hub for foodies and artisans. St Cloud Cakes, Sprout Bakery, Icecream Social, metalsmiths Black Sheep Workshop and Sow 'n Sow seeds have set up manufacturing studios.
If all of the shopping and eating leaves you parched; The Taproom brewery and bar offers up seven beers, with four from the Castlemaine Brewing Company—and "guarded" by Chance the whippet, is Boomtown Winemakers Co-operative. Three labels - Chapter, Minim and Little Reddie - have banded together to showcase the local grape varieties that Central Victoria is renowned for. You know how Mona sparked many journeys to Hobart? We reckon The Mill has the potential to do the same for Castlemaine (on a slightly more low-key scale). Get in before they're overrun.
#4: Boutique Hotels Come With Retro Coffee Caravans
Formerly a classic pub, The Newnorthern is now a boutique art hotel. The beds are dreamy and for breakfast they serve pastries from Johnny Baker's, right next door. Can you get any fresher? There's also a retro-styled drive-in caravan parked right next door for a handy coffee and carb fix.
#5: So. Much. Vintage.
If you haven't blown all of your pennies at the Mill, it's time to wander the streets in search of retail gold. We instantly fell in love with the pastel-painted Corner Store Merchants and wish they would open up a metro outlet. They offer vintage clothing, glittery jewellery, bright ceramics and cute socks plus a small art gallery. Meanwhile, the Restorer's Barn is a hoarder's wet dream. It's a treasure trove of crystal door-knobs, mismatched China and all of the tricky finishing touches for a home.
For those into their retro threads, Rike fashion boutique's founder Ulrike has a background in costume and set design for opera and theatre which adds a sense of drama to the clothing she stocks. It's obvious she also created the interiors for Das Kaffeehaus! We also covet the Danish cone candles and delicate brass bowls from India at Cecode, the prints and little art objects at Falkner Gallery and Tribe's crafty gifts.
#6: There Are Plenty Of Top Spots For Drinking Al Fresco
Henry of Harcourt makes cider for grown-ups from forty-odd, often rare apple varieties (plus a handful of perry-destined pears). No apple-themed alcopops allowed here... Founder Drew Henry also says you should never drink cider over ice, because "it's an abomination" and kills the taste.
When wine o'clock hits, it's time head to Harcourt Valley Winery. They are known for Barbara's shiraz, named after the original owner of the property and coincidentally also the current family's matriarch. The winery also offers their own American-style pale ale and a kicky ginger beer.
For a decent martini, you should trust the folks at Hickster. It's an al fresco balcony bar hidden above The Good Table restaurant. It's only open seasonally, so check before you go.
#7: …And A Beautiful Old-School Cinema?!
Culture vultures should check out the longest running theatre venue on the mainland: Theatre Royal. None of the downstairs seats are permanent though as it also converts into one of the best regional concert venues in the nation! It attracts a calibre of acts that you might find playing at the Corner Hotel.
For bookworms, Mount of Alex is like a bookstore out of the movies, complete with rolling ladder and proper shelving filled with esoteric tomes and an enviable travel collection. The founder Andrew is an archaeologist, and he wears a hat. Excuse us while we have a real life Indiana Jones moment.
Meanwhile, the Castlemaine Art Gallery may be relatively small but it punches above its weight, securing internationally renowned contemporary artists like photographer Bill Henson and painter Ben Quilty.
#8: Café Culture Means Bacon Waffles & Sloppy Joes
For a slice of local life (and homemade cake or pie), head to the home-style Togs Café. Their rooftop feels like an old school veranda and is a relaxing spot to take a breather. Also in town, Run Rabbit Run has the prettiest chai latte set up you ever did see, as well as ace bacon, waffles and sloppy joes
Set in a picturesque old fire station, re-Public is the place to pick up a Reuben or wrap to take on any bushwalks/bike rides you might be inclined towards. There's also a coffee window here if you're in a hurry.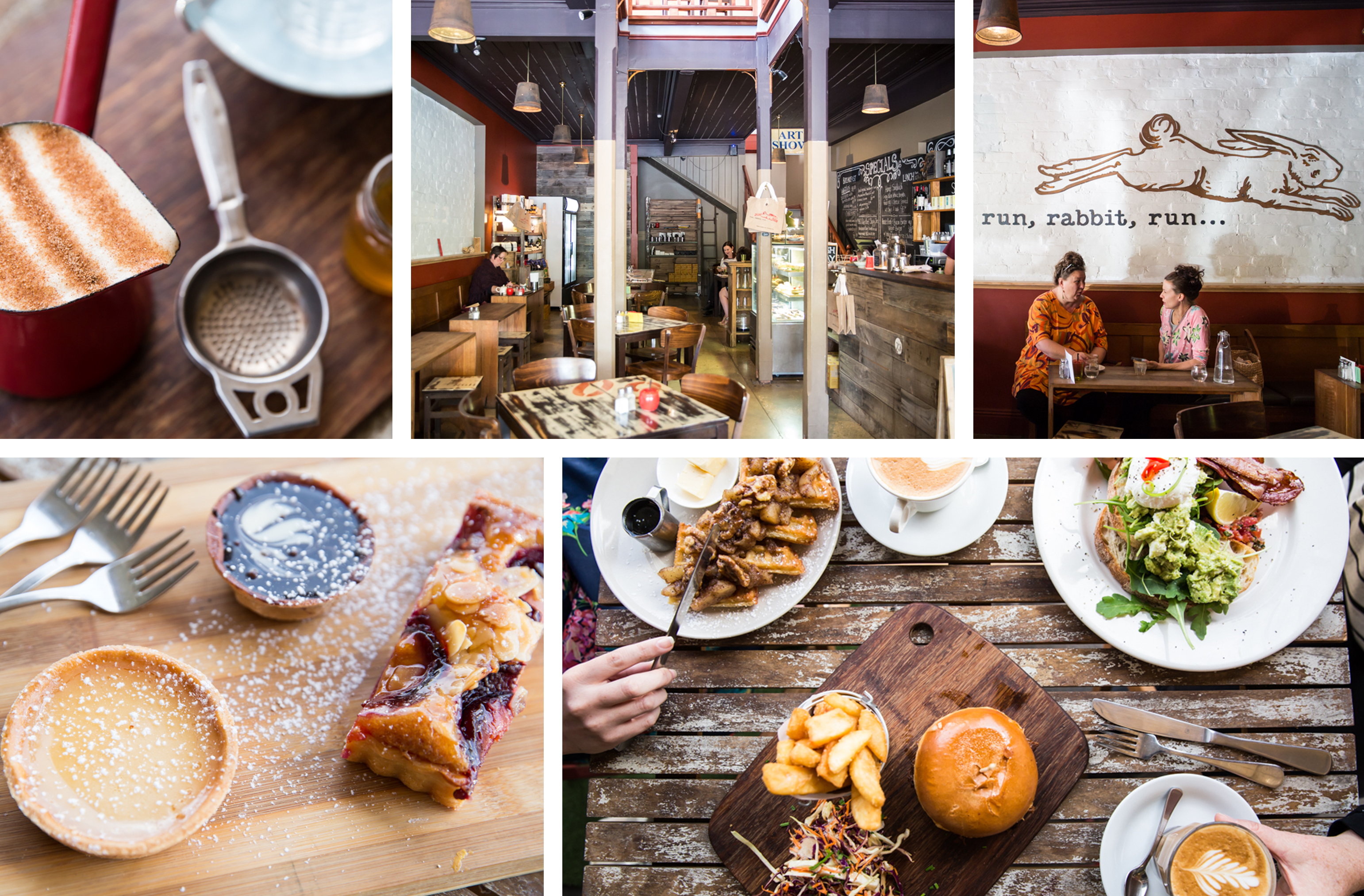 #9: There's A Must-Try Degustation That's 100% Drool-Worthy
Housed within the same former firehouse as re-Public café, Public Inn is an entirely different—and hatted—prospect. Amid one of the freshest restaurant fit-outs we've seen in a long time, you'll find barrels of wine and European cuisine cooked via a local lens. Owner Hayden has worked alongside Shannon Bennett and the Lake House's Alla Wolf-Tasker so he really knows his stuff. We recommend you order the entree tasting plate for an impressive and tastebud-surprising intro to the place.
#10: Jazz Gigs In A Dungeon?! You Betcha.
The Old Castlemaine Gaol (or OCG) is no stuffy historic site. Aside from spooky tours they regularly host live jazz, cabaret and musicals in a dungeon-esque setting. OCG also boasts sprawling views of the township below, a shipping container bar and The Governor's Café, a.k.a The Gov. Here you'll find stunningly decadent cakes baked by a Jamie Oliver alum. An absolute must-do.
Melbourne's an incredible city, but sometimes we all need to get out of town for a weekend. The Urban List has partnered with Visit Victoria to bring you our Get Out Of Town! series — the ultimate guide to Victoria's regional gems. For more ideas about where to wander in Castlemaine, click here.
Image credit: Jenna Fahey-White for The Urban List