Serious about steak? Yep, us too. On our tour of the best steakhouses in Melbourne, we stumbled across a cut so colossal, so completely mouth-watering, that we've deemed it the most epic steak in Melbourne. And boy, is it a goodie!
Melbourne, meet Steak Ministry Bar & Grill's Tomahawk Rib Eye – 1.5 to 2 kilos of pure, unadulterated Sher Wagyu (MS 8+), cooked on the bone to melt-in-your-mouth perfection. This mammoth steak feeds anywhere from two to four, depending on how ravenous you're feeling. It's a carnivore's dream. Seriously.
Recently opened at the top of Kingsway in Glen Waverley, Steak Ministry Bar & Grill is a premier New York-style steakhouse that serves up some of the best steak in Melbourne. Add to the mix a menu of ribs, fresh seafood and decadent desserts, plus a killer drinks list to wash it all down. Um, can you tell we're excited?
Hatted Executive Chef, Chris Wade, has crafted a menu for serious steak-lovers, focusing on hard-to-find cuts of Wagyu, Kobe and Black Angus. It's all about quality here – Wade and his team source prime cuts from a select group of Australia's best producers. When cooking, Chris forgoes bastes in favour of good ol' salt 'n' pepper, allowing the true flavours of the steak to shine through. Oh, and shine they do! From Sher Wagyu rump cap to dry-aged Black Angus strip steak, the cuts are juicy, tender and absolutely bursting with flavour. And, if you're looking for something a little extra special, they also offer 'The Ministry Super Steak', a special hand-selected piece of the finest export-quality meat, expertly cooked by Chris and his team. Trust me, my meat loving mates, this is as good as it gets!
Steak Ministry take their ribs pretty seriously, too. So seriously, if fact, they use a hot smoker imported from the US of A, cooking ribs low 'n' slow to melt-in-your-mouth perfection. The sticky lamb ribs, glazed with honey and tequila, make for a lip-smacking starter. The same goes for Steak Ministry's pork ribs, available in half or full rack, glazed with everything from Jack Daniels to a sweet and sour pepper sauce, dressed to impress with range of tasty toppings. Oh, and make sure you also try the Cuban Sticky Beef Ribs, marinated in a sticky-sour mix of Havana rum, lime and coffee. Droooool! Some of the darned best ribs in Melbourne town, hands down.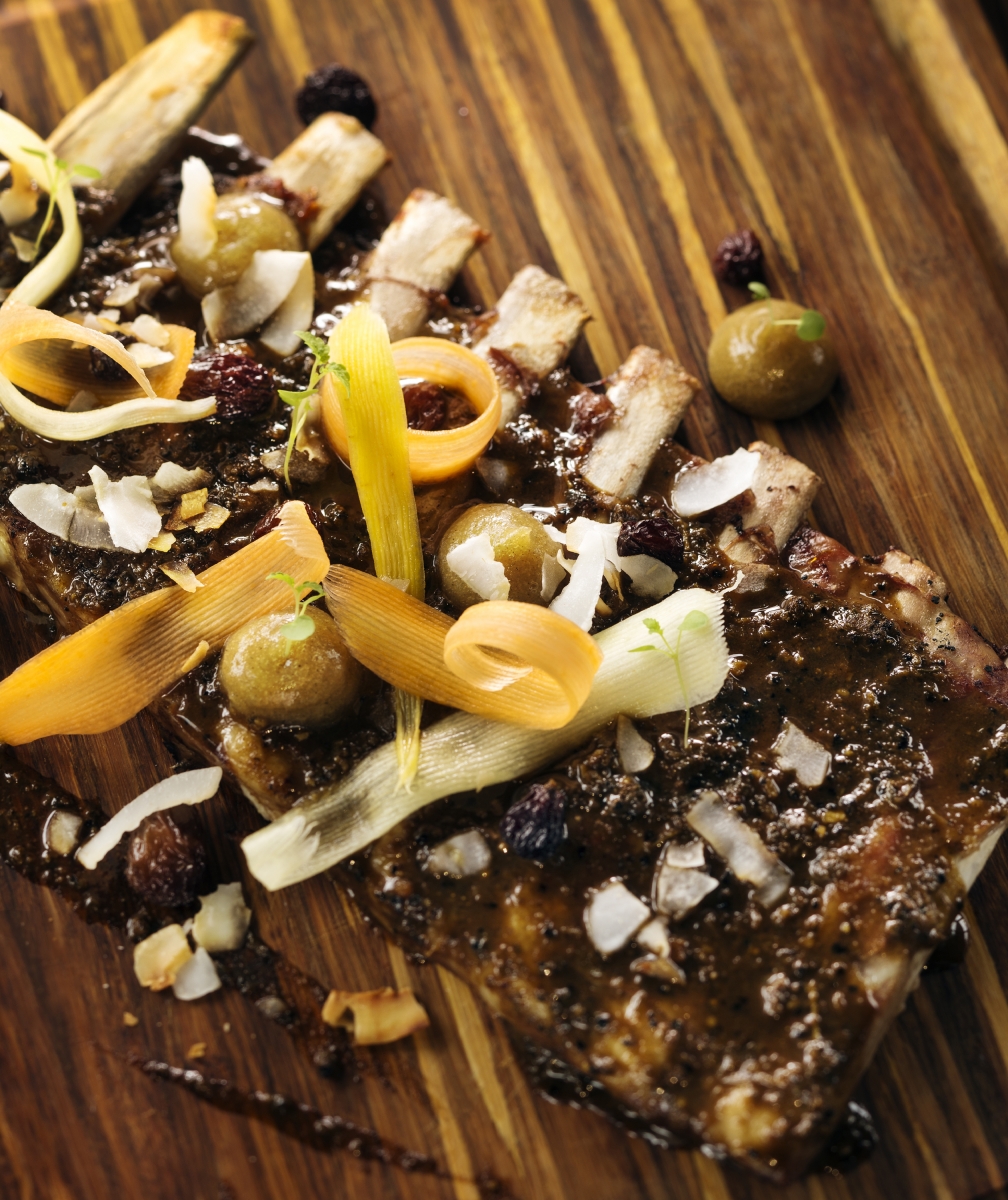 But it ain't all about the meat feasts here, folks – Steak Ministry also offer some tasty fare fresh from the ocean. Their oysters, picked up from the market every day and freshly shucked, can be enjoyed au natural or topped with extras like spicy Korean kimchi and crispy pork belly. Yum! The fresh fish, delivered daily, basted with Cambodian flavours and cooked on the grill, is another tasty, fresh option.
Sweet tooths, you won't be disappointed with Steak Ministry's dessert offering, either. The Elvis Is Back, a mix of peanut butter parfait, caramelised banana, French toast and maple bacon, is a rich, decadent dessert that's so darn good it could resurrect the King. While completely delicious, however, it's The Bomb that well and truly wins with sweetstakes. A new dessert on Steak Ministry's menu, The Bomb is a white chocolate and hazelnut dome with a Grand Marnier liquid centre and copper chocolate coating, resting on exploding chocolate soil and presented with a thick dry ice fog. It's a statement dessert if ever there were one.
To wash it all down? Steak Ministry Bar & Grill boast an impressive list of fine wine, cocktails and single-malt scotches. One of their famed whisky flights is the perfect way to end the night.
Looking for some of Melbourne's best steak? Steak Ministry will make your meat dreams come true.
TUL Note: Today's List Love post is proudly sponsored by Steak Ministry and endorsed by The Urban List. Our sponsored posts will never be a secret. Thank you for supporting the sponsors who make The Urban List possible.
Image credits: Dean Cambray & Tash Sorenson for The Urban List