If you're still at a loss of what to do with your lockdown look, we have you covered. This August, an incredible climate initiative is going down to save our forests and your haircut could be the answer.
Going HalfCut is the newest sustainability statement and it's all in the name of protecting our forests, wildlife, people, climate and the planet. But what exactly is HalfCut? Well, as the name suggests, it's all about wearing your hair halfback in braids, or going all-in and shaving half your locks and beard right down the middle.
You might wonder what this has to do with saving the forests, so we sat down with the founders of HalfCut, Jimmy and Jess, to talk about fresh cuts and what it's going to take to save the remaining 50 per cent of the world's forests and plant species.
Can you tell us a little bit about yourselves?
We met at university and when we finished our degrees, we set off to travel and see the Amazon rainforest—which was a strong desire for both of us. We are both passionate Earthlings with strong values for environmental, animal, social and cultural justice. In the end, our calling was for the protection of forests, wildlife, people, climate and our planet—afterall, there is no 'Planet B'.
What inspired you to champion change and protect our forests?
Back in 2014, we learned nearly half of the world's forests had been destroyed. We wanted to create a visual disruption for people to have a conversation about conservation, explaining that more than 50 per cent of the world's forests are destroyed and 50 per cent of plant species are extinct.
How did the idea for HalfCut come about?
During our travels in South America and volunteering, my long beard always got shout-outs from tourists so I began joking that it was for conservation. Jess and I began thinking of ways to protect our planet for future generations, and after we learnt that 50 per cent of the world's forest area was already lost, I said, 'How about I cut my beard in half, that will really start a conversation about conservation!' The rest is history and it's now two years since we started HalfCut.
In a nutshell, what is the mission of HalfCut?
The goal of HalfCut is to be the face of the environmental movement. By encouraging women, men and children to wear their HalfCut look to help save the last remaining 50 per cent of forests globally, and start the regeneration of what we have lost. HalfCut aims to protect crucial forests for habitat for threatened and endangered species, protect Traditional Owners land titles, start mass tree planting projects and ultimately be part of the solution to the growing climate emergency, ensuring a safe future for all species on Earth.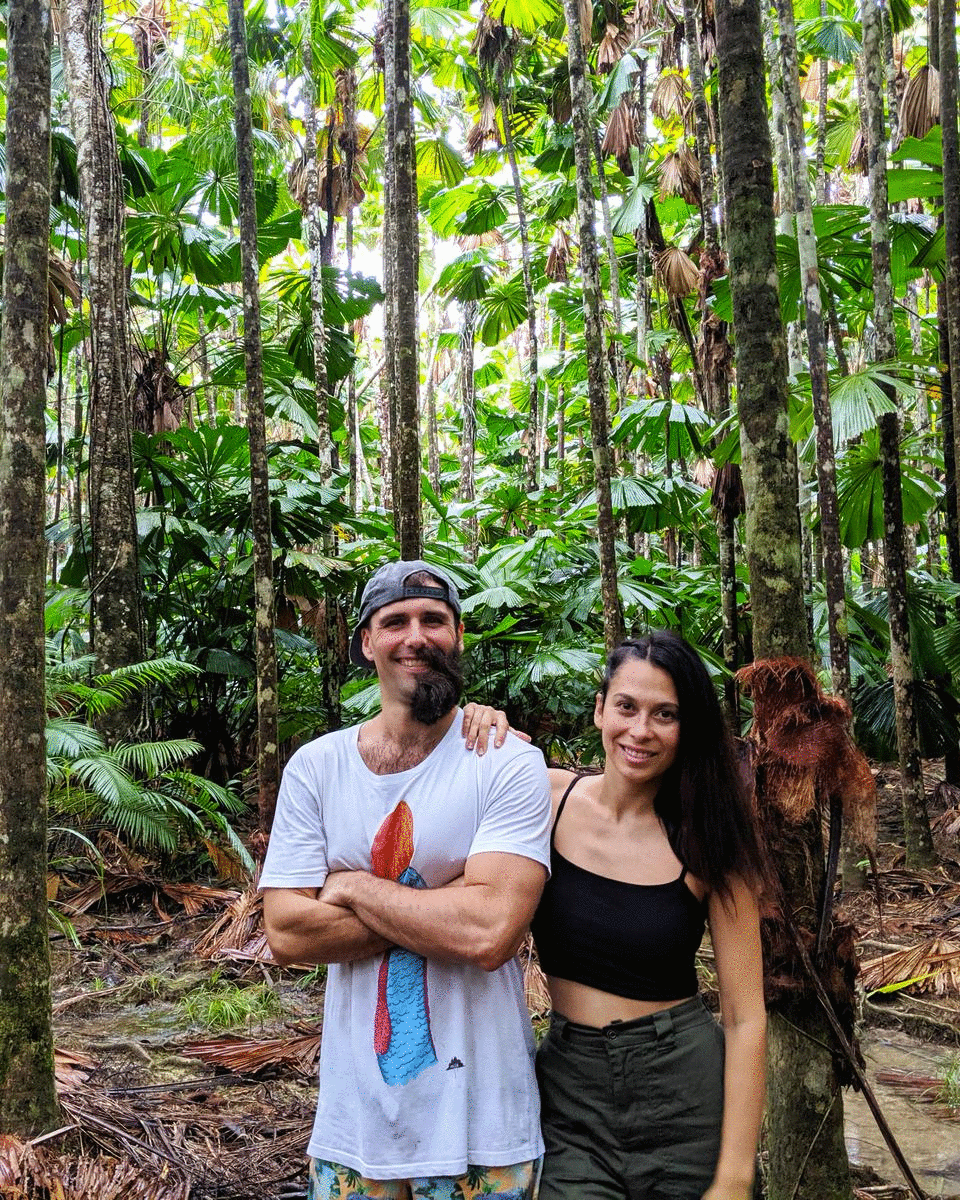 You have some awesome Aussies backing the movement this August. How can our audience get involved?
Yes! We are very honoured to have such great Earthlings—Madeleine Madden, Costa Georgiadis, Dj Tigerlily and even the director of Extraction on Netflix, Sam Hargrave, plus many more fantastic people. We're also partnering with Bank Australia, who are matching donations dollar for dollar up to $20,000—and we raised this in just over 24 hours. It's a beautiful story. For people who want to take action on deforestation, they can visit HalfCut and sign up to go HalfCut in August or donate.
What are some of your favourite projects you—and HalfCut—have spearheaded over the years?
Over the last seven years, we have planted over 37,000 native endemic trees all across the country—it is so rewarding going back and seeing trees planted now almost seven meters tall. Last year we supported Indigenous groups in the Peru Amazon Rainforest and HalfCut supporters contributed $255,000, saving 186,000 acres of Amazon Rainforest—a brilliant team effort.
Also expanding the Daintree National Park with Lot Buybacks is very special to us—we are now coming up to our fifth Lot Buyback, being our current fundraising project for the 2020 HalfCut campaign. What is extremely special about this current project is that these areas are under management by the true custodians of the lowland Daintree Rainforest—the Kuku Yalanji Traditional Owners.
You've partnered with some incredible charities as part of the HalfCut campaign, can you shout out some charities our readers should get behind?
We have had the pleasure of working with Landcare Australia, The Bob Brown Foundation, Rainforest Trust, Rainforest 4 and the Jabalbina Yalanji Aboriginal Corporation and many more smaller community groups with fundraising efforts. Long term, the goal is for HalfCut to be a fundraising platform for people, communities and environmental organisations to go HalfCut with their hair and raise funds for their projects, both locally and globally.
What's been one of the biggest challenges you've faced in your mission to aid in forest conservation and regeneration so far?
Education. Personally, for us, most people are not even aware that over half of the world's forests are destroyed. It can be confronting for people when they are educated that the greatest cause of global deforestation is animal agriculture and that it's a conflict of self-interests to have to think about changing their diet and or reducing meat consumption.
Another challenge is the management of the trees after they are planted. That's why we picked the Daintree and Atherton Tablelands for most of our projects as they grow quickly and have lots of water. Some areas are not as fortunate and need maintenance and replacement of trees that haven't survived. That's why our partnership with alliances and the Traditional Owners Kuku Yalanji has been so successful because green, local jobs and true stewardship are overseeing the trees.
What's one of the biggest misconceptions about starting your own non-profit?
That it's easy! And because you are a NFP, people will engage and donate, even when it is tax-deductible. This is not the case. It is all about credibility, transparency, tangible outcomes and bringing your supporters along and being part of the campaigns.
What are your hopes for the next generation of climate activists coming through?
That they know just how hard they need to campaign for a safe future for all species on Earth. That they are engaging their parents, grandparents, teachers, and the broader community to step it up and take immediate action. That we continue to see more schools and younger people going HalfCut to secure tangible outcomes with forests and regenerative projects.
Any advice you can give to sustainability newbies who are looking to do their part but just don't know where to start?
Find one thing that you're passionate about and spend the time and energy on that one area, and volunteer. At the end of the day, it is all interlinked and you will be supporting other movements and projects. Find an organisation and or community group already doing great work and offer your skills, find unlikely alliances and work together because we're stronger as one. HalfCut is all unpaid passionate volunteers with people from all walks of life with all different skills, and we, too, would love for you to join the team.
Rally the crew and get behind HalfCut this August with the team over at Bank Australia, who are matching dollar for dollar donations up to $20,000 and ultimately saving 16,000 square metres of the Daintree Rainforest. Go on, be a good Aussie!