Well, that settles it. In 2017 we received an almost never-ending supply of bars and in short, we are #tooblessedtobestressed. This year, our glasses were full, our crafties were cold, and our taste buds were constantly in #treatyoself mode.
Just to remind you, Sydney has one seriously good looking line up of gin bars, rooftop terraces (dedicated to all things rosé), chicken wings and tinnies, hidden gems boasting sherry and fortified wine, bespoke cocktails, island-style nooks and we're pretty sure all the wine bars ever. Oh, and let's not forget Sydney's new (and bloody epic) rooftop pool bar.
We suggest you read on for your peace of mind—here are Sydney's best bar openings for 2017!
The Fernery
Mosman
From the same legendary team that gave us The Greens and acre Eatery, The Fernery turned out to be everything it was hyped up to be (and more). This rooftop rosé bar boasts a lush garden terrace with killer views of the Harbour Bridge, Opera House and a food and booze menu to boot. Think classic feeds from a wood-burning grill, and herbs from the outdoor garden (and just so you know, there's also a room dedicated entirely to gin).
Smoke
Barangaroo
You should already know Barangaroo House as the latest and most delicious foodie drop to enter Sydney (or have you been living under some kind of massive rock?). When it comes to Smoke, think three floors of basically everything you could ever need; a bar on the ground level, a 180-seat restaurant on the second, and to put the slice of orange on top of your negroni (brace yourselves), an epic rooftop smoke bar (featuring a 400-bin wine list #deepbreaths).
Mr Watkins Bar
Penrith
We mean, how can you say no to a wine and cocktail bar decked out as if it were the library of a First Fleet explorer? Exactly. Mr Watkins Bar is the legendary hangout you'll want to get to, stat. With international hotdogs, a wine list created by a Hubert sommelier and tinnies all up for grabs, the team here are really doing Sydney-siders a wealth of good. And heads up, these guys churn out a mean coffee too.
Wings And Tins
Darlinghurst
If the sound of a T-Bone doom juice doesn't get you excited, we don't know what will. For the lovers of wings and tinnies, this one is an absolute must. And FYI, this magical place has over 40 different cold ones with IPAs, pale ales, lagers, stouts, pilsners and ciders. Like we said, it's a no-brainer when it comes to getting your drink on in Sydney.
The Duke of Clarence
CBD
This year, the team behind Sydney's favourite gin bar—The Barber Shop—have opened another cracker of a bar preaching all things Irish whisky, Scotch, ports, cognacs and duh, gin. And yeah, it's the ultimate public house. Plus, it's only a stone throw away from said OG gin bar (we're talking literally right around the corner).
Door Knock
CBD
In 2017 we said hello to Door Knock (and see ya to Norsk Dor which once lived in this very spot), the subterranean bar that's boasting cabin-like feels and a menu to boot. It's all stripped back walls dotted with rustic painted pineapples here, and a sherry and fortified focus we are most defs not complaining about. Exactly, how can you not love this new Sydney bar already?
Holey Moley
Newtown
Holey Moley fiiiiiiinally arrived in Sydney this year and we've never been more excited to grab a set of clubs and putt. Taking over the space that was once Newtown Social Club, Holey Moley is an 18-hole crazy AF mini golf course smack bang in the middle of King Street. The best part? There's booze. And plenty of it. With a fully equipped cocktail bar, gone are the days of another bloody boring round of mini golf because you can now officially drink on the job. Espresso martinis pretty much guarantee a hole-in-one, right? Right.
Bondi Beach Public Bar
Bondi Beach
The cool kids are naming this get-up BBPB but all you need to be across is the fact that this 300-person venue is all about 70s and 80s vibes, Southern nosh, gin and juice. If that doesn't scream your staple summer sesh, we don't know what will.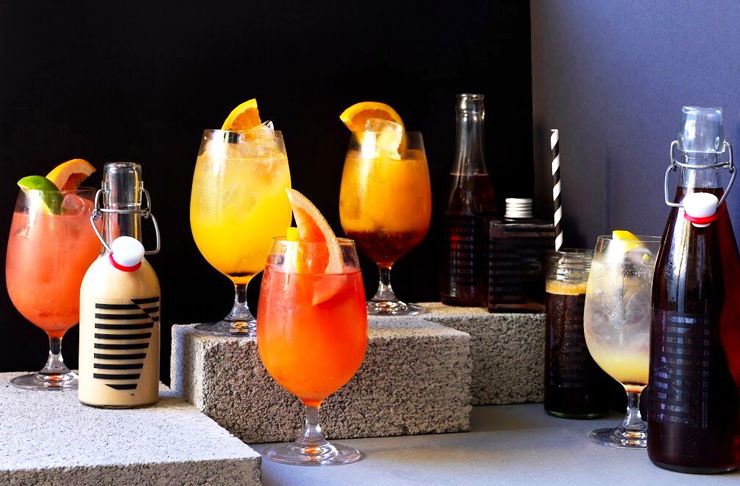 Wyno
Surry Hills
Not that you ever need an excuse to drink more wine, but our dear friends at Porteño opened up a brand new wine bar (there's no such thing as too many wine bars). Wyno's sultry bar vibes, dim lighting and alleyway location make it your new go-to date night spot. You'll dig into the best bar snacks in town (hello peanuts sprinkled with pork-belly crumb), but the real hero is the vino—grab one bottle at the bar and one to go from their stocked up wine store.
Stanton & Co
Rosebery
The hospitality juggernauts behind Riley St Garage, Surly's and The Village Inn have taken over The Cannery giving us Sydney-siders what is now known as Stanton & Co. Cue a mega dining room, expansive bar (do it!) and open kitchen we know you're going to love. You'll find two menus here with a super combo of Aussie and Japanese fare (which you're going to love too).
Gin Lane
Chippendale
To put it bluntly, if you're a fan of the G and T, you're going to love this gem. And if you're not a fan—these guys will be sure to change your mind. That's not even an exaggeration. Plus all the drinking vessels here are absolute perfection including the G and T fishbowl and a little something they like to call smokin' watering cans.
Gurdys
Newtown
Sydney, meet your go-to for boutique beer, sustainable wine on tap and a cocktail list that will have you ordering more than one (of everything). Did we mention they also do food? Share the love with tender beef cheek croquettes, crunchy shallot and ginger arancini balls, and mushroom cigars with creamy whipped goats cheese, or opt for the Gurdy's cheeseburger and chips and eat it all by yourself. Understanding that the struggle is real, Gurdys also serves up tasty vegan and vegetarian options with the green dog (complete with vego sausage) that's sure to become a firm favourite. We'll be adding this place to the top of our winter survival kit and you should too.
Where's Nick
Marrickville
Look, any place that has walls lined with bottles and bottles and bottles of wine is a place for us (and you for that matter). Oh yeahhhh we scored another epic wine bar for Sydney. You'll find a heaaap of exotic wines that'll put your foreign wine knowledge to shame, in other words, don't expect to be able to pronounce a damn thing. Plus all the drops are totally natural,so we're thinking that means a few (okay, a lot) more glasses will be required to pair with the carbolicious dishes on the menu.
Alleyway
CBD
Be careful not to walk straight past this CBD hidden gem—Alleyway. Signature whiskeys and bespoke cocktails are their thing and you'll be spoilt for choice here—just tell the bartender your likes (and dislikes) and they'll take you on a whisky tour from Scotland to Japan and everywhere in between. Is it 5 o'clock yet?
Sauce Brewing Co
Marrickville
If you're keen for some flavour-poppin' new brews, Sauce Brewing Co should be first on your check list in the craft-beer capital of good ol' Sydney town. Expect one helluva beer garden and taproom serving up fruitalicious pale ales and toffee infused red ale. Plus they have tap-only special batches with hints of caramel and choc… you're welcome.
Juanita's
Potts Point
Yep, The Butler's 2017 addition is the groovy (yes, we mean groovy), Juanita's. Named after Victoria Street's famous former resident, journalist Juanita Nielsen. It's said that this brilliant human saved the very building The Butler occupies from developers in the 70s and it's safe to say, we think you're going to like it here. Because the drinks menu is a total dream.
Frenchies Bistro and Brewery
Rosebery
Naturally, Frenchies Bistro and Brewery is a hit (because French Bulldogs, obvs). It has a killer bar menu featuring pork rillettes and cheese boards which work hand-in-hand with Frenchies five main beers including the likes of German kolsch and Australian red rye ale.
Jamaica House
Newtown
Much like its name suggests, Jamaica House is serving up a delicious combo of Caribbean feeds and cheeky tiki cocktails. And FYI that means concoctions of white rum, fresh banana and coco lopez paired with all the jerk wings.
Monkey's Corner
Chippendale
A cocktail bar with Asian flavours? We're all (monkey) ears. The epic Poernomo bros (KOI Dessert Bar) have created the perfect little space, we're talking only 20 seats people, to indulge in a carefully curated bible of Asian-inspired cocktails. And before you ask, of course, there are some small plates to nibble on while you sip on a martini made with Plantation 3-star rum, fino sherry, lychee and rose. You're covered.
Level Seven
CBD
Three words: rooftop pool bar. If there's one thing us Sydney-siders love it's the irresistible mix of a good view, fairy lights, cabanas and all of the wine. But let's be honest, Level Seven had us sold on the rooftop pool bar business. Seriously, it's lush AF. Yeah, we did good this year.
Jacoby's Tiki Bar
Enmore
It's dark. It's chatty. It's full of people wearing outstanding party-shirts. It's Jacoby's Tiki Bar. This island-style nook has all you need for a good-time and knocking back tropical cocktails of the gigantic kind. Wines are divided by colour (makes for easy reading) and their beer includes Pacific faves like Hawaiian Kona Big Wave Golden Ale and Hanalei Island IPA.
Black Bottle
Darlinghurst
We don't want to alarm anyone but Sydney; here's another wine bar (keep 'em coming we say). And yes, it's everything you want it to be more and more. Tucked away in a dark terrace specked with greenery—but there's a catch. Black Bottle has no menu. Instead, it's a pick and choose type of affair (which is totally fine by us) because that means selecting prawns and scallops and having them BBQ'd right there and then. There's also a heap of cured meats, cheeses, pickled feeds and of course, what we're all really here for, wine, wine, and yep, even more wine.
If you're only interested in rooftop bars, read this.
Image credit: Gin Lane, Wings x Tins | Caitlin Hicks, Gurdy's | Federica Portentoso