It should come as no news to big-time margarita fans that this coming weekend features one of the most important days of the year. We're talking about National Margarita Day, this Saturday 22 February.
Ok yes, it's a made-up holiday and a marketing ploy from our Margarita-loving friends in the States, but before you go turning your nose up—we'll just say we're taking it as an opportunity to sip more margs. Especially when a few of our favourite Mexican-leaning joints are dropping the price of margaritas for one day only just to honour the occasion.
This year, there's a ridiculous swarm of margarita deals and steals to get into, covering bottomless brunches, Mexican fiestas, actual "gin-geritas" and classic, salted rim margs for as little as $10.
Here are all the best spots to celebrate margarita's day of days in Sydney this weekend.
$10 Classic Margaritas At Chica Bonita
CBD and Manly
Opening its doors at 12pm sharp, you can expect the team at both Chica Bonita's Manly and CBD outposts to be celebrating National Margarita Day with $10 classic margaritas and $5 signature tacos all day and all night long.
As well as the regular Chia Bonita "Classic", made with premium tequila, lime and a salted rim, you'll also be able to upgrade to fancier marg varietals like "Jalapeno"—which is given a serious kick from jalapeño and a splash of orange, a mezcal margarita (swoon), a pineapple and coconut margarita, a beetroot margarita and the iconic Tommy's margarita (made with agave nectar instead of orange liqueur). More details are here.
Bottomless Brunch At Panama House
Bondi
Panama House, Bondi's sparkly beachside Latin American eatery, will be upping the ante on their usual bottomless brunch affair with a few added margarita-heavy bonuses.
For $39, you can tap into their bottomless brunch menu which features corned beef hash croquettes with garlic aioli, chicken enchiladas, salmon aguachile tostadas and fajitas loaded with braised beef cheek, roast chicken or smoked pork hock. You can also switch the menu up to be entirely vegetarian (at $34 per person), which means eats like roasted Portobello tacos, avocado and pickled cucumber tostadas and shoestring fries with Bloody Mary ketchup.
As for those margs, Panama House's classic peach-pink hued margarita will be just $12 all day, or if endless tequila and lime sounds like your kind of weekend, you can step up your brunch with bottomless margaritas for $25. More info is here.
Mexican Fiesta At The Toxteth
Glebe
Your Inner-West favourite, The Toxteth, is transforming into an actual Mexican oasis this weekend complete with cheap margaritas and tacos. On the salty side of things, you'll be in for $10 classics, plus the pub's iconic watermelon and jalapeno 'rita infused with tequila, lime and agave, all night long.
To top things off, the taco feeds will drop to a juicy $4 between 4pm and 6pm. More details are here.
$10 Margaritas At Harpoon Harry's
Surry Hills
To hero National Margarita Day, Harpoon Harry's cocktail menu will be pumped with six different margarita-style concoctions. Take a "trip around the world" with a paddle featuring all six: there's a classic, a Tommy's, a hot Jalapeno version, smooth coconut, sweet mango and an extra refreshing watermelon marg. If that didn't get you excited enough, these bad boys will be sitting at $10 from 11.30am until 10pm. More info os here.
Los Tres Amigos At The Butler
Potts Point
To celebrate the best day of the year, The Butler is reigning in three legendary mixologists to create an absolute cocktail trifecta worthy of the foodie gods. Up first is "Jiri's", a super refreshing boozy green juice with Olmeca, Reposado, lime juice, agave, mint and cucumber. Next, you'll find "Jeffery's", a smoky take on the marg with Del Maguey, Vida Mezcal, lemon juice, cinnamon, chilli flakes, allspice and orange.
Finally, you'll want to make sure you hit "Lyndsay's", a spicy and tropical concoction with jalapeno-infused Olmeca Plata, creme de banane, lime, spiced pineapple and (of course) chilli salt. The three margarita twists will be available until Sunday 23 February. Check it out here.
$10 Margaritas At Merivale
Various Locations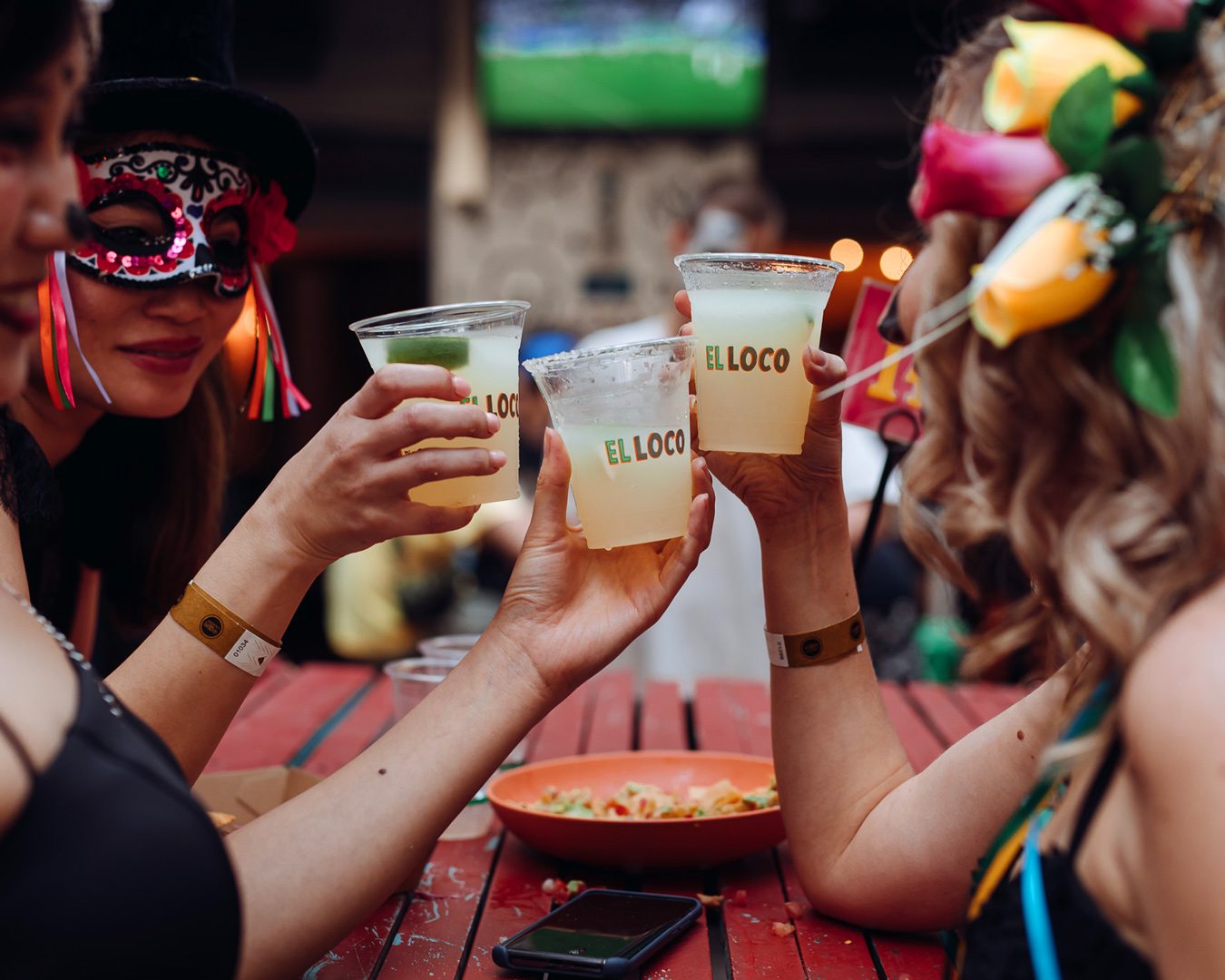 Merivale's margarita madness continues all the way until Sunday 23 February and it covers some serious ground. Drop into Totti's, Little Felix, Palmer & Co., El Loco, Bar Topa and more (the full list is here) for $10 margaritas. You also have the opportunity to expand your margarita appreciation with the chance to win a trip to Mexico—just ask in venue for details on how to enter.
Gin-gerita At SoCal
Neutral Bay
Shaking up some of the best margs in Sydney's north, SoCal is an absolute must when it comes to downing some salty, tequila goodness. The team here will be churning out their iconic classic margarita, their Tommy's and their "Spicy Senorita", which is a delicious mix of Jalapeno Olmeca Altos Plata Tequila, lime, agave and decorated with a chilli salt rim. To keep extra cool, they'll also be crushing out their frozen marg made with Olmeca Altos Plata Tequila, orange curacao, lime and all the sugar.
If tequila isn't really your thing (we've all been there), SoCal has your back-up sorted with an actual "Gin-Gerita" creation pumped with Brookies Gin, Orange Curacao, ginger, citrus and aquafaba. Unsure which would be your vibe? Take SoCal's quiz here to find out.
DIY Margaritas At North Bondi Fish
Bondi
North Bondi Fish has really upped the ante with seven margarita spins to choose from. Flavours include the likes of habanero, passionfruit, grapefruit, ginger, watermelon, elderflower and coconut. You can also get your creative on and go hard on a DIY spin, just pick your spirit, flavour, salt rim and style to concoct your very own personalised margarita.
If you're feeling even more adventurous, North Bondi Fish is also serving Sydney rock oysters literally topped with a frozen margarita mix and coriander for $6 a pop. These drinks and snacks will be going strong every day until Saturday 29 March. More info is here.
And while you're here, here are Sydney's best bars (and what to drink when you're there).
Image credit: Kitty Gould, Kitty Gould, Panama House, Merivale, SoCal, North Bondi Fish