The Park House Food And Liquor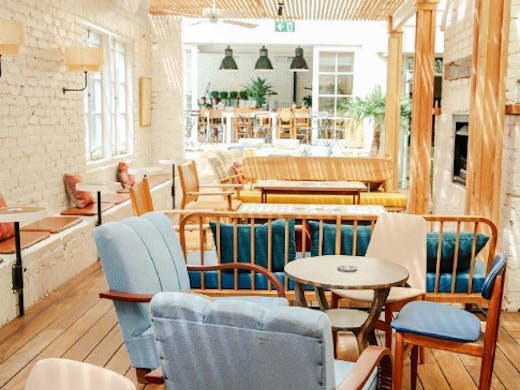 The Verdict
The Park House Food and Liquor has risen from the ruins of the Mona Vale Hotel, and you should consider it your one-stop shop to satisfy all your food and liquor needs. Consider this joint a happy family of restaurants, pop-up markets, cocktail bars, food trucks with its own café and brew bar.
It's a big conglomeration of fabulousness which houses fresh, local flavours, each area with its own distinctive flare but all inspired by executive chef Dave Clarke's love for all things Americana.
Front Yard Brews & Burgers is the place you want to know about if you love craft beers and beautifully mouth-watering, messy burgers. There are 40 beers on tap, phenomenal barrel-aged cocktails and an eclectic, international wine list. Buns-wise we're talking slip-sloppy delights like glazed pulled lamb, and crispy southern chicken burgers. These burgers are the alphas of their species, you heard it here first.
Park House Food Merchants is a 180-seat industrial warehouse featuring an outdoor cocktail bar, fireplaces and comfy-as couches all underneath a retractable roof. On the food-front, think Southern California meets Mexico, the Mediterranean and Middle Eastern tastes blended up with the most delish seasonal ingredients.
The weekend regular known as Truck Stop features a 1950s Airstream bar and pizza kitchen, a heap of activities for the kiddies and a rolling programme of food trucks, live entertainment, market stalls and festivals for all ages to get around.
Image credit: The Park House Food And Liquor
---