A bar's a bar, and a beer's a beer, right? Four walls, cold alcohol, edible food… does it really matter that your feet stick to the floor, the bar staff look straight through you, and the atmosphere's not exactly… poppin' off? Well, yes. It does—and sometimes you need to discover a hidden gem to realise what you've been missing.
Aether Brewing has a mission to break the mould of your standard brewpub, and FYI they're doing a bang-up job of it. Here's why you need to stop putting up with average and make this bad boy your new local:
1. It's a brewery, but not as you know it.
This is no grungy beer warehouse. They're all about attention to detail and a fancy (but totally chill) experience. Think super chic, custom-made furniture, steel walls, concrete floors, and shiny copper brew tanks (our fave).
2. The beer's great.
Like, really great. Aether's custom-designed brew system pumps out innovative concoctions that are constantly rotating so there's always something to try. You can find six trusties from their core range, a bunch of seasonal creations, and the occasional guest brewery, so you could literally go every night of the week and froth on something new!
3. It's fresh to death.
Not only are these guys pushing the boundaries of Brisbane's craft beer scene, there's just something about a beer that's brewed in the very room you're drinking it. What's more, apart from just a few other watering holes 'round town, you can only drink Aether's brews then and there, right at the source, making them all that more spesh too.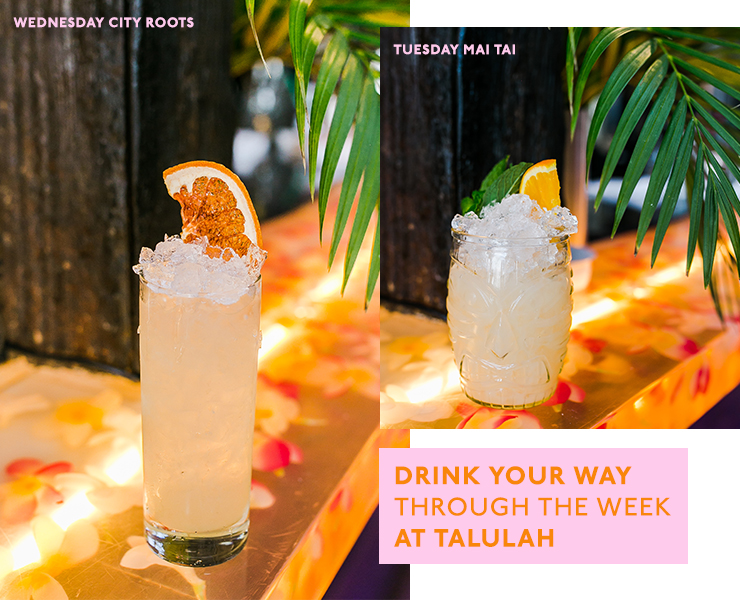 4. You don't have to drink beer.
Not a craft beer fanatic, or just feeling like something else? They've got house made ginger beer to die for, organic Tasmanian cider, a killer cocktail list, over 150 bottles of spirits with a focus on rum, tequila and scotch, not to mention a damn good, all-Aussie wine list.
5. The food's next-level.
Although beer's their main passion, don't for a second think that food's an afterthought. Burgers, pizzas and other food are matched to the beers so no matter what you order, you're in for a tasty treat. Think hearty pub food made better: Wagyu beef meatball cheeseburgers, big platters of house-smoked meats, a great selection of tapas plates to share and even a pork belly Ceasar salad. Heck. Yeah.
6. Their cheeseboards give us life.
If you're up for a lighter bar snack situation, Aether's off-the-charts cheeseboards are reason alone to get down there ASAP. We're talking choose-your-own cheese, nestled amongst dried fruits, aged Duroc Serrano, Tasmanian wildflower honey, and pear, date and cinnamon chutney that's served with olive and rosemary bread. AKA, the well-priced snack of your dreams.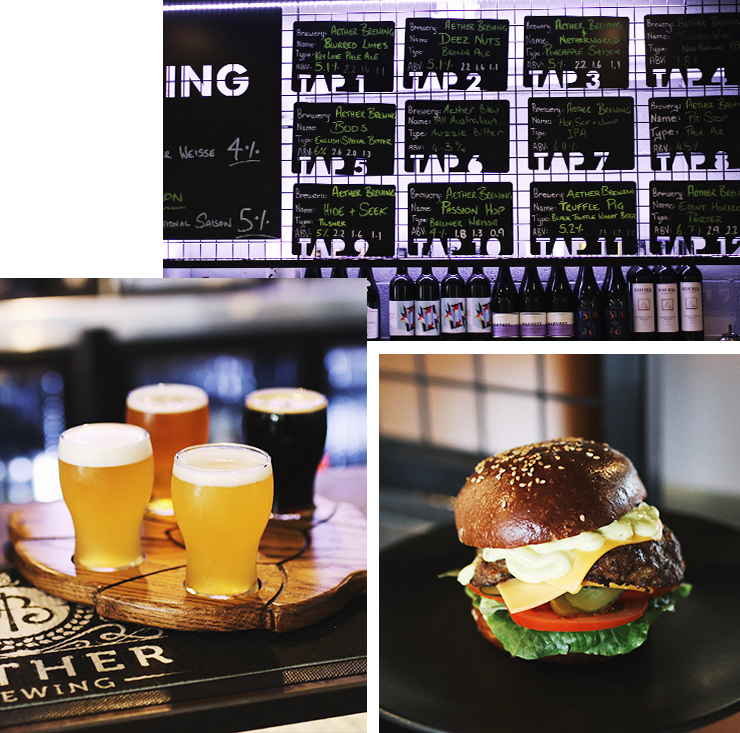 7. They'll let you have it to yourself.
After a venue for a party, but not really keen to get down in da club? Go for something a bit different with Aether's great function spaces and epic F&B packages for anything from 10-230 people. Choose from the Mezzanine level or the custom-fitted Barrel Room or hey, why not hire out the whole thing? Personalised brew tours or masterclasses too, for a cute and unique touch? No probs.
8. They're not beer snobs.
We love that Aether's top of its game, but doesn't take itself too seriously. Expect a fun atmosphere with live music, a great crowd and good vibes aplenty.
9. They're #squadgoals.
Super friendly staff, and a crew who learn their customer's names so you actually feel like you're part of the fam are the best kind of crews. These legends will even show you 'round the brewery if you're keen, and tell you as much as you want to know about why and what they do (hot tip: if you're there early in the day you may even be able to pull up a stool and watch them brewing the good stuff). This place was born out of genuine passion (AKA two mates who really, really love craft beer) and it shows.
10. You can save on an Uber fare.
And just in case you needed another reason to head there for a night out, Aether's a mere two doors down from Milton train station, so leave the car at home and head for this lil slice of craft beer heaven!
Image credit: Grace Elizabeth Images
Editor's note: this article was produced in partnership with Aether Brewing. Thank you for supporting the sponsors who make The Urban List possible. For more information on our editorial policy, click here.