With the warm weather finally upon us, we figure you'll be looking for things to do in Brisbane this month. And September is the perfect month to do so, with polo tournaments, food truck parties, fitness expos, charity balls, and of course Brisbane Festival. September is jam-packed with events to keep you out and about.
Here are our picks of the best things to do in Brisbane this month.
Brisbane Lions Club Champions Dinner | 5th September
The Brisbane Lions will honour contributors to the club both on and off the field in 2014 at thier Champions Dinner, with the evening culminating in the awarding of the 2014 Merrett-Murray Medal to the Club Champion. Walk the red carpet before enjoying a sumptuous three-course meal, premium beverages, stellar entertainment and sit alongside the 2014 playing group as the Club Champion votes are read. An exciting event, and one not to be missed!
Food Van Jam | 5th September
12 of Brisbane's best food trucks will descend on the Westfield Chermside Nando's car park for Chermside's first Food Van Jam! Alongside the Broncos vs Storm match on the big screen, this not to be missed Brisbane event will feature top quality street food from King Of The Wings, Pizzantica, Chocolate Komberry Co, Vira Lata Food Truck, Fiery Deli, Fire 'N' Dough, Local Mobile Deli, and Oi Taco, as well as a swag of others. So round up the crew and get set for a night of footy, fun, and delicious food. Find more details about this event here. Hot tip: Best car parking is on the rooftop near Goodlife Health Clubs or underground near valet — both are easily accessed through the Banfield St access.
When: 4pm to 11pm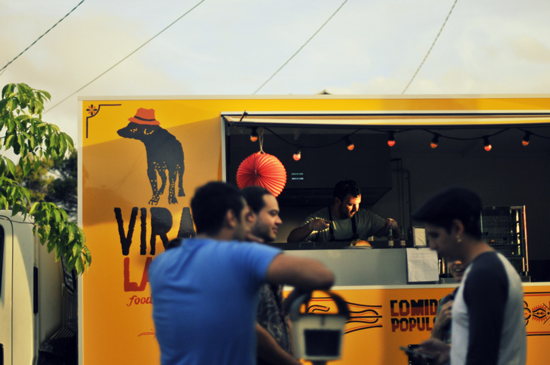 Brisbane Fitness and Health Expo | 6th-7th September
For all you fitness fanatics out there, we have one heck of an event for you. The annual Brisbane Fitness and Health Expo is on again, with this year's event expected to be bigger and better than ever. The two-day event will host a variety of exhibitors, from industry professionals, to beauty therapists and health experts, as well as a fitness model search, where male and female fitness enthusiasts can strut their stuff in the hope of taking home the coveted title of 'Venom Protein Fitness Model'. The ultimate summer-body inspo!
Father's Day Feast | 7th September
Show your appreciation for your Dad this Father's Day and treat him to a delicious feast, great entertainment and gift ideas from Story Bridge Hotel! From breakfast buffets to beer, gift vouchers, to complimentary gifts from the chef, the SBH and Deery's Restaurant & Smokehouse has something on offer to spoil every Dad this Father's Day.
Oz Comic-Con | 6th
–

7th September

Oz Comic-Con brings the biggest names in comics, anime, manga, sci-fi, fantasy and animation to Brisbane over two-days, with event promising to be one to remember. With a stellar line up of film, voice actors, and comic/publishing professionals, Brisbane, you're in for a treat! Tickets are available now, so get in quick!
Spring Fling | 12th September
The Fling is on again! Dress for Success Brisbane invites you to the annual Spring Fling fundraising event on Friday 12 September for an evening of champagne, canapés, and art at the Mercure Brisbane. They'll be auctioning off deer head sculptures by Matt Blatt Furniture, as guests enjoy a specially selected range of cocktails and canapés, with views over the Brisbane River as your backdrop for the evening.
The Australian Defence Charity Ball | 13th September
Grab your favourite evening gown and your favourite heels, because The Australian Defence Charity Ball is on. The defence force, in partnership with Legacy, aim to raise much needed funds for the care of families who've lost a loved one while serving Australia. This is sure to be a social extravaganza with good food and wine, entertainment, dancing and fun.Tickets are available now!
The Fleet Store Pop Up | 15th 26th September
The Fleet Store is a unqiue, edited pop-up collection of fashion, accessories, art and zines from QUT students and alumni, located in the Billiard Room of Old Government House. Home to one-off, highly collectable designer pieces from the big names of tomorrow, Brisbane's fashion lovers, are going to want to check this out..
When: 9am to 6pm
The Beer InCider Experience | 20th–21st September
A festival of craft beers, ciders, food, and live music; What could be better? This September's Beer InCider Festival will feature 25 brewers including all your favourite brewers — Stone and Wood, Mountain Goat, Green Beacon Brewing Co and Bacchus Brewing just to name a few. The festival will also feature the outstanding nosh from food truck favourite The Bun Mobile, who will be joined by That BBQ Joint. Sips plus snacks? We're so there!
Australian Open Polo | 21st September
Don't miss all the glamour, excitement and atmosphere of the 2014 Australian Open Polo, held this year at Doomben Racecourse. Watch the teams battle it out for the coveted championship title, have a chat with a polo player and meet the ponies, or just relax in a marquee with friends and a glass of bubbly. Tickets are selling fast.
Scotch and Soda | 23rd
–

27th September

No, we're not talking about the f-a-b designer label Scotch & Soda. Scotch and Soda is what you get when you combine the rowdy mob of misfits of Cantina with stars from Circa, Smoke & Mirrors, and La Clique.. So come along and join some of Australia's finest acrobats and music-makers as they butt heads to create Scotch and Soda, a whiskey-soaked evening of raucous dance and dexterous feats. Tickets are available now!
Gabriel 'Fluffy' Iglesias Unity Through Laughter | 26th September
Popular with fans of all ages, Gabriel Iglesias combines storytelling, parodies, characters and sound effects to create a witty, unique and hilarious comedy style. Best known for his one-hour Comedy Central specials, 'Hot & Fluffy', 'I'm Not Fat…I'm Fluffy' and 'Aloha Fluffy', Gabriel Iglesias is bringing his one-man comedy show to Brisbane this month! Seriously, do not (I repeat, do not) miss this! Tickets on sale here.
Brisbane Festival | 6th
–

27th September

It's that time of year again, Brisbanite! This year's Brisbane Festival is jam-packed with live acts, art exhibitions, fashion parades, theatre productions and everything else you could hope for in a city-wide Festival. So whether you're more of the artsy/musical type, or a fashionista in the making, Brisbane Festival has something for everyone. Check it out!

Click here for more things to do in Brisbane!

Image credit: Daniel Maddock, Lovelenscapes Photography for Vira Lata