Sarah Todd is best known for her stint on Masterchef in 2014, but her passion and talent for cooking goes far beyond that of a flash-in-the-pan reality stint.
Sarah is the real deal—whether she's popping up on cooking shows, opening up a restaurant in India (!!), or looking after her son, Phoenix, Sarah excels.
We took two minutes to chat to Sarah while she whipped up the best waffles ever for us (tough job). Don't panic—you can find the recipe after the jump!
21 Questions with Sarah Todd
What time do you get up?
6am.
What's the first thing you do in the morning?
Put the kettle on.
Coffee or tea?
Tea.
How do you take your toast?
Butter and Vegemite.
White, wholemeal, or Turkish?
Wholemeal.
What's one thing that's always in your fridge?
Yoghurt.
What's your favourite thing to make?
Slow-cooked lamb shoulder.
What's the thing you're always being asked to make?
Curry.
What's on your bedside table?
I actually haven't got one at the moment!
What's your favourite snack?
Ceviche.
Guilty pleasure?
Pavlova.
What's the best thing that's happening to you this year?
I'm opening a restaurant.
What's your favourite season?
Summer.
What's your favourite country?
India.
What country are you excited about visiting next?
Japan.
What are you most excited about right now?
These waffles.
Favourite thing in your kitchen?
My Japanese knife.
What's your favourite app?
Google Maps.
Brunch, Lunch, or Snack?
Brunch.
What's the best sandwich ever?
Crab sandwich.
Add another letter to BLT.
C for cheese.
Detox. Yay or nay?
Nay.
Most spontaneous thing you've ever done?
Open a restaurant in India.
What's your favourite restaurant?
Saint Crispin in Melbourne.
What would you have for your last meal on Earth?
Has to be my Nanna's corn beef.
What's your signature drink?
Espresso martini.
What did you just make?
I made waffles with butter, figs, and honey.
Sarah Todd's Recipe For The Best Waffles Ever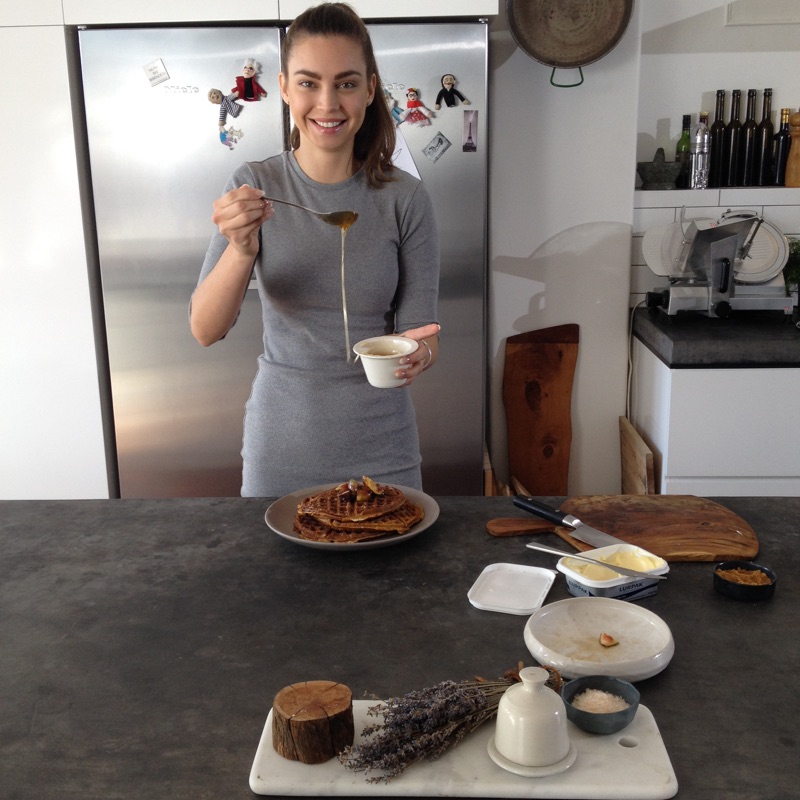 Ingredients
1 1/3 cups of flour
4 tsp baking powder
½ tsp salt
2 tsp sugar
2 eggs separated
½ cup melted butter
1 ¾ cup milk
Honey
Fresh Figs
Butter (we love Lurpak Spreadable!)
Method
Whisk together dry ingredients.
Separate eggs, add yolk to dry ingredients.
Beat whites until stiff and set aside.
Add milk and butter to dry mix. Fold whites into mixture.
Ladle mixture into waffle iron and cook until golden on the bottom and then flip and repeat on the other side.
Remove from waffle iron, plate, and top with butter, fresh figs, and a drizzle of honey.
DEVOUR.
Editor's Note: 21 Questions With Sarah Todd is brought to you in partnership with Lurpak Spreadable® and The Urban List. For more buttery inspiration, head over to the Lurpak® Hub and get cooking!